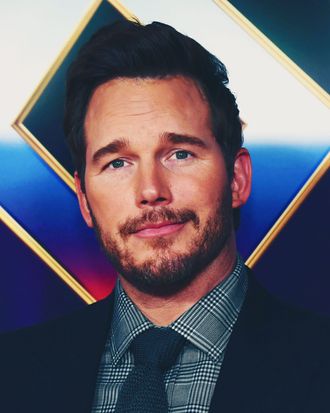 Photo: Jon Kopaloff/Getty Images
Chris Pratt has never been shy about sharing his religious beliefs. He mentions God in interviews and at award shows, and he posts images of crosses on Instagram with captions asking fans to "Like if you believe." But in a new interview with Men's Health, he's pushing back on the public perception of him and rumors about his faith, declaring he's never actually been to the Hillsong megachurch, as had been previously speculated.
"I'm not a religious person," the future Mario told Men's Health. (Okay, but he also once spent an Easter Sunday erecting a giant metal cross with some buddies and shared the entire saga on his public Instagram account.) The actor continued, acknowledging that religion often comes hand in hand with oppression. "I think there's a distinction between being religious — adhering to the customs created by man, oftentimes appropriating the awe reserved for who I believe is a very real God — and using it to control people, to take money from people, to abuse children, to steal land, to justify hatred." So, to recap, Pratt, who captions photos of sheep with Bible verses on Instagram, is "not religious" and gets why people might think religion is bad.
He also wants people to know that he's never been to the scandal-ridden Hillsong Church, despite what you may have heard. "I never went to Hillsong. I've never actually been to Hillsong. I don't know anyone from that church," he said, responding to a three-year-old controversy when Elliot Page called him out for belonging to a church with an anti-LGBTQ+ history. (Hillsong co-founder Brian Houston was also recently accused of covering up molestation allegations within the church.) At the time, Pratt denied that his church was anti-LGBTQ+, but did not deny any association to Hillsong. He now says he didn't want to "throw a church under the bus," but the truth may be a bit more complicated.
In the same interview in which he claimed he's not religious, the actor confirmed that he attends Zoe Church (though not exclusively), which has ties to Hillsong, a church that has been linked to conversion therapy and whose leaders have made anti-LGBTQ+ statements in the past. Zoe Church was founded in 2015 by pastor Chad Veach, who used to preach at Hillsong and told the New York Times that he built his church inspired by Hillsong. When asked by the Times about his stance on abortion, Veach said, "At the end of the day, I'm a Bible guy," but added that he didn't want to bring politics into Zoe. "We're here to talk about God. This is not the place for a political agenda." The church has no official policy on LGBTQ+ issues, but reports suggest there is no evidence of the organization supporting same-sex marriages or allowing LGBTQ+ pastors. And Veach himself has been involved in projects that have cast doubt on his political agenda. In 2017, he executive produced The Heart of Man, a film that reportedly equated "same-sex attraction" with "sexual brokenness."
So, to quote Oprah Winfrey, what is the truth? Has Pratt just never bothered to Google his pastor? Or is he doing his best to appear neutral so as to hold on to his conservative fan base? Elsewhere in the interview, Pratt mentions feeling "misunderstood," asking, "Why are they coming after me?" Maybe he'd feel a little more understood if he actually told the world explicitly where he stands.