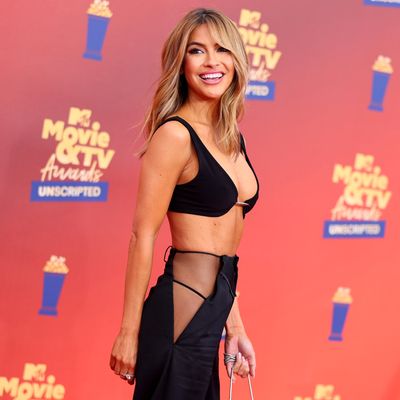 Photo: Matt Winkelmeyer/WireImage
If there's one thing the cast of Selling Sunset is going to do, it's given us something to talk about. The cast gathered at the 2022 MTV Movie and TV Awards on Sunday, June 5, marking a big relationship milestone for star Chrishell Stause: she introduced her new significant other, G Flip, to her ex, Jason Oppenheim. And the entire thing was caught on camera.
In a video shared to MTV's Twitter account, Chrishell and G Flip are hugging by the Selling Sunset table when Jason pops over and joins the embrace. "What is happening?" Chrishell appears to say to the camera. (The video doesn't have sound, but watch carefully and you can guess what she's saying.) Um, I don't know Chrishell, but it looks like your ex is getting friendly with your current partner.
To be clear, I'm not sure if this was actually the first time G Flip and Jason have met, but if it is, it's both epically awkward and fabulous. Us normal people might worry about running into an ex while grocery shopping or at the gym. But for Chrishell, it's the MTV Movie and TV Awards that she has to watch out for. Jokes aside, everything looked incredibly friendly between the exes, and G Flip and Jason both seemed happy to see each other. (I have to assume the musician hasn't seen the Selling Sunset reunion.) Plus, Chrishell and Jason both reposted the video to their Instagram Stories, suggesting that they are just as thrilled with the awkward moment as fans.
Later in the night, both G Flip and Jason stood to congratulate Chrishell as she won Best Reality Star. The real estate pro thanked Jason and the rest of the Selling Sunset cast before addressing her coming out. She announced her relationship with G Flip on the most recent Selling Sunset season reunion. At the time, she admitted that she wasn't sure how the show's fans would react, making this golden popcorn win all the more special.
"I knew about this nomination before I said anything about my sexuality," she started, after thanking her cast and crew. "I'm not trying to get really deep with you guys, but the fact that this was voted on after means so much to me because I wasn't really sure how that was going to go," she said, clearly emotional. "Thank you so much, guys, I appreciate it."