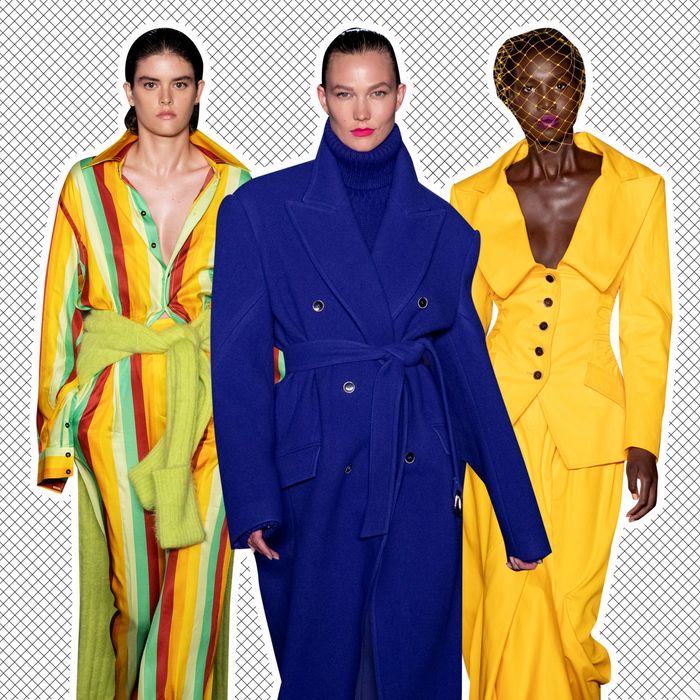 Photo-Illustration: by The Cut; Photos:Jonas Gustavsson
Christopher John Rogers has shot to such prominence so quickly it's easy to forget how much he has accomplished in so short a time. Last night, in a cavernous warehouse space in the Brooklyn Navy Yard, he staged a return to the runway for a full complement of fashion editors and, rarer than that, a clutch of his fellow New York designers (Fernando Garcia and Laura Kim of Oscar de la Renta, Prabal Gurung, Mike Eckhaus of Eckhaus Latta, Victor Glemaud, the list goes on). When Rogers last presented his collection on a catwalk, he was at the same time working to produce commercially the first of his collections for retail sale. That was a little over two years ago — and the year before that, he was showing in an "abandoned, unheated space on Canal Street," as Alexis Okeowo wrote in her profile of Rogers earlier this year. Since then, he has dressed the kinds of celebrities designers salivate over (Rihanna, Zendaya), wardrobed the first female vice-president of the United States, been named womenswear designer of the year at the CFDAs, and shown his clothes at the Met. So this show, for his resort collection — here called Collection 10 — had the blunt force of a coronation, not that Rogers necessarily saw it that way. "I'm really excited to finally be able to present work in a real way again," he told me a few hours before the show, calm and collected in basic black, though each of his fingernails was swiped with single line of polish in the gradient colors of the rainbow, "because so much of what I do is movement and the idea of taking up space."
Rogers's clothes do take up space. They are big: in affect and effect, in extravagance, often in shape, almost invariably in color. He has emerged, as a designer does every few years, as fashion's current challenger of its black-is-best orthodoxy. He is a wonderful colorist, with a palette of lemon, lime, azure, magenta, and orange. Karlie Kloss did her hip-swinging gazelle gallop out first in a belted overcoat in vivid purple with matching trousers. Not all violets shrink.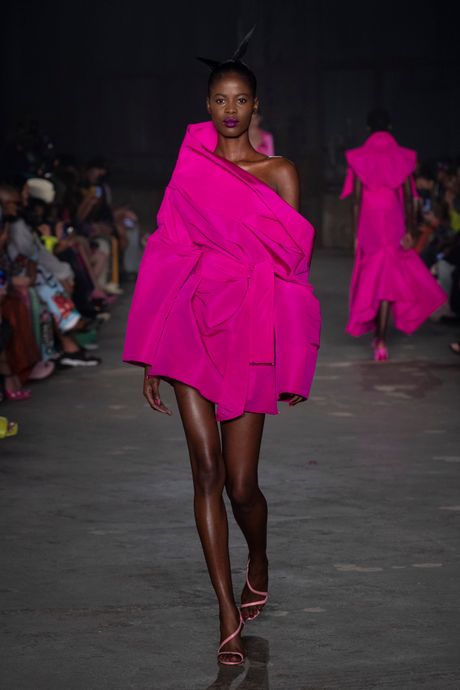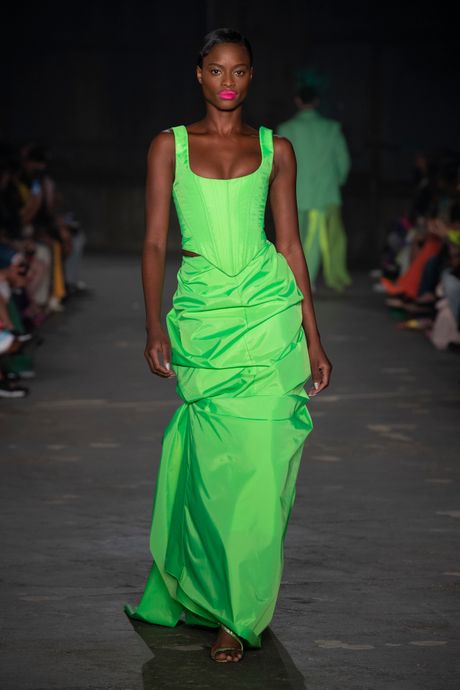 Rogers's biggest hits to date have been in what he calls "high-octane eveningwear," boosted by all those celebrity placements, and he felt the pressure to tilt in that direction. But the imposed break of the pandemic gave him the opportunity to dig into daywear. "Things that feel quite quotidian have always excited me," he said. Customers responded — to shirtdresses, to new knitwear. "Those weren't necessarily what was registering on Instagram or what stores were wanting from us," he added. "With evening, I think there's more space for a certain declarativeness and an outgoing spirit, and I like to bring that mood into pieces that feel very pragmatic."
If pragmatic wasn't exactly the word conjured by Tuesday's runway spectacular, the show was still an opportunity to see deeper into the Rogers world than a flashbulb-saturated celebrity placement or the whoosh of a social-media scroll. The press and the industry have latched on to the idea that Rogers's work hearkens back to couture — the Met compared him to Charles James, and there was a little Lacroix in the way Gigi Goode, a drag performer who arrived just before the lights went down, had to squash the strawberry-shaped pouf skirt of her CJR dress to wedge in next to Aquaria in the front row. When people say they see the spirit of old couturiers in his work, Rogers told me, "I find that really exciting. But also," he added when I pressed, "I used to find it really annoying." As Cathy Horyn has pointed out, Rogers excels at sportswear in the great American tradition, and he nodded happily when I mentioned progenitors like Stephen Burrows.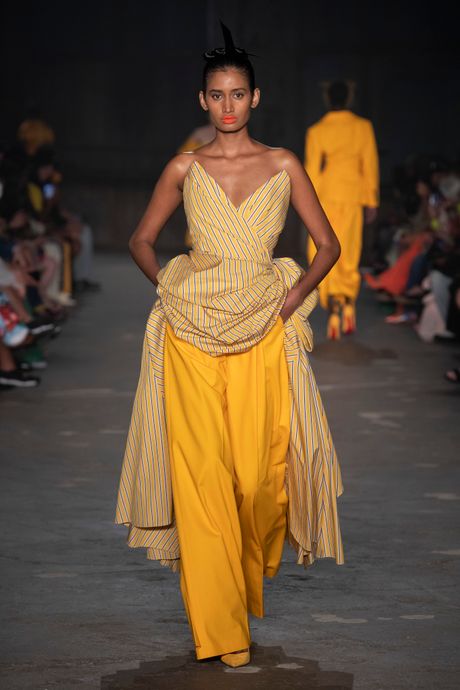 It was easy to see Rogers fiddling with the idioms of American sportswear in this collection, supersizing shirt collars or cuffs, elongating ribbed sweaters till they trailed like tails. But it was also easy to see new experiments, like candy-colored shearlings and highlighter eveningwear. In the mix too were suits cut with a Westwood-ish flair, and maximalist floral-print Italian viscose dresses, and, and, and … It was a lot — 56 looks — and some judicious edits wouldn't have hurt. But Rogers is deservedly confident and exulting in it. "I really love this idea of being as expansive as possible and sort of not having to reduce yourself or simplify yourself in order to express your point of view," he said.
His point of view is bright — his future is too. Anna Wintour, front row, didn't take off her sunglasses as usual. For once, it was hard to blame her.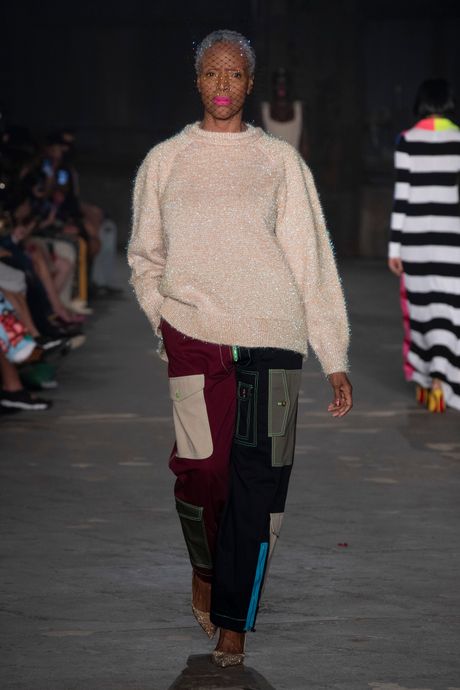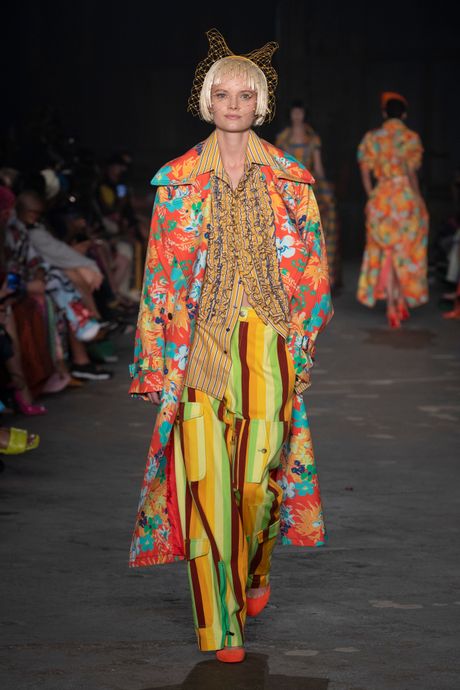 Psst! The Cut and New York Magazine are conducting a survey about dating. We want to know all about your swipes, IRL hookups, bad dates, and everything in between. Interested? Click here.