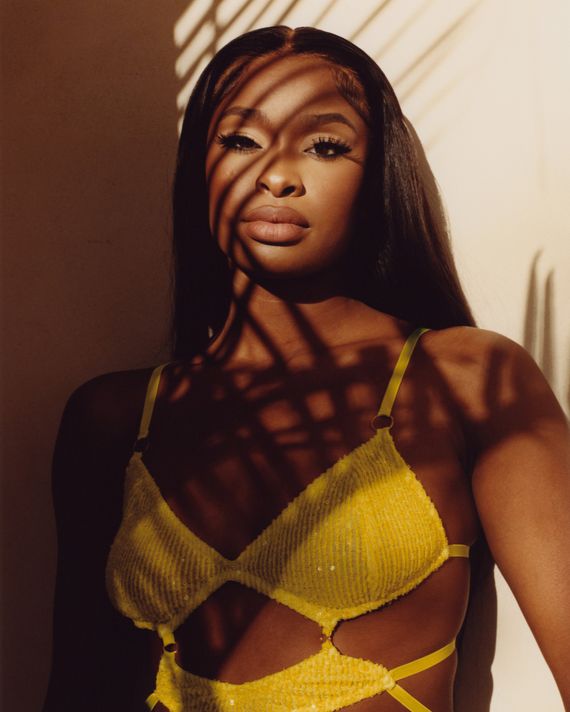 Actress and singer Coco Jones — who most recently played the character Hilary Banks on Bel-Air, a dramatized reboot of the beloved sitcom Fresh Prince of Bel-Air — got her start ten years earlier on "Radio Disney's Next Big Thing." On a recent trip to New York City, Jones, like Banks, showed up to the interview wearing a black pantsuit, ready to take on a full day of commitments.
The 24-year-old didn't catch The Fresh Prince of Bel-Air when it originally aired in the '90s but watched the reruns and usually related to Ashley, Hilary's younger sister. It wasn't until she was working in the entertainment industry that she started to see herself in Hilary: "She's a go-getter, and she's goal-oriented," said Jones in a conference room of her hotel, where she was staying while visiting from Los Angeles. "She's really headstrong. I like that she's resilient because that's how I feel in an industry that doesn't necessarily cater to me. There's a lot of tenacity that you have to develop in order to survive."
And survive she has. The artist has recently signed with Def Jam records and just dropped the music video for her single "Caliber," which was directed by Teyana Taylor and her production company the Aunties.
What was it about your early life that put you on the path to this moment?
When I was 8 or 9, I did a school talent competition and sang "Tomorrow" from Annie. I just felt a type of way onstage. Then I wanted to do more and my mom was like, "Okay, audition for this broccoli commercial."
I would say what influenced me was definitely the Disney Channel and watching That's So Raven, someone who looked like me. Music-wise, I was listening to Aretha Franklin, Cece Winans, Mariah Carey — I would listen to these big singers and the way that they made people feel through their songs. Plus my dad played football, so the competitiveness in me was like, Hey, if these girls can do this, I think I can too.
What types of tools did you have to kind of navigate fame at such a young age?
None! When you're that age, socially, you're kind of behind because all you know is work, work, work, work, work. You don't go to sleepovers and stuff like that, you don't have time. So no, you're not really prepared.
You took ten years off between your Disney days and Bel-Air. What did you do with that time?
I had to start from scratch around 15 years old when I stopped working with Hollywood Records. But the good part was I knew how to be in a studio for a long time; I knew how to be on sets for 15 hours; I knew how to do interviews; I knew how to present myself. But it was just more like now what do I say? What do I sing about? How do I look? How do I dress? I still had a lot of development that was crucial. So that once I did get to a peak, like this Renaissance moment that I'm having with Bel-Air, I don't fumble it and I don't misrepresent myself because I found the core of who I am.
What is it about being an actress that is thrilling for you?
On a show like Bel-Air, nobody's putting me into a box and I get to be this amazing character that is Hilary. I get to wear these amazing outfits, and I get to represent dark skin, Black beauty.
What would you consider to be the biggest barrier to entry in your industry?
At some point it feels like we're all a bunch of mice chasing one piece of cheese, though there's more jobs opening up for dark-skinned women now. And even if you're talented, you might not even know anybody who can really get your tape or your song in front of anybody who could check it out. I feel like now I still have to convince people because I come from Disney and they don't really know what I can do. So it's a different type of convincing. It's different than when you have nothing on your résumé.
What does it mean to be working on a show with such a rich history?
People have preconceived ideas when you say you're redoing something that was already done so well and made history. I knew the responsibility to represent Hilary as a dark-skinned Black woman and what that means for culture. It's a great moment for Black culture because we've done something that will create history in itself. We are speaking to modern Black people and we're showing the world that there's a bunch of different ways that you can be Black. It's not one struggle or one stereotypical plight.
What's something that you learned within the Disney system that you apply to your working life today? 
How to be a machine. You are taught everything you need to know, like how to perform on the spot in front of anyone, how to be captivating. Some kids don't like that after a while, it's too much pressure and it stops being fun. You see your peers start to drop away. So it's about resilience for sure.
In the ten years between leaving Disney and then landing the role in Bel-Air, do you feel that the industry has made any fruitful strides in terms of colorism?
Look at the role I'm in. Look at the show. Think about our creator and director Morgan Cooper. He's from Kansas City. A Black guy who just believed in this project. The Issa Raes of the world make this so much more doable. And then the success from these shows lets the higher-ups know, "Hey, people like non-white stories, they buy them, they're marketable, and they do well. They're worth the investment." So it's definitely getting better. Everything's getting better with time. Dark-skinned women are kind of having a moment like right now, like in fashion, which is great because it's like, thank you, everyone has been copying us, and now we just get to do it.
From where or from whom do you draw inspiration?
From the group chats with my girls, from the feelings that I feel, or sometimes the feelings that I don't feel that I see in the world. I draw inspiration from women my age, the fan base that's been watching me. We're all grown now, so I'm like, let me tell stories that we all can relate to, you know?
What has your journey been like in making music?
I've tried several different songs since I was a kid. I've definitely been told to sing songs that didn't fit me. I think I was trying to look at making music as more of a business and less creative because that's what I saw. So it was all about strategy — what is everybody else doing? That's what I'm gonna do too. But I could always put my own spin on things so that it wouldn't sound like that. And then I started to lean into what I really liked even if it's not the most popular and it's not charting. That's when I got more into R&B rather than the bubblegum-pop stuff.
What's a routine or practice that makes you feel taken care of?
I really try — when I'm not waking up at five in the morning to be on set by six — to do a devotional. I really like therapy. Something that I make sure I get something out of, that's not taking up too much time, because I start to zone out.
If you could curate a dinner with other people in your industries, who would you invite?
My first thought was Beyoncé because I'm a sponge and I like to learn. Oprah would be there. Michelle Obama would be there. Gabrielle Union would be there. Jeff Bezos would be there.
When you have the opportunity to splurge on yourself, what are you typically spending on?
Well, honestly, my hair costs a lot.