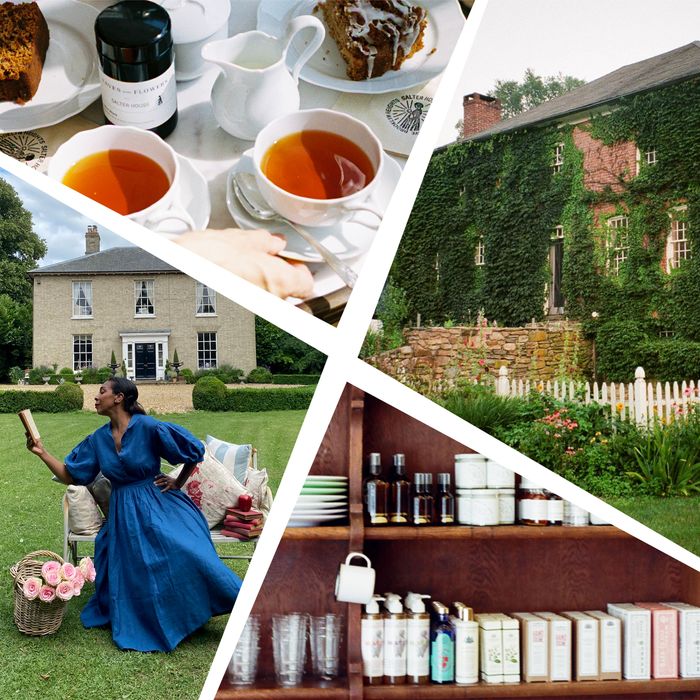 Photo: Adrianna Glaviano, Janna Tew, Courtesy of Paula Sutton, Courtesy of The Noxon House
In recent years, the masses have flocked to Instagram and TikTok to embrace the "feminine urge" of women wearing nap dresses, toting wicker baskets, making cross-stitch quilts, and baking sourdough bread, among other leisurely pleasures. With a pandemic underway, we were all reevaluating our personal relationships with nature as the "cottagecore" aesthetic led the charge.
Many of the faces of the brands at the forefront of this aesthetic looked the same: wealthy white women. (Look no further than Audrey Gelman's new country-themed homeware store, the Six Bells.) In response, Black and Indigenous people of color criticized how this type of aesthetic blatantly romanticizes colonialism. It made me wonder: Should we refer to this trend as something I prefer to call "colonizercore"?
Now, a nuanced conversation around the way marginalized communities engage with craft, domesticity, and identity has begun.
When Sandeep Salter established Salter House in 2018, she felt inspired to "create a domestic world that felt truly pleasurable and wasn't part of an English world" for her daughters. She wanted it to be an expression of her own references as a biracial woman of color. The natural and sustainable home-goods store doubles as a tea room, acting as a community space for artists in Brooklyn Heights, where they can feel comfortable interacting with one another along with objects that have contradictions intrinsic to them.
Salter House is often described as cottagecore, but Salter argues that the two-dimensional characterization of the aesthetics of colonialism is abrasive. While she fully acknowledges that "we're enriching an aesthetic that has problems," Salter is deeply committed to building a business with integrity by staying true to her values and cultivating a thoughtful atmosphere. This is why she collaborates with artists such as Sophie Wilson and Rabbit Goody, respectfully pulling from historical narratives to make work that is domestic-focused but brings some of the uncomfortable tensions "directly into people's homes to be lived with." The purpose of weaving in these domestic references is to "reconfigure historicized tableaux of femininity, sweetness, and domesticity into healthy, nurturing, and unapologetic renditions" for BIPOC and other minorities.
As a person of English and South Asian descent, Salter can see points of view from the lenses of both the colonizers and the colonized. "My way of processing so much of being essentially a product of colonialism — myself and my body — has been through creating my own way into that aesthetic, using some of the English, the Indian, and other folk traditions to create something that feels my own." Salter points out how the sleeves on the Salter House garments are extremely Eurocentric because of the paintings she was referencing, but she found ways to bring in Indian references to subvert those details, as with the subtle reclamation of florals.
Alyse Archer-Coité remembers how much pride her mother, an immigrant from Panama, had in their Texas house. While visiting her family in upstate New York, she started to romanticize "the idea of homeownership as a single person." In 2020, Archer-Coité purchased the Noxon House, a historic Georgian residence located in Poughquag, New York. Her romantic vision for the Dutch Colonial property, which was originally built in 1770, was to play with scale and aesthetics through an "Americana light" lens; her creative direction is a modern interpretation of a contemporary Americana theme with Scandinavian influences.
Paula Sutton, a stylist and the author of Hill House Living, grew up in Yorkshire, England, with her parents, who immigrated from Grenada in the '60s with aspirations of living in a house in the countryside where they could grow their own food in a garden. "My upbringing with my Caribbean-born parents therefore planted the seeds of how I live today — not a wish to emulate some random lifestyle," she says.
She started Hill House Vintage in 2010 as a blog to share her interior-design choices, vintage finds, DIY solutions, and tips on how to furnish an old house on a budget. After expanding the Hill House Vintage universe to Instagram, Sutton was initially reluctant to show images of herself, preferring to post her dog, Coco, until 2014. She recalls how the reception was "warm and friendly and inclusive" within a supportive community of like-minded bloggers who "cheered each other on and eagerly shared our projects and experiences."
As someone who specializes in English countryside interiors, Sutton's account offers many BIPOC a virtual refuge where they can reclaim imagery associated with an oppressive past rather than have it completely erased. Her intent is to make it a place of "joy, inspiration and comfort" for everyone, viewing her approach as a way of normalizing these aesthetics. "From the perspective of my younger Black followers, perhaps I am an example of a lifestyle that isn't often depicted from a Black perspective," she explains in an email to the Cut. "I'm certainly not the only Black person living in the English countryside, but I am a visual representation of that, and representation in all areas of life is a good thing."
Almost ten years later, Sutton became a target of outrage when a white writer declared she was leaving Instagram after seeing an image of Sutton having a picnic in the garden of her 1882 Georgian estate in Norfolk, England. Before responding in a lengthy Instagram post, Black Twitter came to Sutton's defense, standing in solidarity with her by calling out the racism of a white person being so offended by an image of Black joy in a countryside setting.
"It still shocks me to this day that a picture of me sitting in my own garden in a modest frock and flat shoes could have caused an issue," she says.
Kimberly Jenkins, the founder of the Fashion and Race Database and Artis Solomon, thinks it's an interesting time for this aesthetic to be embraced, following the return of many people to the urban environments they fled. She notes that much of the allure of many of these handcrafted things — made slowly and with integrity — is wrapped in layers of moral purity.
"Especially with the popularity of the nap dress, there was this need to feel comforted and almost be swept away to another time where things were 'pure' and true and wholesome and simple," Jenkins emphasizes.
The popularity of this particular aesthetic aligns with the political climate in present-day America, with recent waves of social unrest leaving many Americans yearning for a return to the "old ways" of agrarian life.
Sutton points out how Black people have been tending the land, growing their own food, and living in nature since the dawn of time. "These are basic themes in the cottagecore aesthetic, and I personally don't see anything unusual in Black people continuing to own and enjoy that," she says. "We deserve to claim and be part of any space."
When Archer-Coité was getting settled into the Noxon House, she initially felt a lot of anxiety around being welcomed into the neighborhood. Nervous about being identified as the new homeowner, she would wait for cars to pass before going out to get the newspaper. "You're driving to this place and seeing Confederate flags in people's windows," she says. This concern about safety constantly crosses the minds of members of marginalized communities, especially in rural environments that have historically been settings of violence. "I'm here, I own this house, and I paid for it with my own money," Archer-Coité continues. "I know that I have the right to be here, but I'm still going to have to defend my right to be here, and that's the tax to have something that you want." For her, the freedom of having a house of one's own is it provides a tangible sense of place that is healing and restorative.
Jenkins remarks upon how the cottagecore movement "creates this portal to assume a simpler, more mindful time" but cautions that there needs to be more sensitivity around the history of that time. (For example, many of the dresses that are currently being recirculated resemble the garments Indigenous children in North America were forced to wear when they were stripped of their culture during the process of "civilization.") 
Archer-Coité agrees, pointing out how the historical pieces that are often attributed to these aesthetics — whether they be textiles, furnishings, or buildings — were forged by Black and brown hands during periods of struggle. "It's science fiction that we would be able to be anywhere, dressed in that way, and be mixing with these groups."
Nevertheless, Sutton says it makes sense that after a period of being confined to our homes, the focus would shift toward "home comforts, slow living, and finding the beauty in our natural surroundings," as everyone took stock of what fuels their happiness. "The cottagecore aesthetic has always been here," she insists. "It's not a fad or a trend to want to try one's hand at growing things or using vintage and making do and mending things, but during the lockdown, it caught the attention of those whose lives had become too hectic and overwhelming to notice before."
Psst! The Cut and New York Magazine are conducting a survey about dating. We want to know all about your swipes, IRL hookups, bad dates, and everything in between. Interested? Click here.