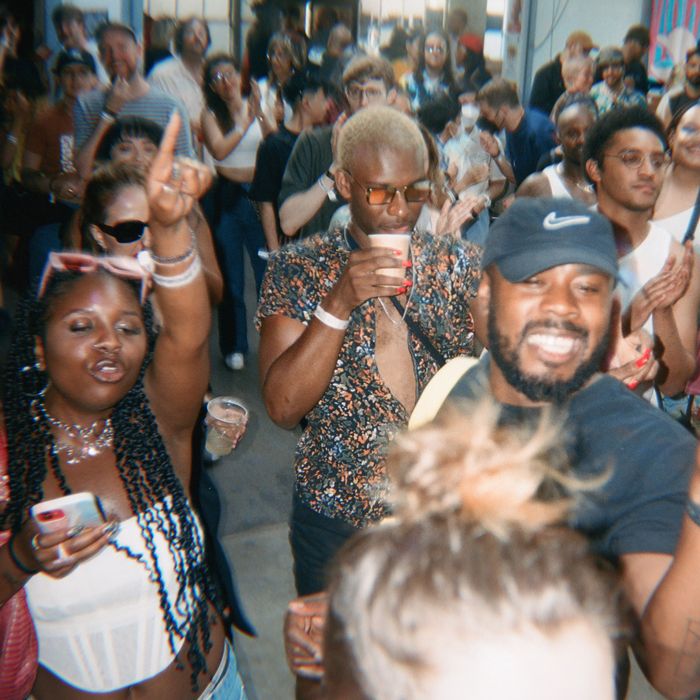 I'll be the first to admit that I don't have the coolest, most up-to-date taste in music. It's not that I don't have good taste, I just tend to enjoy the artists your mother probably also likes: Stevie Nicks, Joni Mitchell, and, even before it was suddenly trendy to like her again, Kate Bush. I've never professed to be an expert or much of a fan of electronic dance music or house music or techno music (I can barely tell you the difference between those things). But after moving here three years ago, I discovered that if you're going to be young and queer in Brooklyn, learning to love dancing in dark, sweaty clubs to tracks that would probably terrify anybody's mother is kind of a rite of passage. In short, if you're like me and mostly perceive the music as a series of loud, jangling, metallic sounds, you've had to figure out what combination of friends, booze, and drugs makes it fun.
Unlike me, my friends are experts (and snobs who will cringe when they read what I just wrote). So despite faking it as a real dance-music afficionado, two weekends ago I followed a crew of them — two DJs and three other good-time girls — to Detroit for the annual Movement music festival. Or at least the slightly more underground after-parties it spawns — it's not cool, apparently, to go to the festival itself — at various Bushwick-y, Berlin-geist clubs across the city. Detroit is famously gentrifying, but the nightlife scene seemed accessible, community-driven, and determined to pay homage to the roots of the music, even if it was, this weekend, swamped by hard-partying ravers from places like Chicago and Cleveland — as well as a bunch from Brooklyn and even a sprinkling from Berlin. Deon Jamar, a DJ on the local scene, told me, "New spots are raising the standard in Detroit. Now all those people — Black people, gay people, people who usually are made to not feel welcome in places — they have places to go out. So you better get your shit together. You have something worse than competition: You have an alternative. Basically, y'all have to bring in God to come and DJ." Oh, and: "You have to dance until the sun comes up at least once on festival weekend."
Suffice to say I didn't get much sleep. "I just can't be this crazy anywhere else in my life," said one of my friends while pregaming on Saturday night. I can assure you: "Crazy" might be an understatement.
Friday, 11:14 p.m., Airbnb | Because we've just arrived in the city and are lacking certain kinds of … friends, our weekend begins with lines of Adderall on the fake-granite countertop of our Airbnb. I'm in the kitchen with my roommate's boyfriend, a Brooklyn house DJ who's unsuccessfully attempting to explain to me the difference between techno and house. "Listen to this shit," he says. "Sometimes techno can just be how loud can we make this kick drum if we just fucking like hit everyone with a wall of sound? House is less so about how loud and heavy it can be." (The song he's playing sounds like we're being assaulted by flutists.) He tells me he believes we're witnessing "an all-time high" for dance music in Brooklyn, which is why it's high time we come pay respects to the DJ gods here at the birthplace of techno. "It's all about drinking in a dark, hot place where the music is good and the people are nice. Have you ever gone to the 13th Step in the East Village? And you're kind of wondering how people have fun sitting in a loud bar drinking shitty drinks with shitty music?" He's a connoisseur, and because of that I trust him to take us to one of those good dark, hot places tonight. If there's one thing I've learned in my time as a professional partier, it's this: It pays to know a DJ.
Saturday, 12:36 a.m., the High Dive | Tonight's first stop is a party called "Hedonism Probidae" at a bar on a sleepy strip of highway called the High Dive, which someone in my crew describes as "Limelite meets the Jane," because of its stained-glass windows. Like any well-intentioned club back in Brooklyn, there's a sign at the door that forbids any "racism, sexism, homophobia, transphobia, fatphobia, and xenophobia," and inside it feels like Bushwick, except for the fact that the vodka sodas are just $8 and everyone seems to be genuinely quite pleasant — none of the ghosts of our Bushwick pasts here (hopefully)! "Are you guys from Paris?!" someone asks us, which, I'll admit, is probably too flattering.
Saturday, 1:22 a.m., the High Dive | In the backyard, I meet a charming Midwestern guitar player who drove up from Cleveland earlier tonight. He recently renounced his religion as a Jehovah's Witness and has since devoted himself to the Detroit music scene. "The more and more I was free from that organization, the more I started to just be like, Bruh, this is a big-ass city," he says. "There's a sense that people are themselves here." Back home, he tells me, "Nobody's stoked to be themselves. Everybody's trying to be an idea of something." It resonates: We're here at this club where everyone is just dancing, not clout-chasing and scene-making, and enjoying a 1 a.m. smoky backyard cookout.  My friend lets out a sigh of relief: "It's great to get out of Dodge" (or, again, Bushwick).
Saturday, 2:17 a.m., an Uber | DJ Boyfriend has decided there are better places to be … so we're off to another party. Maybe because we're all in a reflective mood about why it's so much easier to relax and cut loose here than back home, I ask a single girlfriend what gets in the way of a good time. "The way to kill a night consistently is when we're all like, We've gotta fuck someone tonight. And everyone is out trying to get laid. I feel like people should not go out to try and get laid. They should go on dates to try and get laid. I've never seen a night killed faster than by three horny sad people."
Saturday, 2:30 a.m., Marble Bar | The next spot is Marble Bar on a half-lit street corner in a brick building that used to be Detroit's leather-daddy bar the Eagle. "It's way more Berlin than Brooklyn in that it's giving a lot of concrete," observes a friend. Tonight it's promising "12 hours of mind melt," but all we find on the dance floor is a litter of playful puppies dancing around in a circle and a number of less kinky gays in TikTok tight tops. I decide to order a drink to get into it (the dancing, not the puppy play), but apparently there are no booze sales in Detroit after 2 a.m. We make plans for a harder pregame tomorrow night.
Saturday, 3:37 a.m., Marble Bar | After my girlfriend gets humped by a stranger and a gay from Brooklyn in a purple fur coat compliments my "Telfeezy" (here come the ghosts), we decide to head home. Outside, we learn from the locals that 19 minutes is an easy wait time for an Uber. Then we meet a taxi driver (a guy with a van) who introduces himself as "Mo Captain, an IT engineer until 5 p.m. and a fucking cab driver after 7 p.m." On our ride to the Airbnb, he offers us drugs, bottle service, and a home-cooked meal with his wife before zipping across several lanes and up an exit ramp. "I'll give you a service no Uber driver can provide you," he calls into the backseat over my embarrassing squeals. I'll need a nightcap.
Saturday, 6 a.m. to 2 p.m., Airbnb | Sleep.
Saturday, 7:26 p.m., Spot Lite | Now to a place called Spot Lite, which, in that special gentrified way, is a coffee shop, a club, and a record store rolled into one stout, garagelike building with a back lot. The weather's warm, everything smells like a barbecue, and everywhere, hot people are dancing. "I don't know what time it is anymore," a smiling woman from Chicago in orange-tinted sunglasses tells me. How does this compare to her scene back home? "Ours can get a little more divey. And a lot more queer. But this is still a vibe. The DJs are beautiful, and everyone has really good shoe game." Next I meet a puckish DJ with perfect teeth who also traveled here from … Brooklyn. He goes on and on about his "partner" (female) and tells me, chuckling, "She hated DJs until she met me." Maybe looking for more affirmation, he asks, "What is your favorite and least favorite thing about DJs?" I have no answer, but he has one prepared: "They will literally almost kill themselves to do what they love … but like anyone with power, they often misuse and abuse it." Now I'm triggered, but not entirely in a bad way.
Saturday, Spot Lite, 8 p.m. | Deon Jamar is a native Detroiter and one of the DJs playing this party, Underground & Black's Motortown Revue. He tells me about this club. "It's a real nonbinary kind of spot. Queer, straight, green, blue, whoever comes in here feels safe and comfortable," he says. He got into DJing about ten years ago. "I feel like you have to dance before you learn how to play dance music. You need to know what it's like to be beat up by a sound system on the dance floor." He admits there's a ton of young white New Yorkers here for the weekend, which is certainly not unrelated to the amount of development (read: gentrification) in the neighborhood, but he's hopeful for the city's nightlife post-COVID. "Our nightlife scene is on fire right now. It's not exclusive to anybody. We just have to keep it real about where the music comes from, which is Black people," he says. "Dancing is a human right. I figure it's in our blood, our DNA. Coming together with your people, breaking bread … At the end of the day, we're trying to get you to move. It's about motion. No pun intended, it's about movement."
Saturday, 11:30 p.m., Airbnb | Here's a fun idea for your next pregame: We all make a TikTok predicting who's going to get the most fucked up tonight in our group. Guess who everyone picks?
Sunday, Midnight, Tangent Gallery | Connections … made … we head to Tangent Gallery — the most Berlin of the Detroit tanz klubs so far, with three stages and a massive backyard that feels pleasingly like a junkyard — for Return to the Source, a party that's been happening at Movement since 2007 and which features 32 hours of continuous music starting Sunday night. What I've neglected to mention to you, dear reader, is that I also kind of followed a boy to Detroit who happens to be at this party with his own friends (we met at Nowadays, which might explain a few things). All I can say is that I left the foggy indoor dance floor at 7 a.m. (that's when the bar reopens; "vodka soda, please") to find the world surprisingly brighter than when I left it and myself far more wifed up than when I entered the party seven hours ago. Maybe it was the drugs? I sure hope not.
Sunday, 8 a.m., Tangent Gallery | Everyone looks surprisingly perky for the time of day. Under the awning outside, the dancing keeps apace, though it's much more sluggish and sultry than it was a couple of hours ago. The DJ, Daniel Bell, tells me how he keeps people moving in the morning: "Hopefully, with the right selection of records, there is still an energy, a danceability factor … Something like 'Sunrain' by Ashra Temple is the ultimate soundtrack to a sunrise, with its looping synths slowly climbing to the heavens." The sun is coming up, but I think I'm coming down.
Sunday, 6:13 p.m., Hart Plaza Detroit | I can't help but wonder who the 50,000 people are who went to the actual festival downtown, which is guarded by the U.S. Border Patrol because it's in a park just across the river from Canada. Inside I find the kind of crowd you'd expect — sweaty people of all ages and body types in skin-baring, rainbow-colored festival garb. It's an all-walks-of-life shitshow zoo, but to tell you the truth, lately I feel like the whole culture's rotting, and it's rather refreshing to be among so many people with a shared hobby: dancing and drugging in the sunshine. I talk to two women in neon mesh tanks I find smoking a joint by the water. They're from actual Berlin, and they might be inside the festival right now, but "I came here for fun. I didn't come here for the festival," says one. "I came to dance outside of a capitalistic society." (Tell that to the event's sponsors, Tito's vodka, Bud Light, and WeedMaps. Also, the tickets weren't cheap.) The other says her only knock on Detroit is that it's not as naughty as she's used to: "It's a bit more hedonistic in Berlin. For example, I'm so used to smoking in the club." Unlike Berlin, however, she says people are friendly here. "It can be a bit more snobby. In general, all this small talk in the States can really piss me off. But then at parties like these where you actually like the people, you connect with people much easier." Speaking of failed connections … a few minutes later I accidentally interrupt a young woman's shroom trip. She regains her speaking skills just long enough to tell me this festival is where she discovered psychedelics. "I came when I was 18 and tripped on molly and acid together. I'll never forget. I was like, This is the best moment of my fucking life. And until this day it's still the best moment."
Sunday, 6:47 p.m., Hart Plaza Detroit | Okay, but who's that beautiful redhead with green eyes and a baby in protective ear muffs? She tells me this is her 11th Movement but her first in ten years, and she's not happy with the touristy upscaling. "I'm kind of pissed off about all the VIP areas and the fact that you have to pay for water and that kind of shit," she says. Before she was a mother, she tells me she was a staple in the Detroit underground, which she liked because "it's not like Chicago, where you just feel people being judgy and pretentious. There's none of that here." As for the baby … he's going to another festival later this month. Does she have any advice for her future club kid? "Don't plan to go to bed early."
Sunday, 7:29 p.m., Hart Plaza Detroit | One DJ begins his set with a reverby speech: "This is a call for radical love and a radical belief that things will get better … Dance music was born as a subversive movement of marginalized people, and we believe it's our duty to follow their footsteps and believe in the power of music for positive change. We are standing on occupied territories …" Then, of course, there's a land acknowledgment while the screen onstage flashes photographs of everyone from Obama and George W. Bush to Indigenous people and Trayvon Martin and abortion-rights activists. The guy in white dreads beside me is really excited about this.
Sunday, 8:10 p.m., Hart Plaza Detroit | I meet two women I feel are indicative of this particular crowd: clearly EDM freaks with neon-pink space buns and little silver stars and moons covering their entire bodies. One is a New Yorker: "I moved to Michigan to go to college, and I wound up coming to Movement, and it's actually a lot of the reason I've chosen to permanently live here," she says. "There's just an energy and an undercurrent in this city. The music is based on the sounds of factories. It's woven into the streets of the city. We know one another here. In our scene, we see each other. It's a family thing." She tells me she got into dance music back in college because of, like many of us, I guess, a boy — specifically a DJ. "I have nothing against dating DJs," she says. "They're fascinating people. They're artists." Her face says otherwise. Fine, she'll say it: "They get full of themselves and think they're the shit."
Sunday, 9 p.m., Airbnb | Don't underestimate the power of a disco nap.
Monday, 2:07 a.m., Artist Village | My feet hurt. My brain is oatmeal. I have a flight in less than four hours, and yet … We hit one last party, after failing to get into another one, at Artist Village, a painted alleyway that leads to a small dance floor where the fog machines have not been turned on yet but everyone is making up for it by smoking cigarettes inside (the Berliners would be happy). A friend, who is also a Brooklyn DJ, tries to explain to me that the chase is the thing. "Every time I go out, it's trying to plan and be at the right place at the right time for an amazing thing but not always having it and not always having the wisdom. It's always chasing the best thing at the moment. And even if it's not the best thing, just trying to surround yourself with people who are going to make it the best thing," she says. "It's half-empty in here. I don't fucking care. Even if the energy is shit on the dance floor, we're all together. I need to focus on my girls and on the music. That's it. Obviously the drugs help." I couldn't agree more.
Monday, 3:33 a.m., Artist Village | I ask one last raver, in a leather minidress, how she found herself here from Brooklyn this weekend: "I was dating this DJ who was pretty big in the scene, and that was kind of my entryway to everything. Now I'm in it for life," she says. Her friend says he's been doing this for 20 years, and he has some rave advice: "Literally, like, drink water. It'll make you very happy the next day. No matter how great you look the night of the party, if you don't drink a lot of water, you're gonna look like shit the next day." I think I look like shit right now.
Monday, 8:05 a.m., La Guardia Runway | "Ma'am. Ma'am. You need to exit the plane, please." I'm jolted awake by a flight attendant. The plane is empty. Might I recommend only half a Klonopin?
Psst! The Cut and New York Magazine are conducting a survey about dating. We want to know all about your swipes, IRL hookups, bad dates, and everything in between. Interested? Click here.