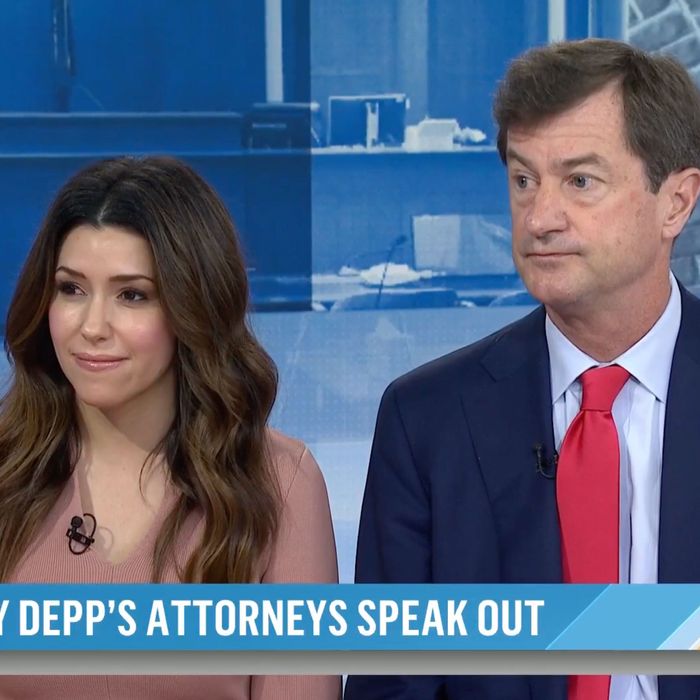 Camille Vasquez and Ben Chew.
Photo: Today.com
The Johnny Depp victory lap continues this morning with a Today show interview by two of the actor's attorneys: Ben Chew and Camille Vasquez, the trial's breakout star. Chew and Vasquez sat down with Savannah Guthrie (whose husband, as it turns out, "has done consulting for the Depp legal team") to talk about the Depp v. Heard verdict, accountability, and Me Too as a concept. According to Chew, Depp succeeded in proving his defamation complaint because he "owned his issues" — with substance use, with joking via text about how he could rape and murder his wife — whereas Heard "didn't take accountability for anything." Both points are debatable, but arguably the more questionable claim came from Vasquez, who denied that the verdict would have implications outside the context of Depp v. Heard. "We encourage all victims to come forward, have their day in court," she said, "which is exactly what happened in this case."
What Vasquez failed to mention is Depp already lost a nearly identical trial based on nearly identical evidence in the U.K. The difference in outcomes may have something to do with the fact that a judge decided his U.K. case (against The Sun for calling him a "wife-beater") whereas a mostly male jury decided this one. The discrepancy, and the choice to televise the proceedings, made for a very different day in court the second time around. Many abuse survivors who've found themselves unable to escape coverage of the trial these past few months worry that the verdict — and the proceedings as a whole — will make it much harder for them to come forward. Even if you side with Depp, the verdict (and wall-to-wall memeification of Heard's court presence) seems to contribute to a long-standing myth about sexual and domestic abuse: that purported victims make up stories in order to wring money and resources from their partners or simply as revenge. False reports of abuse remain extremely rare, though the possibility of facing that particular accusation is one thing that may keep survivors from reporting in the first place. Now, however, proponents of the "Victims lie" viewpoint have something seemingly concrete to point to as evidence of their belief.
For those who do believe Heard, the trial may serve as a warning about how the legal system makes a survivor vulnerable to new forms of abuse: They have to relive their worst moments in court while "society comes up with new ways to justify and excuse and ignore all the additional ways that you're being exploited and subjugated after you've been initially attacked," anti-rape activist Wagatwe Wanjuki told the Cut. Though Depp's attorneys will insist otherwise, Heard brought more evidence with her than most survivors are able to. Pitted against the tenacity of Depp's sprawling fanship, it didn't seem to matter; viewers flipped everything back on her, making her the butt of an extended joke and the target of a vicious online-harassment campaign. If this type of response is what survivors — even a celebrity with above-average resources — can expect from airing their experiences in public, then what is reporting worth?
"It just adds another barrier to what victims and survivors have to deal with, as they're determining how to get the support and safety they need," Ruth Glenn, the president and CEO of the National Coalition Against Domestic Violence, told NPR. "You're already faced with fear. You want to come forward and seek support." But if you do, she warned, "there's an element of, 'will I be believed?'" And now maybe there's also an element of Will my abuser sue me? RAINN reported a 35 percent jump in calls from survivors on the day the verdict landed. At that same time, Maureen Curtis, the vice-president of criminal-justice programs at Safe Horizon, told Rolling Stone she had already heard from "hundreds" of survivors concerned about legal retaliation for public statements they'd made about abuse. Depp's buddy Marilyn Manson had already filed a defamation suit against his ex Evan Rachel Wood, who says he raped and terrorized her. The Depp decision, Curtis worried, "opens the floodgates" for similar claims.
Unfortunately, Depp's lawyers are not wrong to suggest the legal system is functioning just the way it always has, or the way it almost always did before Me Too began to tip the believability scales in survivors' favor. Now that the backlash has arrived, it's reasonable to fear we'll soon end up right back where we started.