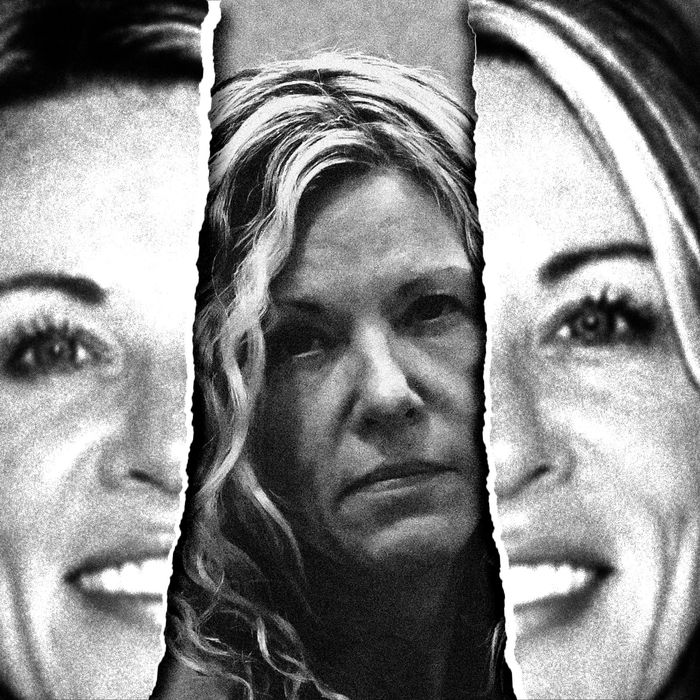 Photo-Illustration: The Cut; Photos: Shutterstock, Rexburg Police Department
In November 2019, detectives from the Rexburg, Idaho, police department showed up on Lori Vallow's doorstep asking the whereabouts of her 7-year-old son, JJ. A relative had called, concerned that they hadn't heard from the boy in months, and asked if the police would check that he was okay.
Vallow waved the detectives' concerns away and told them that her son was visiting a friend out of state. The police asked Vallow to simply have that friend give them a ring — so they could confirm — and the matter would be settled. The next day, when no friend called, the police returned to Vallow's home. But it was empty. Sometime in the night, she had disappeared.
The friend Vallow told the police that her son was staying with, Melanie Gibb, was not happy to be used as a cover story. She called Vallow to ask why she had told such an overt lie. "Is JJ safe?" Gibb asked Vallow, worried.
"He is safe," Vallow said. "And happy."
Gibb wasn't so sure. Vallow was evasive about where she had disappeared with her new husband, Chad Daybell, and why she was lying to the police.
"I'm just worried for you guys because, you know, [JJ is] missing and — "
Vallow cut Gibb off: "He's not missing. I know exactly where he is. He's perfectly fine … I could tell everyone where JJ is right now, and that would not be good for JJ," she snapped. "I'm sorry that you don't want me to protect my children."
When the authorities finally tracked Vallow and Daybell down in February 2020, they were renting a spacious condo in Hawaii with a golf-course view, relaxing on the beach. There were no signs that Vallow's son — or her 16-year-old daughter, Tylee Ryan, who had since been discovered as missing — had ever been there with them. Vallow continued her refusal to say where they were; four months later, authorities unearthed the remains of JJ and Tylee from shallow graves dug in Daybell's backyard. They'd been there for months.
For years, by then, I had been writing about far-right political and religious ideologies in the western U.S. I had taken an interest in people who braid their patriotism together with their religious beliefs, but it was the fringes of the Mormon faith that interested me most. When the children went missing, and Vallow and Daybell subsequently vanished, people surmised that the couple's "cult-like" religious beliefs had something to do with the disappearance. Both had been known to entertain ideas about the End Times and survivalism that were viewed as inappropriate to talk about in the Church of Jesus Christ of Latter-day Saints (LDS).
So I started digging — casually at first, then obsessively. Daybell I could understand: A prolific author of both LDS fiction and two memoirs, he entertained ideas at the fringe of the political right that I was familiar with. But Vallow was different. When I dug into her background, I found a faithful Mormon and onetime beauty queen raised in the church by a father who entertained baseless political theories: In court, he had unsuccessfully dodged paying federal taxes. He published anti-tax screeds and bizarre legal arguments that firmly aligned him with the sovereign-citizen movement. I wondered if Vallow had grown up hearing about those ideas as a child. If, maybe, that made her feel at home in the fringes.
Vallow, by all accounts, was a nurturing mother: doting on her children and selflessly adopting JJ, who had autism, at age 2. She fawned over JJ, who could be "inappropriately loud" at church, one woman from her Arizona ward told me. It was clear Vallow thought the boy, despite his behavior, was "the cutest thing ever." And Tylee Ryan, who wore her hair in the same long blonde curls, was like a miniature version of her mother. Vallow called her "Ty Ty" and "My baby girl" and posted strings of photos of her on Instagram.
Vallow's role as a good Mormon mother acted like a shield protecting her from scrutiny and, eventually, allowing her to slip away to Hawaii before police could figure out that she had lied to them about her children. She'd repeatedly landed in front of police as she sank deeper into her doomsday delusions but often used her children as props as she bluffed her way out of suspicion.
Body-camera footage from the Gilbert, Arizona, police department showed Vallow at the station in January 2019, joking with an officer in an interview room. Her daughter, Tylee, sat beside her. She claimed that her then-husband, Charles, had stolen her purse. Charles Vallow, meanwhile, told police his wife said she had special powers and could murder him. He had been trying to have her held for a mental-health assessment.
Vallow teased the officer that she wanted her purse back because she was lost without her lip gloss. He teased back, "What about the credit cards?" She giggled. The officer strategized with her. He could get her purse back, but "how we're going to get that [mental health assessment] to go away, I don't know," she said.
"I'm not going to take sides," the officer said. "But just talking to you, I don't see you being a danger to yourself or anybody else."
Vallow joked at the idea of being held for assessment. "Do they have good facilities?" she asked. "Do they have a gym where I can work out?"
Vallow reached a hand over to her daughter's head and stroked Tylee's long blonde hair. "You will be okay without your momma?"
"You are going to get a padded room if you're not careful," Tylee told her.
Vallow was back in that police station in July 2019, after her brother shot and killed Charles Vallow in what he said was an act of self-defense. In an interview room, Lori Vallow barely shed a tear for her husband of more than a decade, telling the female detective that her husband didn't care for Tylee, only for JJ. Once, she confessed to the detective, she had left her son alone with her husband for two months to "let him see what I've been doing for the past seven years."
"Men need to do that … 'You'll be begging me to come pick him up,'" she said.
It wasn't just motherhood that Vallow hid behind. Her faith was a mask that she could pull over her face whenever it was convenient.
She posed as a deeply religious woman who frequented LDS temples in both Chandler and Gilbert, Arizona, and relished in Mormon ancestry. But on the side, she was attending conferences throughout the Mountain West devoted to prepping, where attendees regaled the ideas of doomsday authors like Chad Daybell like they were prophecies. (She and Daybell met at one of these conferences.) And behind closed doors, Vallow was holding meetings in living rooms with a small group of people who wanted to discuss apocalyptic ideologies that weren't accepted in church. They were talking about preparing for the End Times; Vallow believed she was the leader of "the 144,000," the purest people chosen by God to be spared from the horrors enumerated in the Book of Revelation.
At one of those meetings, Vallow shared a testimony of her faith with a group of women. Someone recorded it. She told them that she once thought she'd found reasoning in the Book of Mormon that would allow her to murder her third husband — a man named Joseph Ryan who, she told the group, had molested Tylee and her eldest son. (The court-appointed mental-health experts who worked on the case during custody proceedings maintain her third husband did not molest her children and that the story of sexual abuse was a manipulation cooked up by Vallow, whom they called, in an interview with Dateline, a "mastermind.")
"I was going to murder him," Vallow said to the group. "I was going to kill him. Like the scriptures say. Like Nephi killed. Just to stop the pain and stop him coming after me and to stop him coming after my children." On the recording, no one spoke up. No one pushed back. No one gasped. They just kept listening.
By organizing these study groups, Vallow had inserted herself into a survivalist, doomsday tradition that has existed at the LDS Church culture's furthest fringes for decades. The mainstream leadership has condemned these sorts of extremists, even carrying official purges of its ranks. In November 1992, a story in the Salt Lake Tribune told of mass excommunications: "LDS leaders increasingly have been concerned about ultraconservative 'super patriots' and survivalists, many of whom have quit their jobs and moved their families to mountain retreats," the report read. The article warned of people "holding study groups, an inordinate preoccupation with food storage [and] reading doomsday books." In a way, the church had sketched a caricature of what extremists in its ranks looked like: grizzled mountain men up in the hills arming themselves for a battle at the end of the world.
Vallow couldn't have looked less like that caricature: In her late 40s, she still looked the part of a former cheerleader with perfect blonde hair, big blue eyes, and a smile of bright white lights. She drove an SUV, wore athleisure, and lived in big suburban house with a custom spiral staircase.
As I reported, I came to wonder if people hesitated to question Vallow because she had gussied up doomsday rhetoric in a perky suburban package. Or maybe it was because she was so devout and often spoke about outlandish ideas using the familiar language of their religion that people were unable to hear what her high, mousey voice was really saying.
But what I started to realize was that the people Vallow surrounded herself with couldn't speak up — not without risking their own status within the mainstream LDS Church. If they told their bishop what kinds of groups they were attending outside of church or went to the police, they would out themselves as dissidents. So they stayed quiet.
When Vallow stands trial next year in Idaho on first-degree-murder charges in the deaths of her children, she will stand alongside Chad Daybell. Both face charges of murder for Daybell's wife Tammy, too, whom he was married to for 29 years when she suddenly dropped dead in October 2019. Prosecutors are seeking the death penalty. And authorities in Arizona have said that when Idaho is finished with Vallow, they will try her for the first-degree-murder of Charles Vallow.
Meanwhile, the deaths connected to Lori Vallow continue to weigh heavily on the hearts of the people from her LDS ward in Arizona. One woman — who asked me not to use her name — said that something about Vallow had always made her nervous. She could never quite put her finger on it. "She was super pleasant," she told me. "She just made a great effort to be my friend, and I couldn't figure out why I wouldn't want to be her friend." The woman knew both of Vallow's children, knew Charles Vallow. Each one of their deaths had shaken her. Made her question everything. Even her own faith. Because while she had steered clear of Vallow, her children had taken Sunday-school classes each week from her. They learned what God was from Lori Vallow.
Leah Sottile is the author of the book When the Moon Turns to Blood, which is on sale now.