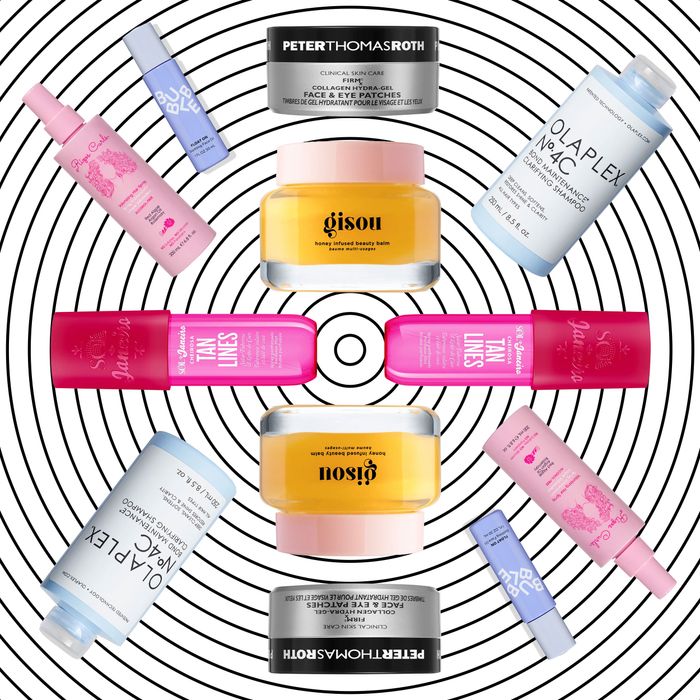 Photo-Illustration: The Cut; Photos: Retailers
It seems like we can't go a day without a new beauty launch. A new lipstick here. A new cleanser there. It can get overwhelming, and fast.
However, from celeb skin-care lines to eyeliners and mascaras, the Cut's style team is constantly testing a plethora of products. It's a big chunk of our jobs. If a sunscreen has a horrible white cast, best believe we'll tell you, and if a cleanser left our skin dry and non-hydrated, we'll tell you that too. From now on, you can count on us to share our top beauty favorites every month from the overflow of products we've tested.
From summer must-haves like Augustinus Bader's lightweight moisturizer to Rizos Curls' newest volumizing hairspray that has the best frizz control, there was an array of drops. If you've been hesitant about what to fill your cart up with, start with some of these.
Asia Milia Ware, Junior Fashion & Beauty Writer
Dermalogica Milkfoliant
In the past, I've been a victim of overexfoliating, and since then, I've struggled to find a happy medium. This exfoliant is so gentle that it can be used daily without damaging the skin's barrier. The powder gently foams into a light, milky texture, which has become a favorite of mine already. The oat extract has been super calming and soothing for days when my skin is irritated.
Kosas Hyaluronic Acid Lip Liner
The first thing my best friend asked when I said I was using a new hyaluronic acid lip liner was, "Does it stay on?" The answer is yes. The hybrid skin-care and makeup trend continues with Kosas's newest hotliners, a lip liner made to hydrate and soothe that also defines the lips. The deep-brown supreme shade paired with my Ami Colé lip treatment oil has become my summer go-to lip.
 Pat McGrath Skin Fetish Blush Duos
The iconic Pat McGrath said, "It's a blush-girl summer." These beautifully pigmented blush duos are paired to perfection. They're already beloved by celebrities like Doja Cat, Cardi B, and Naomi Campbell. And with these, a little goes a long way because the pigments are so potent. While there's a color for every complexion, the violet–and–blue-red combo has me in a choke hold. I start with a bit of the red and blend it out with a bit of the deep-violet color for a flushed face that fits my summer tan perfectly.
Bubble Re-Set Duo
This two-step set gets straight to business. An exfoliating mask that reveals smoother skin and a facial oil that soothes and calms directly after the exfoliant. Between the ingredients and results, it's a duo worth bagging.
Augustinus Bader Light Cream
I'm a fan of almost everything Augustinus Bader launches because the products are formulated well and get the job done. If you're familiar with the rich cream, their thick, deeply hydrating moisturizer, then you'll love this. It has the same nourishing effect but with an extremely lightweight texture and mattifying finish. I love it under makeup, but it's great alone too. Is it a splurge? Yes. Will your skin thank you? Also yes. Especially if you're surviving the humidity of New York summers. It's a moisturizer you'll wish you had sooner.
Peter Thomas Roth Collagen FIRMx Patches
Remember the viral Peter Thomas Roth FIRMx eye tightener from last year? This year, the brand blended up another FIRMx masterpiece: collagen-filled gel face and eye patches. Not only did I feel the difference in hydration in my skin after one use, but the firmness and smoothness around my smile lines were instant.
YSL Beauty Lip and Cheek Balm Tints
We love multiuse products! These YSL Beauty lip and cheek tints just made life a lot easier. With hyaluronic acid and shea butter, the creamy tint leaves the lips and face nourished. It comes in three blendable shades that all leave a subtle and natural tint. It's perfect for those natural days when you just want a hint of color, and it's small enough to pop into your purse.
Olaplex No. 4C Bond Maintenance Clarifying Shampoo
Olaplex's bond-building technology repairs and strengthens hair in a unique way, and their latest clarifying shampoo is no different. As someone with lots of excess oils built up in my hair from daily workouts, this shampoo did wonders for bringing my hair back on track. It's formulated to soften the tresses while providing shine and color clarity.
Chinea Rodriguez, Shopping Writer
Sol de Janeiro Cheirosa Tan Lines Hair & Body Fragrance Mist
I'm officially a fan of these cult-favorite lightweight mists from Sol de Janeiro. The three new limited-edition scents are perfect for summer. My favorite so far is Tan Lines, a beachy floral scent with notes of vanilla and coconut. These aren't the longest-lasting scents, but the plastic bottles fit right in your bag, so you can reapply them throughout the day.
Hanahana Beauty Shea Body Mini-Set
If you have dry skin, you know that even the free lotions in the fanciest of hotels don't cut it, which is why I love these tiny TSA-approved tubs from Hanahana Beauty. The whipped shea butter melts into an oil that keeps your skin super-soft, moisturized, and smelling amazing.
Bianca Nieves, Senior Shopping Editor
Rizos Curls Alcohol-Free Volumizing Hair Spray
I'm going through a hair journey right now and learning how to take care of my newfound curls. When my hair was wavy, I shied away from volumizing sprays because I didn't like how crunchy they left my hair. I was skeptical about adding one into my routine again, but this one from Rizos Curls really nourishes and controls frizz without that odd crunchy feeling. I love using it to secure a sleek ponytail or as a last step on my damp hair before letting it air dry.
Soft Services Speed Soak Air-Gel Rehydrating Lotion
During summer, I tend to switch to gel moisturizers so my skin stays hydrated without feeling too heavy. I love that now I can do the same with my body lotion. Soft Services' new rehydrating lotion absorbs in seconds and even has a cooling effect — perfect for all those hot summer days. I tested mine out this particularly hot weekend in NYC and am happy to report I did not feel sticky. 
Gisou Beauty Balm
My eczema-prone skin is a sucker for anything with honey, and Gisou's Beauty Balm did not disappoint. Exclusively sold on gisou.com, this balm is great to apply all over your body before bed. Don't worry, while honey can be sticky and you might be afraid of your sheets hugging you in all the wrong places, this oil-balm blend melts and absorbs like an oil, so your skin will be nourished without the unwanted residue.
Murad Two-in-One Sunscreen Serum
A sunscreen with no white cast? Sign me up! Its consistency is like a serum, and it leaves my skin feeling instantly plump and bouncy.