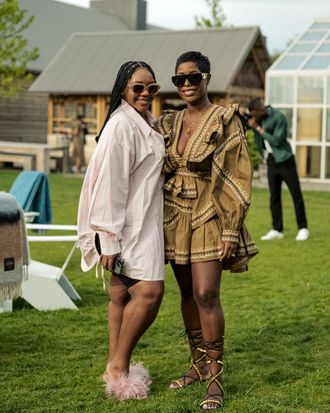 Photo: Mike Vitelli/BFA.com
I'll admit I am not an outdoors girl, but when you add a hint of luxury, you might have me. Insert: Neiman Marcus's version of a camping trip, which took place a few weeks ago just a few hours outside the city on the pastoral acres of Inness, between the Catskill and Shawangunk mountain ranges.
Neiman's version of arts and crafts offered a plethora of things from tie-dyeing cashmere sweaters with Proenza Schouler–like prints to candle- and jewelry-making. Dinners were an experience within themselves, set up with strong lights for an atmosphere that was illuminating both physically and figuratively. And my favorite? A bonfire while we were covered in Missoni blankets and having camp chatter — because yes, that exists in adult luxury camp, too. It was the perfect experience to celebrate Marcus's summer campaign.
Now, all of a sudden, I'm an advocate for luxury camping. It's an experience I think everyone should try. That doesn't mean you have to get bitten by bugs while tossing and turning in a tent, nor does it mean just hiking in the mud. Below is everything you need to glamp.
Beauty that'll keep you glowing in the woods
Sunscreen is necessary everyday but especially when camping. This sunscreen has SPF 50 while spreading smoothly across the skin with it's velvetlike texture. Most importantly? It leaves zero white cast.
Being in the woods gives my hair an odd nature smell, especially when I have braids. Balmain's lightly scented hair perfume takes that smell away without being overpowering alongside my body perfume.
Always keep your hands clean by keeping a trusty, hand sanitizer in your cross body bag.
And speaking of perfume, packing that is a must. You can't ever go wrong with the cult-favorite Baccarat Rouge 540. It's a unique woody scent fitting for any occasion, and it's a top Neiman's fragrance seller.
Whether you're going to a glamping or a regular camping trip, there will be bugs at both so stay protected with this bug repellent from Kinfield.
Speaking of cult favorites, this Dior lip oil is a TikTok holy-grail product. It's nourishing, long lasting, and has the perfect glowy finish. You don't need much gloss or lipstick for camping, so this lip oil is ideal.
Speaking of makeup, skip the heavy foundation and opt for a tinted moisturizer that will last throughout the day.
Keeping your skin hydrated is essential while in the woods. This essence from La Prairie has a plumping and tightening effect that works instantly. It's not called "skin caviar" for no reason. It deeply hydrates the skin and had my skin glowing all day long while camping whether or not I had makeup on.
Yes, you packed your sunscreen, but in case you do get a little burnt being out in the sun, Dr. Barbara Sturm's aloe vera soothes and cools your skin. It can also be used for extra daily hydration to the skin while in the woods.
Clothing fit for camping
A pair of leggings is always important,whether for hiking or just chilling. Stella McCartney's Adidas collection has bright colors with perfect body-hugging fits for a comfortable wear.
If you're more of a cycling-shorts person, there's an option for you, too!
And here are some matching crop tops because you can (and should) feel sexy while glamping.
This dress was the dress of summer 2021, and I don't think this summer will be any different. The knit fabric is comfortable and movable while the cutouts add the perfect bit of sexy. It's a glamping-dinner must-have.
A romper is easy and casual but can still be styled to your liking.
These shorts have become a favorite among stylish girls, being worn at home and out. If you want the perfect lounge short to just chill in, these are the ones.
Nights tend to get chilly so don't forget a chic zip hoodie to pair with all your looks.
Accessories that'll actually do the job
It can get chilly in the woods at night, and nothing says luxury more than a McQueen scarf to drape over yourself by the campfire.
Keep your hand sanitizer and your bug spray close with this stylish fanny pack from Dagne Dover.
Shades are a must! Not only to protect you from the sun but also because they scream luxury. These Prada ones have a fun shape, and the black matches almost everything.
Crew socks are vital for all your chic hiking looks.
You don't need a bunch of jewelry, but a small hoop is perfect. Baublebar's earrings are affordable and great for daily wear.
A bucket hat to protect you tresses is always a luggage must-have.
If you don't like covering your entire head, a visor always works, too.
If you want a chic-er look for your midday glamping picnic, opt for a fedora.
Shoes that'll survive the grass
A perfect pool slide is a must-have for every trip whether glamping or on a regular vacation. It's also a great travel shoe so you can pass by the TSA like a pro.
I know these aren't your ideal hiking sneakers, but while these favor fashion over function, they are still great to travel in or just to do low-impact activities in.
These puffy sandals will keep your feet comfortable, and they match with a bunch of looks. The slingback style is perfect for being in the woods and having an extra layer of foot comfortability and protection.
Is it really a trip to the great outdoors if you don't wear Tevas?
For your hiking sneaker option, you can't go wrong with Sorel. They're lightweight and breathable but also stylish.