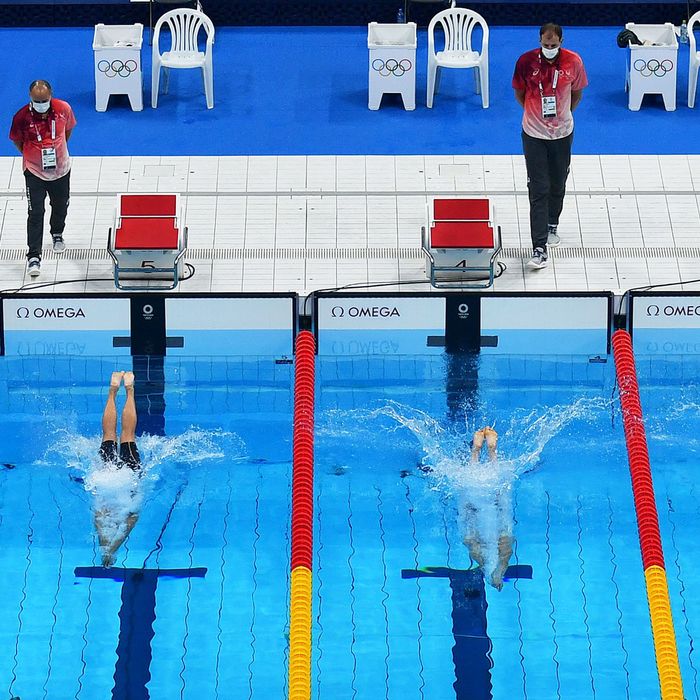 Photo: FRANCOIS-XAVIER MARIT/AFP via Getty Images
In November, the International Olympic Committee released some promising guidelines for transgender and intersex athletes. Scrapping the organization's previous requirement that athletes meet specific testosterone requirements, the IOC turned decisions on trans athlete eligibility over to the global governing bodies of each sport, encouraging policies that require proof that a trans athlete has a performance advantage in their sport rather than fixating on the testosterone levels of individual competitors. Without any binding requirement that governing bodies follow those guidelines, though, the execution was not guaranteed.
And it turns out not everyone is keen on taking the IOC's advice. On Sunday, the International Swimming Federation (FINA), the world swimming governing body that regulates all the Olympics water-sports competitions, adopted a new "gender inclusion policy" that drastically restricts trans athletes' eligibility. Under the new policy, transgender women can compete in women's swimming events only if they transitioned before turning 12 or reaching stage two on the puberty Tanner scale (which marks the beginning of physical changes). The policy also bans athletes who've used testosterone as part of female-to-male gender-affirming hormone treatment from participating in women's competitions unless the testosterone was used for less than a year, the treatment didn't take place during puberty, and testosterone levels are back to pretreatment levels. The 24-page policy proposes establishing an "open competition category" to accommodate athletes who don't qualify for men's or women's events.
Members of the organization voted 71.5 percent in favor of the policy, which was written by a coalition of athletes, scientific and medical advisers, and human-rights experts after the IOC released its recommendations in November. According to CNN, FINA says the athlete group included transgender athletes and coaches.
It's not clear what FINA considers "transitioned," though it feels safe to assume the organization wants swimmers to have started hormone therapy before puberty — which often isn't an option for transgender kids. Global access to gender-affirming hormone treatments varies by country, though many have introduced laws in recent years establishing a minimum age over 12 to start hormone therapy. In European countries, the minimum age required for access ranges from 12 to 18 years. In the U.S., many states are working to block access to gender-affirming treatment. Their age minimums for hormone blockers vary, with some proposed laws banning treatment under the age of 21.
Responding to the criticism, a spokesperson for the president of FINA stressed in a statement that the organization was not encouraging people to transition before the age of 12. "It's what the scientists are saying, that if you transition after the start of puberty, you have an advantage," he said. "You can't transition by that age in most countries and hopefully you wouldn't be encouraged to."
FINA is not the only governing body finding new ways to box out trans athletes even after the IOC's recommendations. Earlier this month, the International Cycling Union lowered the maximum accepted level of testosterone for female cyclists and increased the amount of time athletes are required to be on low testosterone before competing from 12 months to two years.
Transgender Olympian sprinter Chris Mosier responded to FINA's announcement on Twitter, writing that it "does not follow the IOC framework." "The only way to enforce this policy will be to violate the rights & privacy of all women swimmers," he wrote. "All women suffer when sports organizations police the bodies of women athletes. Period."