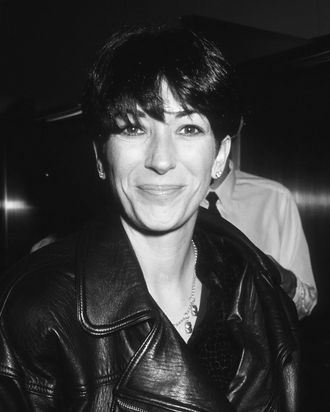 Photo: on Galella/Ron Galella Collection via Getty Images
Since she was convicted on five sex-trafficking charges last December, Ghislaine Maxwell has been awaiting sentencing at Metropolitan Detention Center in Brooklyn, where she has been busy using her own private shower, getting dumped, and also, apparently … teaching yoga?
Maxwell, the close friend and former employee of the late convicted sex offender Jeffrey Epstein, is widely known as the person most instrumental in recruiting young girls for Epstein's sex-trafficking ring. Following her New York trial, where victims and former employees identified her as the coordinator of many of Epstein's assaults, she's now facing up to 40 years in prison. Ahead of her sentencing on Tuesday, one of Maxwell's fellow detainees reportedly penned a letter detailing all the wholesome activities Maxwell has been up to over the past six months. Apparently, while in prison, Maxwell "volunteered to teach ESL, teach yoga, and help women with their GED."
Personally, I'm not sure a woman recently found guilty of recruiting young girls into a sex-trafficking ring by encouraging them to give "massages" would be my first choice for a yoga instructor, but okay. The letter, which was reportedly written by an inmate named Tatiana Vegas, also characterized Maxwell as "genuine and kind" and asserted that "there are positive opinions" of Maxwell at the center, presumably in an attempt to defend her character and soften her sentence. Vegas also wrote that Maxwell "introduced herself to everyone with a handshake" when she arrived at the detention center, which "took all of us by surprise." I guess there's more than one person wishing her well?