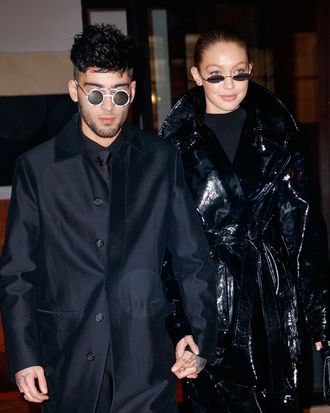 What is Father's Day if not a day when celebrities can post photos of the fathers in their lives, giving fans insight into their private lives? Gigi Hadid took full advantage of the occasion on Sunday, sharing a sweet Father's Day snap of her ex, Zayn Malik, and their daughter, Khai, to her Instagram Story. The photo doesn't show their faces, but there's no mistaking the tattoos of a man (presumably Zayn), whose hands are seen helping a baby (presumably Khai) draw. Hadid confirmed the identities with the message, "to Khai's baba."
The photo itself isn't particularly revealing, though it is one of the rare glimpses Hadid has given the public of her daughter, who is 21 months old and has only appeared on her parents' social media pages a handful of times. When Khai was just a few months old, Hadid announced that she and Malik would not be sharing photos of their daughter's face, writing in an open letter to paparazzi and fans that the parents wanted her to "choose how to share herself with the world when she comes of age." Hadid asked paparazzi and media outlets that publish celebrity photos to "blur her face out of the images, if and when she is caught on camera," in an effort to protect her privacy.
The social-media well-wishes also acts as an unofficial relationship-status update for Hadid and Malik, who split in October of 2021 after Yolanda Hadid, Gigi's mother, accused Malik of pushing her against a dresser and striking her in Hadid's New York City apartment. Malik was charged with four criminal offenses of harassment and pleaded no contest, eventually receiving probation. Malik addressed the situation with a Notes app statement, denying the claims of harassment and saying that he decided to enter a plea of no contest to "create a safe and private space for my daughter to grow up in." He also said that he wanted to "restore us to a peaceful family environment that will allow for me to co-parent my daughter in a manner in which she deserves." Neither Hadid nor Malik have spoken much about the end of their romantic relationship, but this public acknowledgement seems to suggest the former couple are, at the very least, co-parenting in peace.
Psst! The Cut and New York Magazine are conducting a survey about dating. We want to know all about your swipes, IRL hookups, bad dates, and everything in between. Interested? Click here.