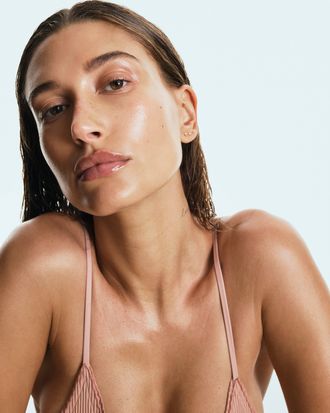 Photo: Stevie Dance/Rhode Skin
A few weeks ago, Kim Kardashian said she'd eat poop if it made her look younger, and today Hailey Bieber said she wants her skin to look "yummy" — edible, if you will. Where do we draw the line with skin aspirations and celebrity skin-care lines?
Lately there seem to be zero boundaries. Today, Rhode Skin, Hailey Bieber's five-product line, is the latest celebrity skin-care line to hit the very oversaturated market. The line includes lip treatments, a restore cream, and a peptide glazing fluid. The goal? To appear, according to Bieber, like a "glazed donut." Hailey's remembrance of her love of skin care and looking like the sweet treat goes back to her childhood. "My skin care goes all the way back to being a kid — getting out of the shower or the bath, and my mom just not letting me leave the bathroom until she, like, drenched me head to toe … like a baby glazed donut," she told Vanity Fair.
The term "glazed donut" referring to skin was originally used by Tiara Willis, an esthetician and skin-care influencer on Twitter, and is heavily used by her community: young Black women who love skin care. The look is pretty simple: lathering yourself up with all the hydrating products for a dewy, glasslike finished look. This shift to look glassy has been embraced largely among Black and Korean creators in the skin-care industry. In K-beauty, the goal for some is to use a multistep hydrating routine instead of astringents and heavy exfoliation. Products that achieve this look, like Ami Colé's lip-treatment oil and Noor Face's Skin Glass products, have quickly become cult favorites. Tatcha's dewy skin cream and Peach and Lily's glass skin refining serum have also become classics for glazed-skin lovers.
Nonetheless, Rhode Skin is available, and if you'd like to have a "yummy" face like Hailey, she recommends her signature skin-care step, her peptide glazing fluid, a dewy and hydrating $29 serum that gives you the ultimate glazed-donut skin. Juicy!
Psst! The Cut and New York Magazine are conducting a survey about dating. We want to know all about your swipes, IRL hookups, bad dates, and everything in between. Interested? Click here.