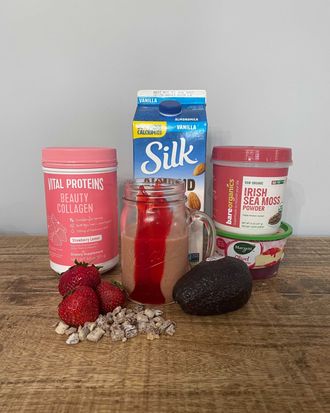 Ingredients used in my smoothie. Not pictured: maple syrup and coconut cream.
Photo: Olivia Luppino
To promote her latest skin-care line, Hailey Bieber teamed up with Erewhon Market, an L.A.-based luxury-supermarket chain known for its niche organic foods and high prices, to create a "skin-supporting smoothie."The smoothie, known as "Hailey Bieber's Strawberry Glaze Skin Smoothie," will cost you $17 and includes hyaluronic acid, collagen, and sea-moss gel, which is a staple in Caribbean communities and has been known to be moisturizing and anti-inflammatory. While the official smoothie is only available in L.A., for $69.00 plus a trip to my local Stop & Shop and Rite Aid, I gathered the ingredients to try it.
So what is in it?
The ingredients are: strawberries (frozen or fresh), avocado, almond milk, maple syrup, coconut cream, dates, Vital Proteins vanilla collagen peptides, Neocell hyaluronic acid, and Erewhon Market sea-moss gel. You can make the fresh strawberry glaze yourself, as Erewhon does, or you can just grab some Marzetti-brand premade glaze at the store like I did.
How do I make it?
We don't know the exact amounts of each ingredient used in Erewhon's smoothie, so you can incorporate them at your own discretion. I drew my inspiration from TikTok, where many smoothie and skin-care fanatics have done their best to recreate the drink.
Finding the ingredients for this smoothie can pose a bit of a challenge, depending on where you live. After some research, I learned Rite Aid was the only store near me that carried sea moss, and I had to go with sea-moss flakes rather than gel. While I was able to find NeoCell hyaluronic acid capsules, my local Rite Aid didn't carry it in liquid form, so I opted for a Vital Proteins powder instead that has both collagen peptides and hyaluronic acid. If you want to stay completely true to Erewhon's recipe, all of these components can be ordered online.
Once you've rounded up your ingredients, blend together a half-cup of almond milk, one cup of strawberries, a quarter cup of avocado, two dates, a tablespoon of maple syrup, and as many scoops of your collagen powder, hyaluronic acid, and sea-moss gel as you'd like. For each of these supplements, we would probably stick to the serving-size dosage on the back.
Before you add your smoothie to your cup, coat the sides and bottom with the coconut cream and strawberry glaze.
Do I need this?
If you're in the market for a new smoothie recipe, it is good. The smoothie tasted like strawberry ice cream and wasn't so bogged down by the different supplements packed inside it. And it was easy to make; it took me about ten minutes.
It would be unfair of us to judge whether this actually changed our skin after one serving. The hyaluronic acid, collagen, and sea-moss-gel supplements are all good for you, and the smoothie is a way tastier vehicle into your body than just swallowing capsules or using them in a serum. The real lesson here is that $17 for a smoothie is pretty ridiculous and you want to be consistent with health, so if the price of this drink is prohibitive, we just showed you how to make it at home. Bottoms up!