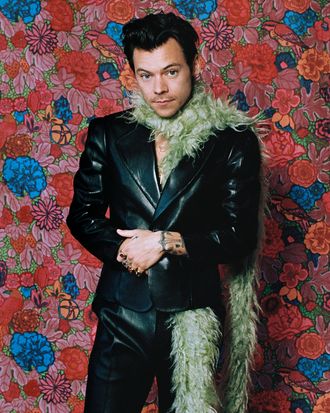 Photo: Anthony Pham/Anthony Pham via Getty Images
In the past seven years, Harry Styles has evolved from boy bander into something of a fashion icon, and it was really only a matter of time before he teamed up with a fashion brand for his own collection. Enter: Gucci creative director Alessandro Michele, a longtime friend of the singer's who designed Styles's 2019 Met Gala look and who teamed up with him to create Gucci's new collection, Gucci Ha Ha Ha.
Styles and Michele have been collaborators for a while. The singer was the face of a Gucci campaign in 2018 (remember the photo with the lamb across his shoulders?), and Styles's love of Gucci has been responsible for some of his most iconic fashion moments, such as the white pants he rocked on the cover of his Fine Line album and the infamous blue dress he wore on the cover of Vogue. The two also collaborated on the Fine Line T-shirt sold as merch for Styles's second solo album.
The Gucci Ha Ha Ha collection debuted Monday at Milan Men's Fashion Week. Named after Styles and Michele's initials and their chosen text sign-off, the '70s inspired collection features everything from newsboy caps to sweater vests to grumpy teddy-bear brooches (I need it) and a yellow gingham three-piece suit printed with cherries and bright blue sheep. "The idea of working together came to me one day while we were talking on the phone: I proposed creating a 'dream wardrobe' with him, starting from those small oddities that come together in childlike visions," Michele told Rain magazine.
All the items look like something Styles might be seen rocking at an awards show or onstage — speaking with Women's Wear Daily, Michele described it as "the look of a lord who morphs into a rock star" — with plenty of bright colors and whimsical details. "The idea of this collection is banal in its simplicity, and it's an act of love, but it has value, it's sophisticated and we paid a lot of attention to fabrics and sartorial details," Michele told WWD.
The collection also features styles that are more fan friendly (i.e. potentially less expensive), including a T-shirt printed with the grumpy teddy bear (a recurring character in the collection) and the phrase "I want more berries and that summer feeling" and a bright-pink sweater adorned with the same "Watermelon Sugar" lyric.
Prices have yet to be confirmed, but the collection will reportedly be available for purchase in October, so Styles fans might want to start saving up today.
Psst! The Cut and New York Magazine are conducting a survey about dating. We want to know all about your swipes, IRL hookups, bad dates, and everything in between. Interested? Click here.