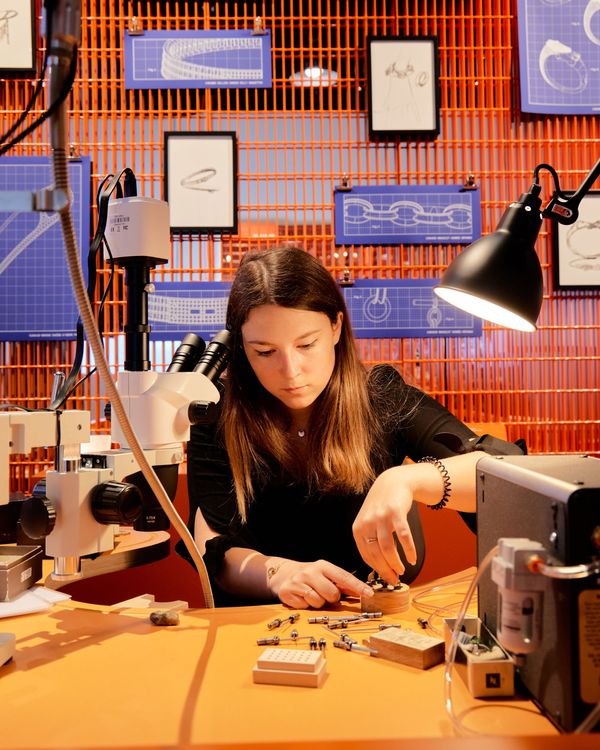 Photo: William Jess Laird
Earlier this month, Hermès moved its headquarters to Troy, Michigan. That's not actually true, but as part of its Hermès in the Making series, the French luxury brand did bring some of its most skilled craftspeople to the Detroit suburb. Surprisingly, Hermès has history with the Motor City: In 1916, Thierry Hermès's grandson, Émile-Maurice, met Henry Ford there. Ford introduced him to the zipper, which he had been using in his car designs. Hermès brought the zipper patent to Europe and started using zippers in his company's bags. We learned all this during a weeklong event by the French brand, which invited journalists and shoppers to watch about a dozen of its 850 artisans at work.
Inside the Somerset Collection, a mall in Troy, the company erected a makeshift workshop with live demos. On the walls, a few artisans showed us exactly how some of the most iconic Hermès pieces are constructed (no, DIY isn't possible) — including the Kelly bag, silk scarves, and saddles … for your horse! Hermès originally made harnesses for horses, but with the invention of the car, it pivoted to handbags. The influence of the zipper! The company still uses a so-called saddle stitch to hold together its leather bags.
Some other fun facts we learned:
A single Hermès scarf is made of 450 kilometers of silk thread, and a team of colorists creates the unique color composition by choosing from more than 750,000 shades.

There is just one artisan assigned to each bag style (including the Kelly bag), and it takes them 15–20 hours to make a single piece. A handle alone can take up to three hours.

Hermès artisans train for a year to make a single bag style.

While the average Hermès bag costs a pretty penny, the brand offers extensive repair services for all of its pieces.

An engraving artist is responsible for the Hermès scarf designs.
Missed it? Don't worry. The company has plans to take Hermès in the Making to Singapore in September, Austin in October, and Kyoto in November.
Here are some photos from Hermès in the Making in Michigan.
Psst! The Cut and New York Magazine are conducting a survey about dating. We want to know all about your swipes, IRL hookups, bad dates, and everything in between. Interested? Click here.