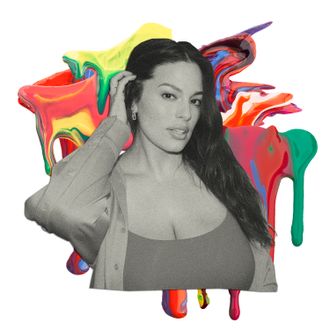 Photo-Illustration: The Cut; Photo: Jared Kocka
Ashley Graham is keeping busy, to say the least. Best known as a model and body-positive icon, she's also a wife, a mom to three boys under the age of 3, a podcaster, a television personality, and an entrepreneur, to name a few. One of her most recent investments has been in skin-care brand Fig.1, where she's investor and partner. The way she tells it, if you would have told her ten years ago she would one day be an executive for a female-owned beauty company, get her own Barbie, and write a book, she wouldn't have been able to see that for herself. But today, the 34-year-old knows that the sky's the limit. She's starred in campaigns for Revlon, Swimsuits for All, Lane Bryant, and more; graced countless magazine covers; had multiple lingerie lines — the list goes on. She's a business woman on a mission. Ashley keeps it candid on social media, from breastfeeding her 5-month-old twins on her Instagram feed to hilariously owning TikTok trends. And she's doing it while accomplishing everything she set out to. She lives in New Jersey with her husband, Justin Ervin, and their sons. This is how she gets it done.
On her morning routine: 
I set my alarm for 6 a.m. I try to wake up before all the little boys to do my skin-care routine. I use Fig.1's micellar oil cleanser, vitamin C, and niacinamide treatments, and eye cream. Then I brush my teeth and go downstairs to make coffee and, if I'm hungry, have fruit or something light. Then, I'll make my 2-year-old's oatmeal. He's obsessed. He even eats it dry — he calls it "little oatmeal," and then cooked oatmeal is "big oatmeal." So I make sure to have a bowl of cooked and another of dry, because I don't know what kind of mood he's going to wake up in. Then, if the twins are still asleep, I try to do a little stretch to get my body warmed up for the day, because managing three kids and working is basically like running a marathon everyday. By seven o'clock, I'm on my second cup of coffee.
On a typical workday: 
There are no typical days for me, truly, which is why I love my job so much. Today I'm in Brooklyn shooting content and getting all my TikToks together, then I'm headed over to the West Side for a big shoot. I'll probably be on set until seven o'clock tonight. I'll get home around eight o'clock, and everybody should be in bed by then. What'll be nice is I'll come home, decompress, have a glass of wine with my husband, do a feed with the twins at ten o'clock, and then I'll go to sleep.
On managing stress:
If something is really stressing me out, I take 15 minutes alone with myself, even if it's just in my closet with the doors closed where nobody can find me. I sit and talk to myself and say my affirmations out loud and remind myself who I am and the intention behind the stress. Other times — since I now live in New Jersey and in a neighborhood — I put the boys in a stroller and take them for a stroll. Our neighborhood's really hilly, so it's a really good sweat. It depends on the level of stress, whether I need to take a minute by myself, for myself, or just go out and walk it off.
On unplugging: 
One of my favorite things to do when I'm home is put my phone on the opposite side of the house from where I'm gonna be, which normally is upstairs in my bedroom. I've deleted some social-media apps before, and it feels good not to feel like I have to go to the apps to kill time.
On the demands of motherhood: 
My mom, she is a true G. She takes care of the boys. She's like, "Three kids? I got it." I'm telling you, she's the OG caretaker. I always tell people how blessed I am and how my mom's helped me. How I navigated my return to work after the twins is hard to say, because I didn't jump back into a nine-to-five. After three months, I started traveling and leaving them for overnights. I definitely had a little mom guilt, but I've been pumping a lot more and having to navigate schedules a lot more. I'm jumping back into work faster than when I did with my firstborn, and I think it's normal. I'm actually so happy when I go to work. It feels like a vacation.
On the challenges of her job: 
People think models are very confident. But what you don't know is how insecure a lot of models are. Confidence is something you have to teach yourself, and I've worked really hard to do that.
On being discovered: 
I was 12 years old and in a mall when someone scouted me. This was before social media — it was the old-school way.
On how her relationship with work has changed over time: 
Growing up, both of my parents were very hard workers. My mom grew up on a farm, and she has this different mentality of how to work and how you keep going and you persevere. My dad's always been a business man, an entrepreneur and hustler. They instilled that in me, and I've used that to get to where I am today. I always go back to, There's no job that's too little or too big. And if you treat everybody with kindness and respect, then we can all get the job done together.
On what she still wants to accomplish:
You know what would be really fun? I want to be in a movie. What kind of character would I be? That's the question.
On sometimes not getting it done: 
I have leaned on this commencement speech that Shonda Rhimes gave. She said, "Whenever you see me succeeding in one area of my life, that almost certainly means I am failing in another area of my life." It really gave me this amazing perspective that there is no such thing as balance. It's really about what you're willing to give up to get. It's not about getting higher; it's about what you're emotionally able to grasp for yourself, for your career, and for your family.
Psst! The Cut and New York Magazine are conducting a survey about dating. We want to know all about your swipes, IRL hookups, bad dates, and everything in between. Interested? Click here.