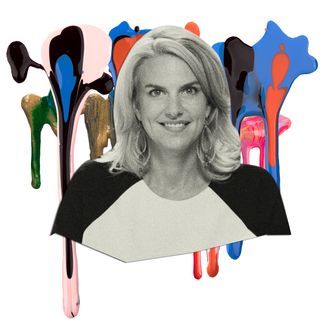 Photo-Illustration: by The Cut; Photo: Amy Mayes Photography
When Sarah Kate Ellis got the opportunity to become president and CEO of GLAAD, the media advocacy organization working to ensure fair and accurate coverage of the LGBTQ community, back in 2014, she was already a high-powered executive who'd worked her way up in the world of New York media at Time Inc., Condé Nast, Real Simple, InStyle, Vogue, and even New York Magazine. Ellis enjoyed the power and influence that came with those roles, but when she and her wife got pregnant at the same time, she wanted a different path: "I went from being a very private person to bringing two kids into the world and realizing I needed to do as much as I possibly could to make the world a better place for my kids as part of an LGBTQ family." So she took on the role at GLAAD, and under her leadership, the organization went from being a watchdog to a powerful agent of change. In her eight years there, Ellis has spearheaded initiatives like the GLAAD Media Institute, fought discriminatory anti-gay bills, and encouraged the pope to welcome LGBTQ Catholics during his trip to North America. She continues to fight for LGBTQ acceptance on an international scale, speaking at the World Economic Forum and working toward inclusion in global corporations. 
Here, Ellis talks about finding relaxation in mocktails, overcoming impostor syndrome, and the rewards of working to help better her community. She lives in Long Island with her wife, two children, and three poodle mixes — Tucker, Teddy, and Scooter. Here's how she gets it done. 
On her morning routine: 
Wordle is pretty much the first thing I do. Then it's a matter of getting the kids up and moving. I'll make my wife and me coffee; I can't move through the morning without it. It's oxygen for me. She takes hers black and I take mine with a little bit of milk. I try not to check email as my first order of business, but once I have my coffee I'll check my messages to see if there's anything urgent. We have to let the dogs out. We drop our kids off at school. Being able to do that has truly been one of the biggest benefits of working from home. I take my kids to school pretty much every day I'm not on the road. Afterwards, I go to yoga. Sometimes it's in person and sometimes it's on Zoom. I've had at least four cups of coffee by the time the morning's over. Blame that on being a New York media person.
On a typical workday, the good and bad: 
Because we work within a shifting news cycle, you never know what you're going to be dealing with that day. There's no routine, and we have to constantly adjust. I love that, but hard days are really hard. Work like this is so personal, and we're resource-limited. You're talking about human beings, about safety and discrimination. Everything feels urgent and therefore difficult to prioritize. You can't do everything, and that can be really painful. But we have a community and we lean on each other. On hard days I'll light some candles and call some of my colleagues to chat, which can be nice. So often we're just trying to get something done that we don't get a chance to catch up personally, especially in a remote environment.
On winding down: 
I'm not a drinker, because I always have to be on, but to signal the evening I'll make myself a seltzer with fresh mint and lemon. We order meal kits and will make dinner, which I love, and sometimes we'll get into a show. We just binged Stranger Things and my daughter and I are into Grey's Anatomy. We also love card games. My kids play poker — my daughter comes in and cleans the table. One of the greatest gifts is having a family. Getting wrapped in the kids' lives is such a relief — what tests they have, what projects they're working on, what's going on with their friends and sports and Dungeons & Dragons.
What's currently on her nightstand:
I have a galley of Jennifer Finney Boylan and Jodi Picoult's forthcoming book, Mad Honey. I'm reading that when I go to Cannes. In the summer we're going to Provincetown, and I'm going to take The Jetsetters by Amanda Ward.
On the rewards of her work: 
I feel so privileged and fortunate to be able to do what I do. Last week I was in Davos at the World Economic Forum speaking on a panel about LGBTQ rights and acceptance and how corporations can help. The work could have ramifications I'll never feel or know, but we've gotten into those rooms where the power is, and are constantly making sure that our community is part of that conversation. I could get choked up thinking about that.
On acknowledging your shortcomings as well as your talents: 
Sometimes my impatience is my greatest gift — it helps me move things forward. It also sometimes makes me move too quickly. And that's a lesson I've had to learn a few times. In hindsight, I can see where I was immature in my early career, but I don't think we give enough room for that kind of error. You always have to be buttoned up and have the answers and know what you're doing. But you're learning as you're building your career, and I think we need to give more space to make mistakes.
One of the great lessons I've learned is to know what you're really good at. Everyone's replaceable, but you bring something special to the table, so know what that is. And then you'll figure out where you shine best, because you're not going to shine everywhere. If you think you are, you're not in touch with who you are.
On the worst advice she ever received: 
To not come out. It was well-intentioned advice from an older family member who grew up in a different time, and I knew where it was coming from. This was 20-plus years ago, a time where you could be fired (you still can, actually) for being LGBTQ. So this person thought I could risk my job. But I'd gotten to a point where I couldn't further my career without being authentic. I couldn't be a real leader without being truthful. Coming out was one of the greatest moments of my life, even though it was terrifying. It was a milestone where I became better at my job and as a person because I wasn't hiding anything. And my career really took off from there.
On shedding impostor syndrome:
We're taught to doubt ourselves, but in the past several years I've come into my own. I feel like I'm where I belong and I earned it, though it took a long time to get here. I don't think self-doubt when you're younger is a bad thing if you use it to keep you humble and hardworking as you build experience. It's arrogant for anyone to never question themselves and grow and learn. But when you have started to achieve, that's when you have to give yourself more credit. There's a point mid-career where women feel like impostors and men don't. I used to spend a lot of time fixating on what I hadn't done or wasn't doing right. But there's so much greatness that comes with age, and I can see the bigger picture and recognize I've accomplished a tremendous amount.
On serving others: 
As I started my career, my ambition was focused on me, me, me: what I wanted to achieve, how successful I wanted to be. But now I want to achieve things for my community. It's been a dramatic shift from proving who I am and my importance to protecting and safeguarding the community I am proud to be part of, and also safeguarding the future for my kids who are in a queer family. I have so much I still want to achieve for the LGBTQ community and it can't come fast enough. I want the Equality Act passed, to make sure we have federal protections, to decriminalize being LGBTQ in the countries where it's still criminal, to ensure conversion therapy is a thing of the past and legislate against it. I want to ensure we see more stories with LGBTQ people in them. I want to make sure social media is a safe place for the LGBTQ people, because it's not. So there's a lot that I have my eye on.