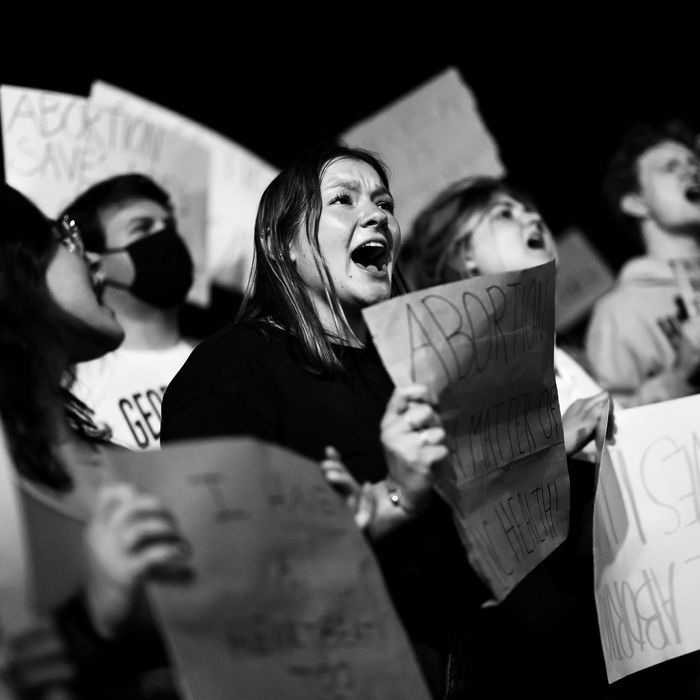 Photo: Ting Shen/Bloomberg via Getty Images
On Thursday morning, the Supreme Court officially handed down the decision to overturn Roe v. Wade almost two months after a leaked draft opinion obtained by Politico made this outcome clear. Already, states with trigger laws are working to outlaw abortion as quickly as possible. Missouri's attorney general and governor have outlawed abortion in the state after eight weeks, with certain medical exceptions. There are no exceptions for rape, incest, or human trafficking, per the St. Louis Post-Dispatch.
The pro-choice crowd in front of the Supreme Court began protesting almost instantly after the Dobbs decision was confirmed. Pro-abortion-rights groups, including Rise Up 4 Abortion Rights, are already there, and members of Congress on both sides are also gathering in front of the Court.
Protests are popping up by the minute. Here, how you can find one close to you.
NYC for Abortion Rights: June 24, 6:30 p.m. ET, New York City
NYC for Abortion Rights called on pro-choice supporters to gather at Washington Square Park in New York City on the day of the Dobbs decision. The group advised attendees to "bring a buddy/water/comfy shoes/a mask."
Planned Parenthood Action Fund: June 24, 8 p.m. ET, various locations
Planned Parenthood of Greater New York Action Fund is hosting various events across New York State, including a protest at Union Square in New York City starting at 8 p.m.
Planned Parenthood New Hampshire Action Fund is also hosting events at various locations throughout New Hampshire at 5 p.m. ET.
Reproductive Freedom for All: June 24, 25, 26, various locations in Michigan
If you're in Michigan, check out Reproductive Freedom for All, which has events listed across the state throughout the weekend.
Bans off Our Bodies: June 24, various locations across the country
Bans off Our Bodies has a handy map showing locations for "We Won't Go Back" rallies and protests throughout the country, both in person and virtual. You can search the map by Zip Code or event type. Keep in mind anyone can register an event on this website, so you may want to double-check an event before you attend.
National Mobilization for Reproductive Justice: June 24, 5 p.m. PT, San Francisco
National Mobilization for Reproductive Justice, Radical Women, Raging Grannies Action League, Freedom Socialist Party, Rise Up 4 Abortion Rights, and more activist groups will protest the decision on Friday evening in San Francisco. The event will begin in front of the Phillip Burton Federal Building and U.S. Courthouse at 450 Golden Gate Avenue.
Democratic Socialists: June 24, 6:30 p.m. ET, Philadelphia
The Philadelphia Democratic Socialists of America will gather in front of city hall to "demand free abortion, on demand, without apology."
Socialist Alternative: June 24, various locations
Socialist Alternative groups across the country are also planning protests, including in Boston, Chicago, Pittsburgh, Seattle, and more. You can find a list of events here.
If you can't gather in person, you can also donate to an abortion fund.
This post has been updated with additional information.