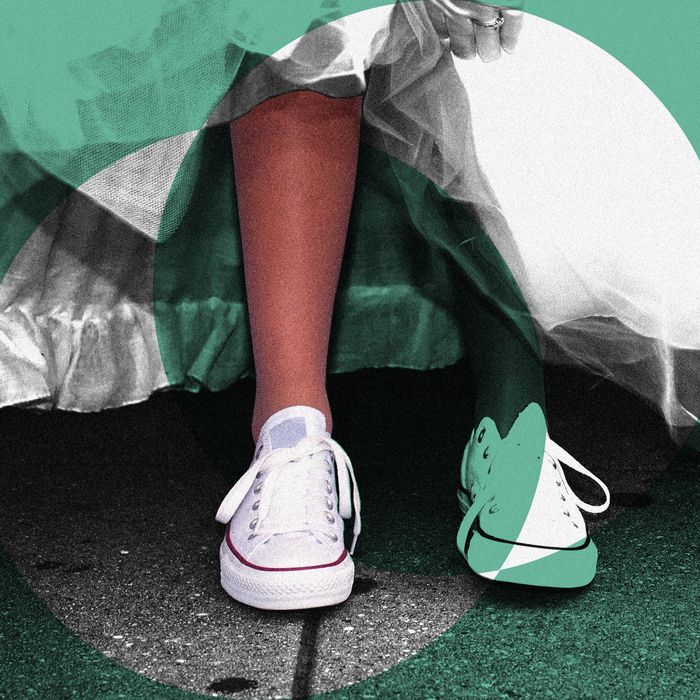 Photo-Illustration: The Cut; Photos: Getty
Jared Clayton wasn't a big fan of "popping the question." Something that would "change your whole life" shouldn't be a surprise, he figured. Instead, after 15 months with his then-girlfriend/now-wife, Madeline Clayton, they found themselves deciding on marriage together. They were long distance, and it just made sense if Madeline was going to make the life-altering move to the U.S. from Australia for the relationship. "We talked it all out pretty openly and looked at our independent goals and dreams and how we wanted to start our story together," Jared says.
This all happened in early 2020, and Jared, 28, says they "took advantage of the fact it was COVID" and that they couldn't invite everyone. "We wanted to have a wedding that wasn't about the performance of it all but was more intimate. More for us," he continues. "It felt financially more responsible but also made it feel incredibly stress free and romantic." A month after that first conversation, the pair road-tripped from Brooklyn to Wilmington, North Carolina, where a close friend would be a witness. "We made the decision on Thursday to get married and had the ceremony the following Tuesday," Jared tells me. He borrowed a white dress shirt, and Madeline was gifted a sample white floor-length panel dress from her designer friend Lucinda Taffs, the creative director behind Auteur. Together, they picked a bouquet of wildflowers off the side of the highway.
Jared and Madeline, 31, used rings they already owned: His was a gift from a friend; hers, a "Congratulations on moving to New York" present she had already bought herself. "They were rings we both wore often, almost every day. We just swapped the finger they were on for the purposes of the wedding," Madeline says. The ceremony took place under an old oak tree covered in Spanish moss in the garden of their Airbnb. They kept their closest family and friends in the loop over WhatsApp. "We didn't livestream or Zoom it, as we wanted to be more present in the moment," Madeline says.
It wasn't until the couple bought their "official rings" three months later that they posted their wedding on social media. "Honestly, those three months of being initially married without anyone really knowing were magic," Madeline tells me. "It was as if we could be totally lost in our own little world and enjoy the new commitment to each other in such a special, private way." Once Madeline's ring arrived, Jared organized a surprise rooftop dinner back in Brooklyn to celebrate — again for just the two of them. He set up a table with flowers, candles, and a handwritten letter. Jared even got down on one knee to slip on the ring. Even though they were already married, Madeline cried. They both decided to take Madeline's mother's maiden name, Clayton, as a "fuck-you to the patriarchy." "So much tradition is steeped in fundamental values that can often be so flawed," Jared says. "Rituals are special, but it's even cooler to me when you can write your own."
Casual, "cooler" weddings like Jared and Madeline's may seem familiar — they both complement Instagram's current aesthetic du jour (staged glossy photography and high production values are out; casual and more realistic life-like snapshots are in) and reflect today's stark financial realities. So long, Disney-princess dresses, punny wedding hashtags, and too-sweet signature cocktails.
Rachel Wright, a psychotherapist based in New York, has observed how the pandemic has led to an overall sentiment of "Screw the norm" from couples around her. "We have almost all been experiencing feelings of helplessness over the last two years, so the desire to take the things that we can control into our own hands is higher than ever," she says. "More and more people are realizing that the relationship escalator isn't required or necessary for a long-term, happy committed relationship. A lot of the principles of marriage are based on capitalism and religion, which are two concepts folks are starting to reject."
For some, this looks like wearing a camo cap to your outdoor wedding ceremony. For others, it's not inviting family. While each one will differ in degree of "casualness," the general aesthetic of the casual wedding is that you've spontaneously decided to get married but you're "not like other couples," so you won't waste a fortune or time on the traditional pomp and circumstance. There are no printed invites or three-course menus, only invites via the group chat and thrift-store wedding dresses.
And despite celebrities still having expensive, extravagant weddings, they're staying relevant by dipping their toes in the casual-wedding aesthetic. Before Kourtney Kardashian's Dolce & Gabbana–sponsored extravaganza, she had a lower-key pre-wedding legal ceremony in a short dress by the designers. (Just in time, Vivienne Westwood has teased short wedding dresses on Instagram.) Beyond shorter hemlines, we're also seeing different colors, including pink and red. Chloë Sevigny even wore black at her secret wedding last year.
When Michael Kusumadjaja and Trayana, who asked to keep her last name private, decided to tie the knot in 2019, "I think it only took a few days in total of planning, and we spent a total of roughly $8,000 for everything," Trayana, 32, says. "Our outfits and wedding bands were pretty much what we spent the most money on." The couple wanted to keep things "easy and as less stressful as possible." The couple, both based in New York, met in 2013 through social media. The proposal, ironically, had been fairly elaborate, taking place on their balcony on a vacation in Bali with a secret photo shoot organized prior.
"Honestly, we didn't prepare much for the wedding at all," Trayana says. "I got my dress a few days before the wedding and my bouquet from a local shop in the neighborhood the night before. We just wanted close friends and a nice lunch afterward." Adding to the cool factor, many of the wedding photos were taken against a concrete backdrop or on the streets of New York, with Michael wearing a Bobcat cap. Michael, 29, theorizes that couples have become aware of "how much waste that goes on for traditional weddings," opting instead to focus that budget "on travels, family, a house, etc., that actually benefit them in the long run rather than a one-day event."
Lexx Brown-James, a Pennsylvania-based couples therapist who herself recently attended a casual wedding, says it's something she is seeing more of. The cause, she predicts, is more hopeful — that people are centering individuality. "I think lovers are moving to make themselves and their joy central to the wedding process versus other folks' desires as most important," she says, though acknowledging that "struggling with student-loan debt, minimum-wage jobs, and lack of support while taking care of aging parents" is also a large factor. Brown-James also says that with the discrimination queer people still face, many queer people feel that the bigotry and hassle around having a wedding are just not worth it.
For some, such as Felipe Bartolomé and Sabrina Olivera, a casual wedding comes out of circumstance. Meeting in Mexico City — where Sabrina, 28, works as a designer and where Felipe, 26, was visiting from Madrid to film an independent skate video — at the beginning of 2021, the couple became separated after Felipe was rejected at the U.S. border. As a professional skateboarder, Felipe travels a lot, so the early stages of their relationship involved navigating various immigration issues. Once reunited, after Sabrina flew to Madrid, they devised a plan. "I knew I didn't want to go through the hell we went through, not knowing if we were going to be able to see each other again, so I asked him to marry me and gave him my two favorite glass colored rings and put them on his small finger," Sabrina says. "He said yes."
Felipe and Sabrina, now both based in Mexico City, then moved quickly to apply for an appointment in the civil-registration office. "The day they gave the appointment to us happened to be the day most of Felipe's friends from Madrid were in Mexico City working a music festival," she says. "They got us super-excited, so we decided to organize an intimate, cute dinner at our future empty apartment." While the couple says the planning wasn't less stressful than a traditional wedding, it definitely happened faster. "We got married on a Tuesday. On the Thursday morning the week before, Felipe and I were talking with my family about the wedding over my mom's birthday breakfast," says Sabrina. With help from friends and family, Felipe and Sabrina were able to organize a dinner menu, send out a flyer, and buy a Barragán dress and a baby-pink suit. The wedding cost $1,500 total and was paid for by Sabrina's mom, a gift to the couple.
While this is obviously still an Instagrammable wedding "trend," that there are genuine shared values involved — that it's about more than just seeming cool — feels refreshing. Hopeful, even. "Lovers are specifically choosing and embracing their uniqueness," says Brown-James. "I love that the status quo is no longer, and people are no longer seeking their grandparents' relationships but are more so exploring and creating their own happily ever after."