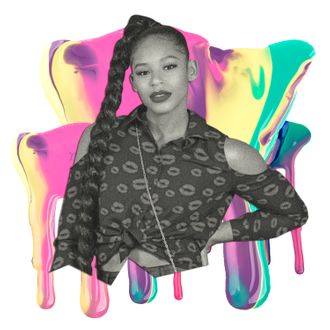 Photo-Illustration: The Cut; Photo: WWE
Professional wrestler and WWE Superstar Bianca Belair has found her purpose in the ring. Belair has always been an athlete; she ran hurdles in track and field in college and went on to become a CrossFit competitor and powerlifter after she graduated. It was on the CrossFit circuit that WWE veteran Mark Henry discovered her and offered to arrange a tryout for her. Belair auditioned twice before making the cut in 2016 but has since gone on to win the 2021 women's Royal Rumble match and the SmackDown Women's Championship at WrestleMania 37, also defeating Becky Lynch at WrestleMania 38, winning her first Raw Women's Championship. She was one of the first Black women to ever headline a WrestleMania and was ranked No. 1 of the top female wrestlers by Pro Wrestling Illustrated last year.
Belair's next competition is Peacock's Money in the Bank premium live event that streams on Saturday, July 2, at 8 p.m. ET, during which she'll face off against Raw Superstar Carmella. Belair spoke to the Cut about being married to a fellow pro wrestler, sewing her own gear, her pre-match pizza routine, and more. She lives in Orlando with her husband. Here, how she gets it done.
On her morning routine:
I'm not really a morning person. With WWE, we're generally having late-night shows or are on the road a lot. I'm usually up very late sewing my own gear, so I get up pretty late, probably around 10 or 11 a.m. I'm a big breakfast person. I always do protein shakes. I love oatmeal because it fills you up really quickly. And I love protein pancakes: pancake mix with protein powder. And then I typically start making gear again. My husband's in the same business as me — he's Montez Ford, one-half of the Street Profits. We try to find something to enjoy together throughout the day, whether it's going out on our boat or going to brunch.
On a typical day/night:
Today, I have media interviews from 2 p.m. to 5 p.m. After this, we're gonna go do a little family activity with my husband and the kids. And then we usually work out late at night. Our shows are usually around seven, eight o'clock at night, so that's around the time that we work out — CrossFit training or weight training. I view working out as part of my life, just like brushing my teeth, eating, or taking a shower. That's the time when my body is in full ready-to-go mode. It is hard to sleep after because I usually take C4 Energy pre-workout. I'm buzzing after my workouts, and I'm buzzing after my matches as well, so I usually run on that adrenaline and go home and start making gear again. I'm a person that loves to stay busy and productive, so if there's any downtime throughout the night, I try to fill that with a new project I have going on.
On transitioning to WWE:
You have to be larger than life, and you have to know how to connect with the crowd and really engage the crowd. When you're an athlete, you're not really engaging with the crowd; you're just competing. I really didn't come from a wrestling background. I didn't watch WWE growing up, and I didn't imagine myself to be a WWE Superstar, but I've completely fallen in love with the art of it and the performance aspect.
On creating her competition looks:
I started in WWE in 2016, and I got my first sewing machine that year — my husband bought it for me. I got on YouTube, and I learned how to sew. I like to give 110 percent with whatever I do. That's a huge part of who "Bianca Belair" is, so when I step in the ring, I have this confidence of, I make my own gear, or when I look at my action figure, I can say, That's the gear that I made. I usually try to go within the theme if it's a premium live event. For instance, we had Hell in a Cell, so I had flames on my gear. We have Money in the Bank coming up, so I'll probably have some dollar signs or money on my gear. I have some type of kiss print on my gear, or my trademark EST on my gear, a lot of sequins. I'm a little bit of a fabric hoarder — I have a closet full of stacked-up fabric that's just waiting to be turned into gear, and I have a lot of different pieces that are halfway made. I try to draw the design out, but sometimes I can't draw out what's in my head, so I just start creating. It's like puzzle pieces that I put together.
On competition prep:
I have a nighttime ritual the night before my big matches: I eat pizza — if I'm confident in the work that I've put into preparing. Nothing I do the night before is going to jeopardize that. I know I've been working my butt off and preparing, and I'm nervous and wanna have comfort food. The pizza calms my nerves. The next day, I eat a big breakfast because once we get to the arena or the stadium, there's not very much time to eat. Our shows usually start around 8 p.m., but we are arriving around noonish, preparing very early. Everyone sees us in the ring for maybe 20 to 25 minutes, but we've been there for hours leading up to that moment. Once I get to the venue, it's nonstop movement from there: preparing to get in the ring, stretching, warming up, doing my own hair and makeup, putting finishing touches on my gear. I like to listen to gospel music before I perform because I feel like it's just something that really gets you in a good mood. I love Kirk Franklin. It gets me pumped up, and it gives me a lot of confidence. I'm also mentally preparing myself. I'm giving myself mental affirmations all throughout the day. I try to sneak a meal in if I can.
On the motto she lives by:
You stay ready so you don't have to get ready. The WWE opportunities can come out of nowhere quickly, and if you haven't been preparing all year long, you're not going to be ready for the opportunity. Our main goal in WWE is to go on the big stage at the big premium live events like Money in the Bank and SummerSlam and WrestleManias and Royal Rumbles. I won the Royal Rumble two years ago. That got me to WrestleMania. And that opportunity came out of nowhere. So I always say, Don't prepare for the opportunity once it presents itself. Prepare all year long so you'll be ready when it comes.
On pushing through setbacks:
I won at WrestleMania 37, then I lost that title a couple months later to Becky Lynch at SummerSlam in 26 seconds. That was a really big blow and a really big setback for me. I felt like I made history at WrestleMania — I won a title, I won an ESPN ESPY Award off of that match while carrying that title. It was a moment where everyone was inspired, so my title ring was a journey for everyone. I felt like, by losing to Becky in 26 seconds and losing my title, I didn't just let myself down; I let so many other people down as well. And I felt like I was doing everything right, and I had a moment of — I thought in my head, If I feel like I'm doing everything right and I failed, how do I move forward from there? I had to figure out my perspective. And from there on out, it made me better; it made me stronger. My fans got behind me more, and I realized, This is the moment for me to show everyone who I am without a title. Because the title shouldn't make the person — the person should make the title. From there, it was my redemption story all the way to WrestleMania 38, and I was able to win my title back from Becky at WrestleMania 38 and prove that you can do everything right in life and sometimes bad things happen, but that doesn't mean you give up. You keep going and pushing through until you come back out on top.
On what's next for her:
I just want to continue on this journey. I've had a lot of success very quickly in my career, but I'm just getting started. I'm here to create a legacy. I want people to look at my legacy and feel something. I don't want them to just remember me hitting amazing moves or winning titles. I want to change the game. I want my legacy to be one that showed everyone that we aren't just wrestlers; we are entertainers, performers, athletes, actresses, activists, representation. We do it all. I want to be here to do it all — do amazing things inside the ring, outside the ring. I want to showcase that you can be whatever you want to be. And maybe, one day, I'll be in a movie with the Rock. We'll see.
EST for Belair means she's superlative, the best at everything, e.g., the fastEST, the prettiEST, the strongEST, etc.