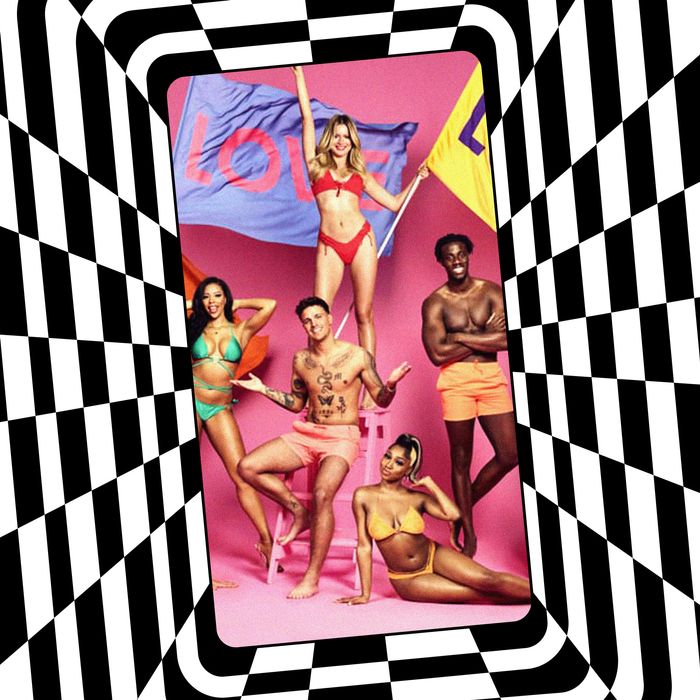 Photo-Illustration: by The Cut; Photo: ITV Studios
I'm not sure why people insist on creating more TV shows when Love Island U.K. already exists. The reality dating series takes a cast of sentient abs in their 20s and manicures with Geordie accents and puts them in a gorgeous villa for eightish weeks. The prize? Love. Also, £50,000 and the brand sponsorships contestants are all but guaranteed after the show.
The series returns for its eighth season on June 6 in the U.K. and will premiere on a yet-to-be-determined date in the U.S. a couple of weeks later. If you don't think I've started plotting the ways I will sneakily watch the show Stateside before it hits Hulu, then *clears throat in British* you're not really my type on pay-puh, luv. (The U.S. version of Love Island is grossly inferior, and yes, that is in great part due to the lack of European accents.) If you need a refresher or a primer, Love Island's conceit is simple: Stay in a couple to stay on the show. Like other dating competitions, new contestants are added to the cast every few episodes in order to "stir the pot." Contestants date around. They steal each other's partners. They all sleep in one big room, watching as their recent ex or newest crush cuddles up to someone else. Everyone tries to connect with someone, anyone, to avoid being sent home.
Contestants typically leave the show in one of two ways. First, there are the "recouplings." Every week or so, contestants have to decide who they want to couple up with. Sometimes they stick with the partner they already have. Often they pair up with someone new. If you are left single at the end of a recoupling, you are likely going home. (Sometimes producers do a sneaky thing to save a particularly engaging cast member, like bringing in a new contestant last-minute for them to pair up with.) Then, there are the public votes. Viewers are occasionally prompted to vote for their favorite couple, their favorite Islander, the contestant they most want to find love, the couple they think is most likely to last "on the outside," etc. If you aren't in the public's favor, you also risk being dumped from Love Island. New episodes air every single day, making each season a whopping 30 to 40 episodes long. In other words, to survive on Love Island, you have to find love among your fellow Islanders while also courting the viewing public, trying to strike a balance between likable and interesting, charming and relatable, while being filmed nearly 24 hours a day.
Love Island has something for everyone. Do you like reality TV and dating competitions? Love Island is like Bachelor in Paradise meets Big Brother. Do you seek a docuseries about living and dating in a social-media-driven surveillance state? In many ways, Love Island is that as well. Do you enjoy British period pieces? Love Island is just Bridgerton unscripted and with bikinis. Do you want prestige television, actors giving the performances of their lives? Every season, there's at least one contestant who seems like a plant by producers, someone you'd swear was given a script and overt story line. I make it my mission to figure out who that contestant is each year. In this sense, Love Island is also a mystery. There's romance. There's drama. There are challenges where contestants have to prepare an entire roast dinner without using their hands, passing mushed-up ingredients mouth-to-mouth like perverted mama birds. It is the definition of must-see TV.
Like any reality show, Love Island isn't without its problems. Its parade of bandage dresses and impossibly tight white jeans isn't exactly the pinnacle of inclusivity. However, the show is trying to get better. Or, at least, trying to look like it's trying to get better. This year, contestants will get training on mental health and inclusive language, two topics the show has notoriously handled poorly since its inception. The show is forgoing its fast-fashion partnerships of the past and will instead be working with eBay as a gentle nod to sustainability. This forthcoming season will also have a deaf cast member for the first time, model and dancer Tasha Ghouri. Like the other contestants, she's already well-versed in Love Island vernacular, joking, "I may have to step on toes, but I'll do it in the nicest way possible."
Is Love Island good? No, but it is perfect. It lures you in with its sweet garbage and rotten eye candy, making you stay long enough to tear up a little bit when a stack of muscles with blue eyes learns how to love. It is the only show I follow religiously, the only show I could talk about endlessly. When I'm in need of a dopamine hit, a surreal reflection of modern dating, I will couple up with Love Island every time.