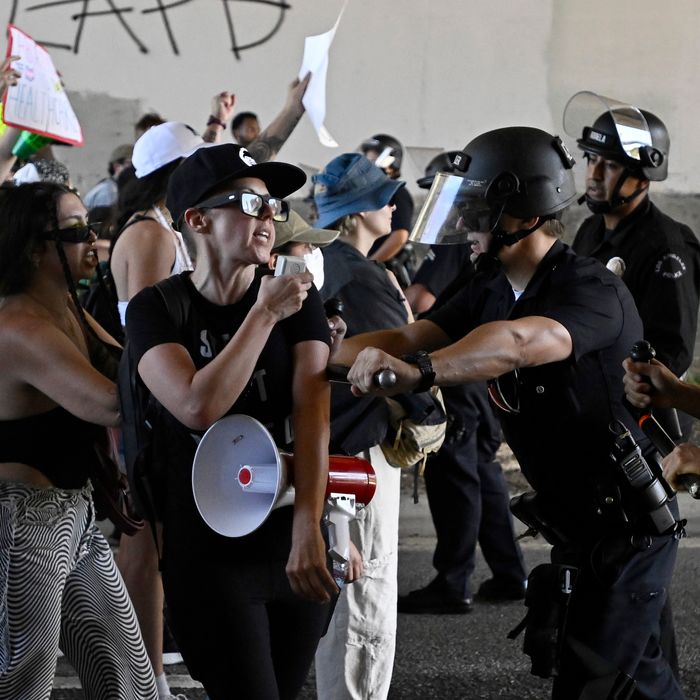 Photo: Keith Birmingham/MediaNews Group via Getty Images
Full House star Jodie Sweetin isn't afraid of a little civil unrest. The actor, best known for playing Stephanie Tanner in the '90s sitcom (and the Netflix reboot, Fuller House), is speaking out after video of police pushing her to the ground during an abortion-rights protest went viral over the weekend. And she's ready to get back out there.
Video of Sweetin attending a pro-choice protest in L.A. circulated on Sunday, just a few days after the Supreme Court's Dobbs decision overturned Roe v. Wade. The footage shows Sweetin, dressed in black and speaking into a megaphone, being pushed to the ground by law-enforcement officers in riot gear. "I was walking and one of the officers just snatched my bag and tossed me forward," she told E!'s Daily Pop on Monday, adding that she wasn't injured. "We didn't use that as an excuse to do anything further. We continued on our march, and we were out there probably another four or five hours marching downtown."
Photographer Michael Ade, who captured the video, wrote on Instagram that Sweetin had been "trying to lead a group of peaceful protesters away from the freeway." He called the actor "the definition of a real one." Sweetin reposted the video to her Instagram feed on Sunday and released an initial statement, saying that she was "proud" of the protesters who were taking a stand against "the giant injustices that have been delivered from the Supreme Court." She added that any police violence would not stop the protests, noting, "We are not free until ALL of us are free."
Speaking with Daily Pop about the viral video, Sweetin said she hoped that people would focus less on her and more on abortion rights and police brutality. "If people are disturbed by what they saw, let me tell you, I've spent a lot of time protesting out in the streets and that is a very minor incident of police brutality," she said. She also challenged people who were "shocked" because it happened to "Stephanie Tanner" to see the bigger picture. "I hate [that] it takes people knowing someone or it being someone that they recognize for people to be outraged or to take action," she said, "which is why I've been out there and I've been really committed the last couple of years."
Sweetin said she was committed to keep protesting alongside fellow activists. "I'll still be out there," she said before sending a message to protesters at large. "To all the people that are out there fighting, I have the utmost admiration and I'm just honored that I've been welcomed out there, and that I've met some incredible agents of activism."
LAPD spokesperson Officer Cervantes told E! that the video would be "evaluated" for any breaches of protocol or procedure, and Sweetin said she doesn't intend to press charges.