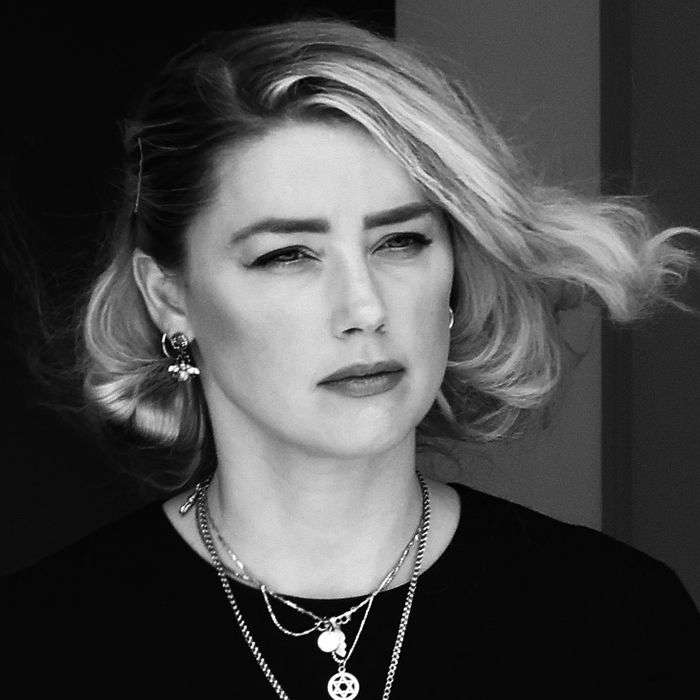 Photo: Win McNamee/Getty Images
The TikTokers and YouTube livestream commenters who clamored for Amber Heard's downfall got their wish Wednesday. The jurors in Depp v. Heard returned a mixed verdict that found Heard had defamed her ex-husband Johnny Depp three times in a Washington Post op-ed that didn't mention him by name but referred to Heard as "a public figure representing domestic abuse," which the actor argued would call him to mind for readers. They deemed the three counts worth more than $10 million in damages. The jury also said Depp's lawyer, acting on the actor's behalf, defamed Heard once in comments he made to a British tabloid in 2020. It awarded Heard $2 million in compensatory damages, which must be cold comfort given the hell she says she's been through over the past six weeks.
Compare this verdict to the libel case Depp lost two years ago against the tabloid The Sun, which called him a "wife-beater," in the U.K., a place infamous for its laws that put the burden of proof on the defendant rather than the person bringing the case. While Depp denied all the claims against him in the U.K. case, the judge wrote in his decision siding with The Sun that he found enough evidence to declare 12 incidents of abuse against Heard to be "substantially true." He added, "I accept that Mr. Depp put her in fear of her life." How did these cases, which involved much of the same evidence, result in such different judgments?
This was not a criminal case litigating whether Depp abused Heard or she abused him. But by suing Heard personally for defamation, Depp's lawyers turned the trial into a referendum on her character and credibility. The statements at the heart of Depp's lawsuit were the op-ed's headline ("I spoke up against sexual violence — and faced our culture's wrath. That has to change") and two sentences in the piece ("Then two years ago, I became a public figure representing domestic abuse, and I felt the full force of our culture's wrath for women who speak out," and "I had the rare vantage point of seeing, in real time, how institutions protect men accused of abuse"). Heard didn't actually write any of them; testimony revealed that a Post editor wrote the headline and the ACLU ghostwrote the op-ed. Yet the jury found all three statements (a) to be false, (b) to be clearly about Depp and to tell readers something defamatory, (c) to have been intended by Heard to be defamatory, and (d) to have been known to be false by Heard, as proved by "clear and convincing evidence." The verdict makes clear that jurors did not believe Heard experienced sexual violence or domestic abuse at the hands of Depp — not after hearing her testimony, seeing the pictures of her bruises, reading the text messages Depp sent saying he wished to "fuck her burnt corpse," or listening to contemporary accounts from people around her alleging he had abused her.
Yet the jury also said Depp's lawyer defamed Heard. The statement in question was very specific: "Quite simply this was an ambush, a hoax," Adam Waldman told the Daily Mail. "They set Mr. Depp up by calling the cops, but the first attempt didn't do the trick. The officers came to the penthouses, thoroughly searched and interviewed, and left after seeing no damage to face or property. So Amber and her friends spilled a little wine and roughed the place up, got their stories straight under the direction of a lawyer and publicist, and then placed a second call to 911." There were two more general statements about Heard's allegations being a "hoax" that the jury found not to be defamatory, suggesting the five male and two female jurors agreed with those comments.
These jurors were not sequestered, meaning that if they ignored the judge's instructions to stay off social media and avoid news of the case after they left the courtroom each night, they were subject to the same barrage of media coverage and misinformation as the rest of us. During the trial, Heard fell short of the perfection required for survivors of domestic abuse to be believed, testifying that she had gotten violent toward Depp in self-defense. The evidence the actor offered in court was never going to be enough, not with an admission like that and not against a man who has so much more power than her.
Those who rejected Heard's claims that she faced "our culture's wrath" when she spoke up about gender-based violence subjected her to exactly that when they called her "an actress," "a golddigging MeToo activist," and a "piece of work" and when they relentlessly mocked her, memed her, and wrote a Saturday Night Live skit about the case. How easily the culture reverted to believing that someone could have spent years carefully planting false evidence to topple a powerful man and that identifying as a survivor would somehow garner money and fame. How easily the culture reverted to believing that a man with a well-documented history of violent outbursts couldn't possibly be violent toward his partner. "She is begging for global humiliation," Depp texted a friend about Heard in 2016, after their marriage dissolved and long before the op-ed was published. "She is going to get it." The jury may not have believed Heard felt "the full force of our culture's wrath" before, but she sure is now, and I fear other survivors will pay dearly for it.