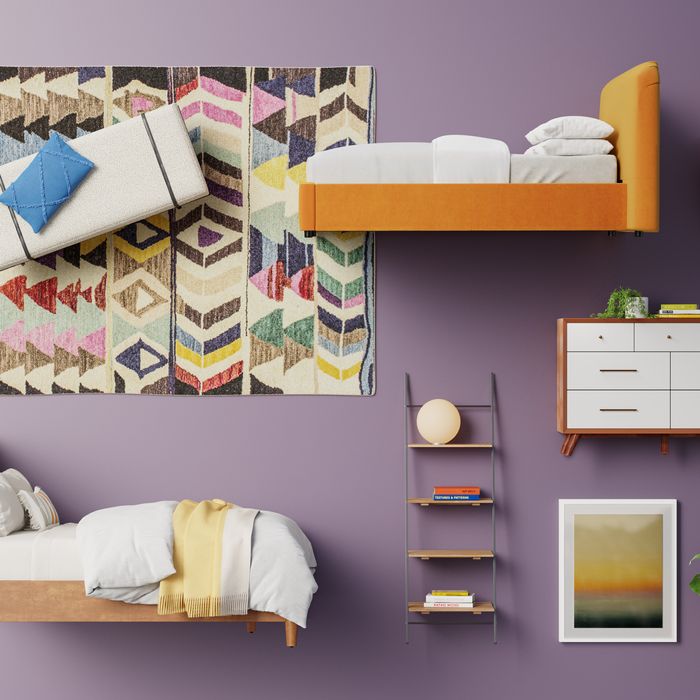 Photo: Courtesy of AllModern
Home is where the heart is, yes, but how can you make a space feel like, well, you? For some, maximalism is essential, with throw pillows, lots of texture, and bohemian-inspired patterns abundant. For others, timelessness is of the utmost importance: Think modern and thoughtful pieces over fleeting home decor trends. That's where AllModern comes in.
Modernity is housed all under one roof at AllModern, with an unparalleled assortment of all modern design styles: minimalist, Scandi, industrial, and even updated farmhouse categories. The best part? AllModern makes shopping easy with fast, free shipping and a curated selection of products. For interior stylist and content creator Julie Sousa, that's precisely what drew her into the world of design, and to AllModern, in the first place.
"A little over a year and a half ago, I was still working in corporate [America], and I decided to start sharing my decor on social media. Thanks to TikTok, my content began to perform, and I started taking on virtual clients," Sousa explains. "Now, I'm a full-time content creator in the home decor space." Now she spends her days making recommendations and giving styling tips to an audience hungry to find the perfect color pairings, finishings, and chic pieces to buy; Sousa's now launched her own interior styling firm, Avant Garde Home.
"My style has always been very much contemporary, with tiny touches of rustic," she explains. Given her natural inclination toward what AllModern offers and an eye for both the timeless and the unconventional, we sat down with Julie Sousa to share her top AllModern finds and how she would utilize them in a space. Ahead are her ten favorite pieces from AllModern's lineup of contemporary goods, from a sleek black coffee table to the perfect neutral accent chair.
AllModern Picks
"The Kenton Drum Coffee table is clean and sleek, right in line with my contemporary style. Its round shape makes it super versatile when paired with L- shaped sectionals because it allows more room for circulation without having to bump your knees or feet on pesky corners."
Uptown Cream/Black Tufted Wool Area Rug
"This rug is perfect in an office setting where you'd want to liven up the space a little bit. I love neutrals, but this incorporates neutrals with an added touch of fun with the pattern."
White Kappa 100% Cotton Waffle Duvet Cover
"A quality duvet cover is essential — and I love a good waffle knit, anything. I would mix in the waffle duvet and layer a solid duvet to add dimension."
"I love this coffee table. Very contemporary, but with the perfect amount of texture to add a natural look and feel to it. In someone's home, they often forget to mix and match materials — this would help to create that contrast so not everything is wood."
"I love the curvature of this table, but also the contemporary straight lines. Because of the rustic influences I like, I tend to shy away from shiny or lacquer and go for natural elements like this. It adds texture without being overwhelming."
Cheri Ivory/Brown Jute/Sisal Area Rug
"This would be lovely in an entryway to add some warmth, if you were going with stark black or cement elements. There's again, a rustic element here with the natural jute."
Chandler 100% Polyester Square Standard Ottoman
"This ottoman is really pretty, and a fun way to add flair to an accent chair. I'd pair this beside a black leather chair, or a woven leather chair with silver finishes. You could use these in a really large living room, to offset a sectional. Use two ottomans to close it off, and make it feel more intimate."
Outlook Acacia Wood Cutting Board
"This cutting board is a must in the kitchen. It has those rustic tones with the color and wood, but also with the leather hanging strap, too!"
"I have a similar accent chair in my bedroom. I'd leave this chair very clean, very minimal, and not even add a blanket or a pillow. I think an accent chair in the bedroom is important because while your partner may be laying in bed, maybe the other person could be getting ready, and slipping on their shoes while in the chair. There should be multiple resting spots in a bedroom."
Queen 100% Cotton Sateen Sheet Set
"Cotton white sheets are a staple in every bedroom. I love that it makes a bed look fresh and clean, similar to what you'd see in a luxury hotel. Not to mention they're more hygienic."
This advertising content was produced in collaboration between Vox Creative and our sponsor, without involvement from Vox Media editorial staff.