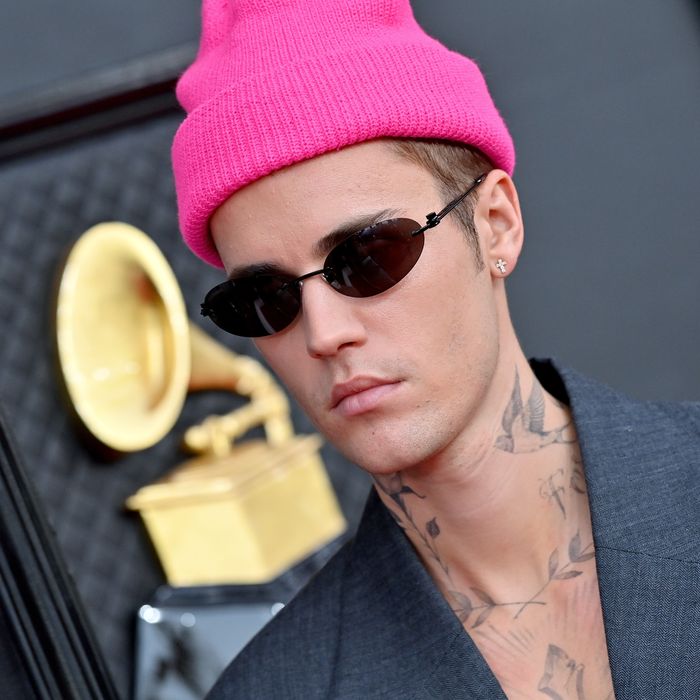 Photo: Axelle/Bauer-Griffin/FilmMagic
After abruptly canceling a string of shows on his Justice World Tour, Justin Bieber revealed to fans that he has been diagnosed with Ramsay Hunt syndrome and that half of his face is currently paralyzed as a result. This marks the second major health crisis of the year for Bieber and his wife, Hailey, who revealed a few months ago that she had suffered a ministroke because of a blood clot in March.
Bieber originally refrained from telling fans exactly why he had to postpone a handful of shows. People reported the singer was battling a "non-COVID-related illness" and, in an Instagram Story statement announcing the cancellations on Tuesday, June 7, Bieber simply said his "sickness is getting worse," adding that he was forced to postpone the show because of "doctor's orders." But a few days later, Bieber returned to Instagram to reveal the true extent of his illness.
"I wanted to update you guys on what's been going on," he opened a video message posted to his Instagram on Friday. "Obviously, as you can probably see from my face, I have this syndrome called Ramsay Hunt syndrome, and it is from this virus that attacks the nerve in my ear and my facial nerves and has caused my face to have paralysis." As Bieber speaks in the video, it's clear that one side of his face isn't moving with the other. "As you can see, this eye is not blinking. I can't smile with this side of my face, this nostril will not move, so there is full paralysis in this side of my face."
The singer added that he was "not capable" of performing and promised fans that he was doing everything he could to recover. "I'll be using this time to rest and relax and get back to 100 percent so that I can do what I was born to do," he said. "I'm gonna get better, and I'm doing all these facial exercises to get my face back to normal, and it will go back to normal. It's just time." After posting his initial video, Bieber reportedly asked fans to pray for him on his Instagram Stories, revealing that it was "getting progressively harder to eat" due to his paralysis.
Ramsay Hunt syndrome is a rare neurological disorder caused by the varicella-zoster virus (which causes chicken pox and shingles). The virus can lie dormant for years and suddenly reawaken, causing inflamed nerves in the inner ear and face — there is no understanding about why this occurs. According to the New York Times, most people diagnosed with Ramsay Hunt syndrome make a full recovery, but it can take anywhere from weeks to months. In addition to partial paralysis, the illness can cause intense vertigo and loss of hearing, which, in some rare cases, can be permanent. A source told People the singer is apparently "very worried" about its long-term effects. "It's really freaking him out," the source said, adding that Bieber, while nervous, was still hopeful that he would make a full recovery: "He was diagnosed early, though, and hoping he will be fully recovered in a few weeks."
As for what this recovery timeline means for the Justice Tour, future concert postponements are likely. Twenty-four hours before Bieber was set to perform at Madison Square Garden on Monday, June 13, the venue announced that his two scheduled shows had officially been postponed. "Due to Justin's ongoing medical situation, this week's Justice Tour shows at Madison Square Garden in New York City will be postponed," tour promoter AEG Presents said in a statement. "Justin is receiving the best medical care possible and is determined to resume the tour as soon as he and the doctors feel he is able to continue." By the end of the week, however, AEG Presents announced that Bieber would be postponing all remaining U.S. tour dates, including his planned appearance at Summerfest. "Justin continues to receive the best medical care possible, is upbeat about his recovery, and is looking forward to getting back out on the road and performing for his fans overseas later this summer," AEG said in a statement, per The Hollywood Reporter. It appears that Bieber still plans on keeping his European tour dates, which are supposed to start in early August.
Hailey gave fans an update on her husband's condition on Wednesday, assuring them that the singer was "doing really well," despite having been forced to postpone tour dates. "He is getting better every single day," she said during an appearance on Good Morning America. "Obviously, it was just a very scary and random situation to happen, but he's going to be totally okay and I'm just grateful that he's fine." She also said that she's able to see a "silver lining" in the couple's back-to-back health scares. "It brings us a lot closer, because you're going through this together, you're being there for each other, you're supporting each other and there's just something that really bonds you through these times."
This post has been updated.
Psst! The Cut and New York Magazine are conducting a survey about dating. We want to know all about your swipes, IRL hookups, bad dates, and everything in between. Interested? Click here.