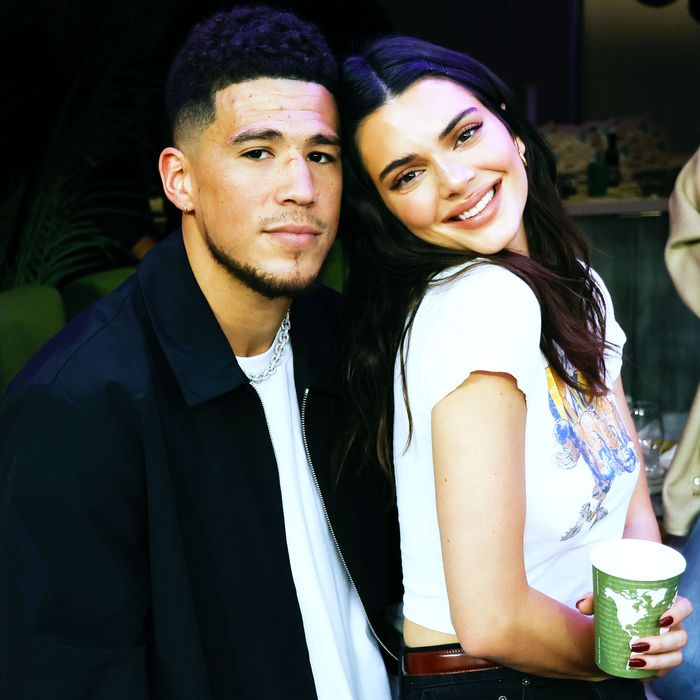 Photo: John Angelillo/UPI/Shutterstock
Last June, we learned with surprise and delight that Kendall Jenner had a basketball boyfriend, namely Phoenix Suns player Devin Booker. Their relationship has weathered a perilous boat trip with an Olympic gold medal, a controversial tequila rollout, and Jenner walking up stairs. But now, alas, it seems her jewelry collection is one Olympic medal short: Multiple outlets report that she and Booker have broken up after dating for two years.
Jenner and Booker had been dating since June 2020, though news of their relationship didn't emerge until they celebrated their anniversary on Instagram. They were last seen together at Kourtney Kardashian's big fat Italian wedding, where an E! News source says they "hit a rough patch" after realizing they have "very different lifestyles." Us Weekly also claims the wedding "really put things into perspective," and now, according to Entertainment Tonight, they're "not on the same page" about their future. I guess Booker aspires to a life full of confusing staircases and cucumber salads?
Anyway, it appears the door is still open for a reunion. One source claims they "hope to make it work" and are still "in touch," wink wink. At least now Jenner can stop following basketball and focus on more leisurely pastimes like reading and eating spaghetti with friends.