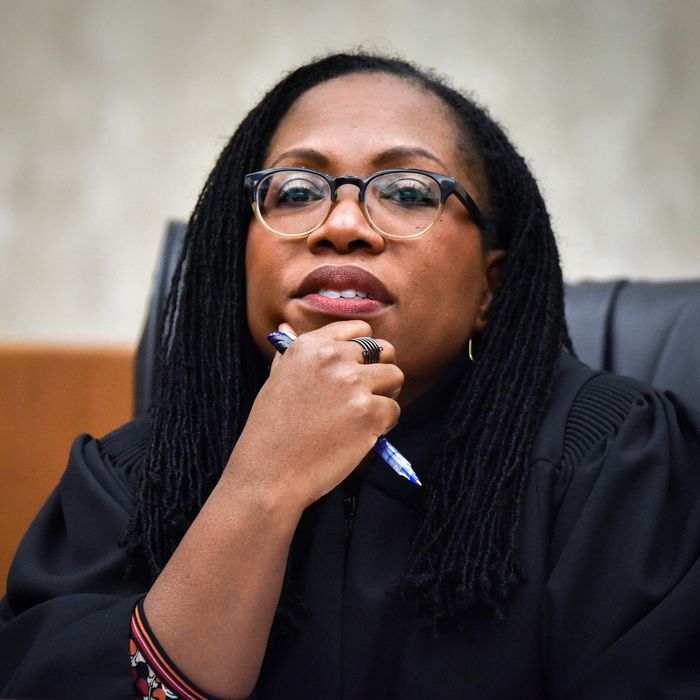 Judge Ketanji Brown Jackson
Photo: The Washington Post/The Washington Post via Getty Images
On Thursday, Ketanji Brown Jackson made history as the first Black woman and the first public defender to join the U.S. Supreme Court. Jackson, 51, was sworn in as the Court's 116th justice during a ceremony attended by her husband and children. Jackson's ascension to the Court doesn't change its ideological divide and arrived at the tail end of a polarizing session that included the overturning of Roe v. Wade and threats to other constitutional rights, including same-sex marriage and contraception access.
Jackson was confirmed by the Senate in April but was waiting for Justice Stephen Breyer to officially retire before assuming her place on the Court. Fifty-three senators, including Republicans Susan Collins, Mitt Romney, and Lisa Murkowski, voted to confirm Jackson; Vice-President Kamala Harris, the first Black woman ever to be elected to that position, presided over the vote, which was met with resounding applause in the Senate chamber.
"It has taken 232 years and 115 prior appointments for a Black woman to be selected to serve on the Supreme Court of the United States," she said in a White House ceremony after her confirmation. "But we've made it. We've made it. All of us."
Jackson featured on President Barack Obama's Supreme Court short list in 2016 and, according to NPR's June 2021 assessment, had been a "hot prospect" for Biden's nomination. On the campaign trail, he talked about naming a Black woman to the bench, which has historically remained overwhelmingly white and male. (Out of the 120 justices who've served during the Supreme Court's 233-year history, 115 have been men and 117 have been white.) Jackson was previously confirmed three times by a bipartisan majority in the Senate: to the U.S. Sentencing Commission, the U.S. District Court for the District of Columbia, and the U.S. Court of Appeals for the D.C. Circuit.
Her confirmation hearings wavered between Democrats celebrating the unprecedented nature of her nomination and Republicans flagrantly misrepresenting her record. Still, Jackson prevailed. Here's everything we know about the new associate justice of the Supreme Court.
Her career
The American Bar Association unanimously gave Jackson a "well qualified" rating to serve on the Court — its highest rating—because of her track record. Before she landed on the appellate court (a traditional path to the Supreme Court), Jackson spent eight years as a federal district court judge. In addition to working in private law firms, she has also served as a public defender and is a double Harvard grad. (She got both her undergraduate and law degrees there.) She clerked for Justice Stephen Breyer after her law-school graduation in 1996.
Jackson served as vice-chair of the United States Sentencing Commission between 2010 and 2014, retroactively reducing thousands of crack-cocaine-related sentences and cutting sentences for many other types of federal drug offense. Jackson has also been involved in several high-profile Trump-era cases — she ruled that former White House counsel had to comply with Congress's subpoena in the first impeachment hearings, and she sat on the panel that allowed the House to access Trump-administration records in investigating the Capitol insurrection.
Her judicial philosophy
When pushed during her confirmation hearings to describe her judicial philosophy, Jackson said she doesn't have one and instead described her methodology. She said she sticks to considering the facts of the case, how the law applies to them, and the constraints of her judicial authority.
She said she'll continue to remain neutral, adding, "I am clearing my mind of any preconceived notions about how the case might come out and setting aside any personal views." Though she didn't call herself an originalist — unlike justices who've been confirmed recently — she alluded to sharing that view to an extent: "I do not believe that there is a living Constitution, in the sense that it's changing and it's infused with my own policy perspective or the policy perspective of the day," she said.
Her views on abortion
Jackson takes her seat on the Court days after it revoked the constitutional right to abortion. During her hearings, she was asked whether she agreed with Justices Brett Kavanaugh and Amy Coney Barrett, who during their confirmation hearings said Roe v. Wade "is settled as a precedent" and vowed to "obey all the rules of stare decisis," respectively. (Despite these under-oath professions, both Coney Barrett and Kavanaugh ultimately voted to overturn Roe). "Roe and Casey are the settled law of the Supreme Court concerning the right to terminate a woman's pregnancy," Jackson said at the time. "They have established a framework that the Court has reaffirmed, and in order to revisit, as Justice Barrett said, the Supreme Court looks at various factors because stare decisis is a very important principle."
When asked by Senator John Kennedy "when does life begin" in her opinion, Jackson responded that even though she has a religious view on the issue, she sets "it aside when ruling in cases."
Her sentencing record
Republicans have grossly mischaracterized Jackson's record on child-pornography cases, attacking her as being lenient on pedophiles. She emphasized that these cases are "heinous" and "egregious," and said she has only followed Congress's guidelines. "For every defendant that comes before me and who suggests as they often do that they're just a looker," she said. "I tell them about the adults who are former child sex-abuse victims who tell me they will never have a normal adult relationship because of this abuse. I tell them about the ones who say, 'I went into prostitution, I fell into drugs because I was trying to suppress the hurt that was done to me as an infant.'"
According to Chairman Dick Durbin, Jackson has "done what 80 percent of judges" have done and is "in the mainstream of sentencing" in these cases.
Jackson believes the current guidelines have led to "extreme disparities" in the system. Her view is consistent with a 2012 report from the Sentencing Commission, which said they "fail to differentiate among offenders in terms of their culpability" and result in penalty ranges that "are too severe for some offenders and too lenient for other offenders."
"What this country does in terms of penalties is in Congress's province — you all decide," she said. "You all decide what the penalties are. You decide what the factors are that judges use to sentence."
Her personal life
Jackson has been married to Dr. Patrick Jackson for 25 years, and together they have two daughters, Talia and Leila. She was born in Washington, D.C., where her parents, Johnny and Ellery Brown, worked as public-school teachers. She shares a birthday with Constance Baker Motley, the first Black woman to ever serve as a federal judge.
The family moved to Miami, Florida, where Jackson grew up. She credits seeing her father attend law school later in life as one of the reasons why she fell in love with the law. Her younger brother Ketajh worked as an undercover officer in the Baltimore City police department and served as an infantry officer.
During her confirmation, Jackson said, "My parents taught me that, unlike the many barriers that they had had to face growing up, my path was clearer, such that if I worked hard and believed in myself, in America I could do anything or be anything I wanted to be."
This article has been updated.