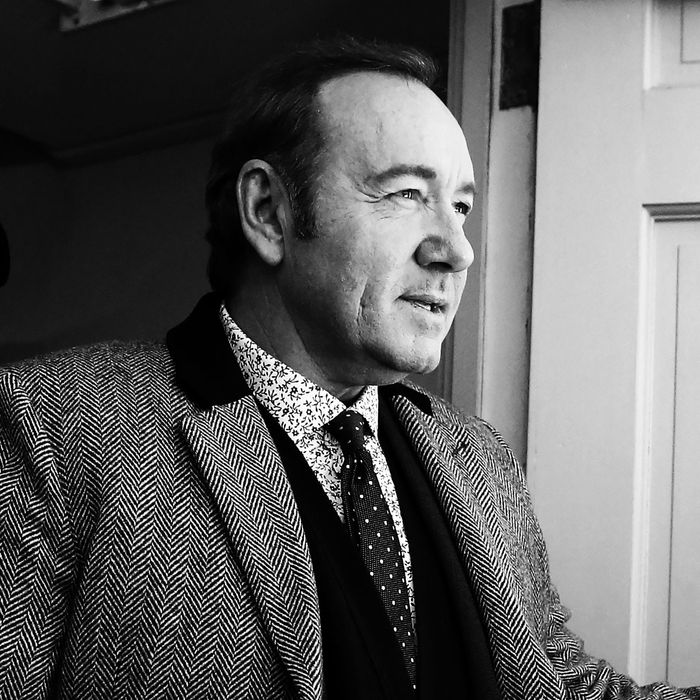 Photo: Nancy Lane/Boston Herald/MediaNews Group via Getty Images
Five years after he was publicly accused of sexual misconduct, actor Kevin Spacey is now facing new charges of sexual assault in the U.K. Following an investigation by the Metropolitan Police and the announcement of authorized charges against him, Spacey has been formally charged with four counts of sexual assault against three men. He also faces one charge of "causing a person to engage in penetrative sexual activity without consent." The actor is expected to appear in court in London on Thursday, June 16.
According to a statement released by the Crown Prosecution Service's Special Crime Division in late May, the alleged events took place in London and Gloucestershire in 2005, 2008, and 2013. Representatives for the actor have not returned the Cut's request for comment, but Spacey did formally respond to the charges in a statement given to Good Morning America on Tuesday, May 31, announcing plans to defend himself in court.
"I very much appreciate the Crown Prosecution Service's statement in which they carefully reminded the media and the public that I am entitled to a fair trial, and innocent until proven otherwise," the statement read. "While I am disappointed with their decision to move forward, I will voluntarily appear in the U.K. as soon as can be arranged and defend myself against these charges, which I am confident will prove my innocence."
Meanwhile, producers of his latest film, Peter Five Eight, stood by the actor, telling The Hollywood Reporter in a statement that the "negative press" was "unfortunate" but "expected." The statement continued, "The production has no knowledge or comment on the various swirling allegations, and believe it's a matter for the courts to determine validity if it exists. Peter Five Eight is a film for fans who care more for the art than the scandal."
This is not the first sexual-assault case brought against Spacey. In 2017, actor Anthony Rapp accused Spacey of sexually abusing him at a party. The alleged incident took place in 1986, when Rapp would have been 14 and Spacey 26. Rapp is currently suing Spacey in federal court for the alleged abuse. However, Spacey has requested that the lawsuit be thrown out, with his representation saying the allegations are false.
Spacey has repeatedly denied Rapp's accusations. "I have a lot of respect and admiration for Anthony Rapp as an actor. I'm beyond horrified to hear this story," Spacey said in a statement in 2017. "I honestly do not remember the encounter, it would have been over 30 years ago. But if I did behave then as he describes, I owe him the sincerest apology for what would have been deeply inappropriate drunken behavior." Spacey came out as gay in the same statement, which some saw as a distraction from the allegations.
Following Rapp's accusations, dozens of others came forward with allegations of sexual abuse against Spacey. In September 2018, one person who worked as a massage therapist filed a lawsuit against Spacey. He alleged that the actor had sexually assaulted him during a private massage. The following year, the man who filed the lawsuit died and the case against Spacey was closed.
While he has not addressed each accusation individually, Spacey appeared to maintain his innocence in a bizarre Christmas video released in 2018, in which he speaks in the voice of his House of Cards character, Frank Underwood. "I can promise you this," he says in the video, "if I didn't pay the price for the things we both know I did, I'm certainly not going to pay the price for the things I didn't do."
This post has been updated.