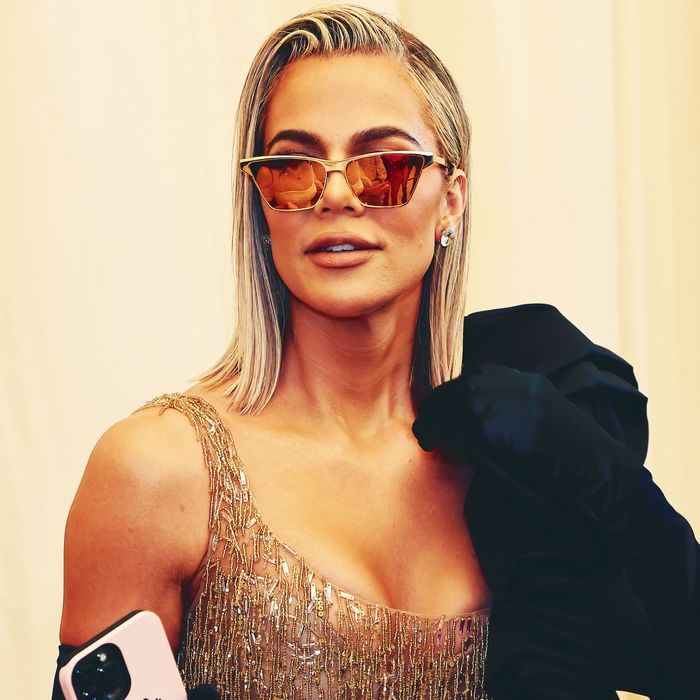 Photo: Arturo Holmes/MG22/Getty Images for The Met Museum/Vogue
In the season finale of Hulu's The Kardashians, Khloé Kardashian addressed Tristan Thompson's most recent cheating scandal, calling it "a slap in my face."
The premiere season of the series has shown Khloé gradually easing her way back into a relationship with Thompson, the father of her daughter True and her on-again, off-again partner whose lengthy history of cheating was well documented on the family's E! show. This season's filming largely predates the most recent revelation of Thompson's infidelity, which first came to light in December of 2021, when leaked court documents from a paternity suit showed Thompson admitting he had sex with fitness model Maralee Nichols in March of that year. (One month later, Thompson confirmed that a paternity test he demanded revealed that he had also fathered Nichols's child.) Wednesday's finale, presumably filmed the day the documents were published, captured Khloé and her family learning about Thompson's paternity scandal along with the rest of the world — and they had some choice words for the situation.
After reading Thompson's signed statement, Khloé addressed the news in a series of confessionals and conversations with her family. "A courtesy would be not doing it," she said of his cheating. "But fine, if you do it, you're not even gonna give me a fucking heads-up before the rest of the world? It's an additional slap in my face. It's humiliating, I'm embarrassed."
"Everything is an act of betrayal," she said in a different confessional. "Did Tristan have every opportunity to tell me? Yes. Was Tristan going to tell me if there wasn't a baby involved? Absolutely not." In a later conversation with Kim, she said, "I didn't buy tickets to this fucking circus, but somehow I'm watching all these clowns act out in front of me. I want a refund, return to sender, I don't want to be at this show."
At least we know Khloé has since found a semblance of peace when it comes to her tormented relationship with Thompson. In April, months after the show's events played out, she called him "a great dad" but gracefully admitted he was "not the guy for me." Here's hoping it sticks.
Psst! The Cut and New York Magazine are conducting a survey about dating. We want to know all about your swipes, IRL hookups, bad dates, and everything in between. Interested? Click here.