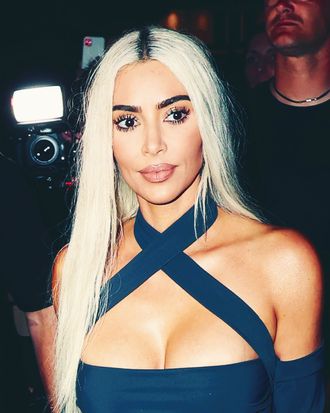 Kim Kardashian, contemplating eating poop in the name of beauty.
Photo: NINO/GC Images
To anyone who's ever grumbled something to the effect of "I wish the Kardashians would eat shit," Kim Kardashian has just one thing to say: Okay. Her recent interview with the New York Times opens with what will henceforth be known as one of the greatest quotes in literary canon.
"I'll try anything," Kim begins. "If you told me that I literally had to eat poop every single day and I would look younger, I might. I just might." She just might!!
If I had a time machine, I would have no choice but to travel back to the specific moment when Kim Kardashian, a 41-year-old billionaire, looked a reporter in the eye and said she would eat shit in order to look younger. We're watching history unfold, folks!
Kim is currently promoting her forthcoming skin-care line, SKKN by Kim. She acknowledged the nine-step skin-care regimen she's touting "might seem scary to some" but hopes to make it more approachable. "That's why I'm here," she told the Times, "to break it down, to be like, 'They're all necessary.'" In total, all nine products cost $630. To my knowledge, none of them include human feces.
Bizarre skin-care rituals are nothing new to the Kardashians. In 2013, Kim posted a picture of her blood-splattered face after a "vampire facial." It was only a matter of time before other bodily fluid became involved, even hypothetically. Tough to say whether this SKKN by Kim will follow in the footsteps of her successful line of shapewear, Skims, or the now defunct KKW Beauty and KKW Fragrance. But, if all else fails, we can always just eat shit.