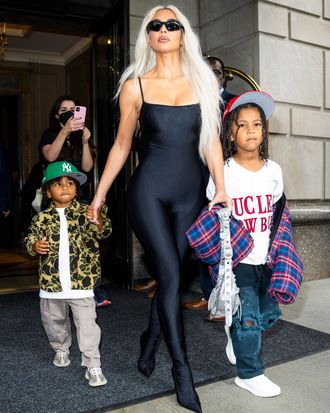 If you're reading this, Saint West probably hates you. But don't take it personally. He made it clear Tuesday that he doesn't like any of the "weirdos" who watch his mom's every move, even if she is Kim Kardashian.
Saint, who is 6 years old, made this feeling known during a rare appearance on his mom's Instagram Live. Kim was filming her arrival to The Tonight Show, where she appeared to promote her new skin-care line — I'm sorry, skkn-care line. She decided to include her two boys, Saint and Psalm, in the video, asking them to say hi to her fans. Little did she know the chaos she would unleash.
Psalm seemed hesitant to address his mom's thousands of viewers, but Saint had no such qualms. "Hi, weirdos!" he yelled, prompting his mom to admonish him. (I, however, would like to thank him. As a weirdo, I feel seen.) Then he went in for the kill: "If you're watching this, I hate you!" Psalm laughed and immediately copied his brother, but Kim was not amused. "Hey, look what you're teaching him!" But don't worry, Saint wants everyone at home to know that while he might enjoy bringing chaos to his mom's events, Psalm is a "good boy."
Of course, these shenanigans didn't stop once they were actually in the studio. During the Tonight Show taping, Fallon stopped mid-interview, saying he was "hearing kids." Kim turned to her crew, saying, "Guys, can you stop?" She added, "Guys, this is your first time at work with me — don't mess this up. Come on!" Notably, the next time the kids were on-camera (Tracy Romulus' daughter Remi was also there), Psalm was nowhere to be seen. Even the "good boy" needs a break!