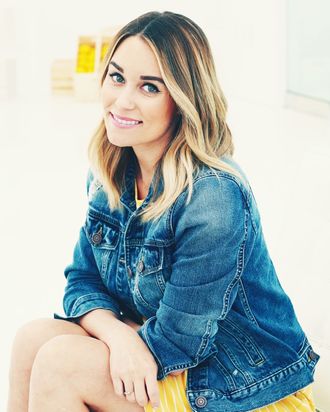 Photo: Jennifer Graylock/Getty Images for Kohls
Since leaving The Hills in 2009, Lauren "LC" Conrad has kept her private life out of the spotlight. She married lawyer William Tell (a man who, as far as we know, has never starred in a reality-TV show) and welcomed two children, Liam James, 4, and Charlie, 2, all while staying mostly out of the press. It's rare for this new post–reality show version of Conrad to share anything too personal online, but she made an exception on Tuesday in the wake of the Supreme Court's Dobbs decision, opening up for the first time about her ectopic pregnancy. "The last few days have been hard," she wrote on her Instagram stories. "I wanted to share my own experience with lifesaving reproductive care."
"Six years ago, while trying to start our family, I had an ectopic pregnancy. Due to prompt medical care doctors saved my fallopian tubes, allowing me to have two healthy pregnancies," she wrote. Conrad said she was inspired to speak out after seeing others share their stories online. "Many women in my life have had their own experiences with abortion," she wrote. "I am so grateful that in each case they were able to safely receive the healthcare they needed and were free to make their own decisions." Though she acknowledged that "talking about abortion is hard," she encouraged her followers to keep discussing the issue. "I hope someday we will be in a place where every woman has access to the healthcare she needs and the freedom to decide what happens in her own body," she wrote.
Ectopic pregnancies occur when a fertilized egg implants outside the uterus, most commonly in a fallopian tube, which can cause ruptures, internal bleeding, and death. Ectopic pregnancies are not viable, and there is no treatment other than ending the pregnancy. However, the Supreme Court's decision to overturn Roe v. Wade leaves this treatment in a state of flux.
While states that have enacted abortion bans have exceptions for medical emergencies, per the New York Times, the language has raised questions that many are concerned could cause delays in administering potentially lifesaving care. "That confusion is really scary to a lot of people who don't know what to do, or whether or not they can treat ectopic pregnancies," Dr. Aileen Gariepy, director of complex family planning at Weill Cornell Medicine in New York City, told the Times.