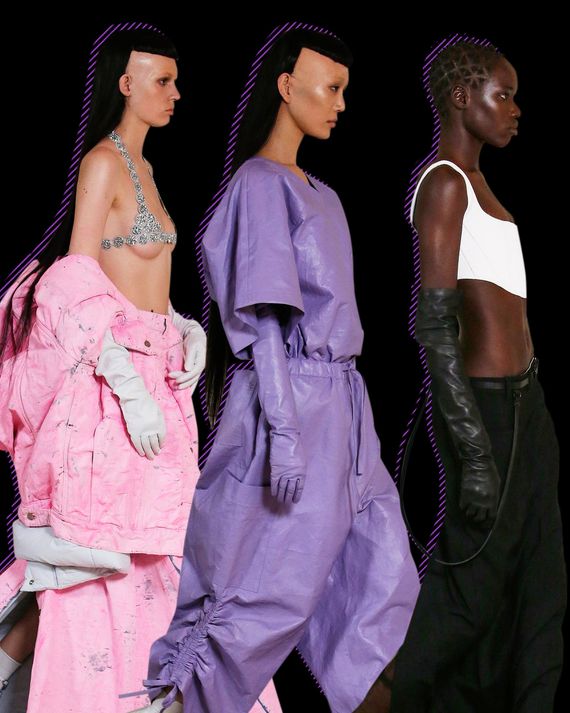 Photo-Illustration: by The Cut; Photos: Marc Jacobs
Two summers ago, as New York and other cities were emerging from lockdowns, I spoke to a dozen leading designers about how they thought the fashion industry should go forward after the pandemic. Many said that it couldn't go back to the ways things were — that is, the colossal sense of waste arising from too many collections, including the newer practice of flying guests halfway around the world to see a show in an exotic locale. But that's what has happened. Instead of going forward, the industry has, with few exceptions, reverted to formula. Big shows, endlessly repeated brand signatures, a heavy wash of celebrity.
Marc Jacobs is one of those who spoke about breaking the pattern, and he has actually done that — out of necessity. Early in the pandemic, his Soho-based company, which is owned by LVMH, let go of most of his runway design staff as it shifted focus to the bread-and-butter elements, like cosmetics and Heaven, a line launched in 2020 and aimed at young people. The change followed Jacobs's landmark show in February 2020, his collaboration with the choreographer and dancer Karole Armitage, in which models and dancers evoked the city's energy in their swift movements. That show, which knocked down the fourth wall and was as simple in form as a runway performance could possibly be, was Jacobs in excelsis.
Now he's doing work that's wholly different from what he did in the three or four years before the pandemic. The attitude is looser; the shapes weirder and more daring, without a doubt. But I would argue that the main difference is that the ideas are more in touch with contemporary values, especially newer notions of gender and human beauty. They also reflect the impact of social-media images on style. In the past, Jacobs's favorite references were historical fashion — perhaps above all, the work of Rei Kawakubo, Martin Margiela, and Saint Laurent — and contemporary art. Think of his collaborations when he was creative director at Louis Vuitton with artists Richard Prince and Takashi Murakami. But even before the pandemic, this approach had begun to feel old-fashioned. Today, Jacobs is no longer part of New York Fashion Week. He has staged two shows at the New York Public Library — the first in June 2021 and the second on Monday night — that reflect a post-pandemic reality for him. Though LVMH supports the effort and sees value for the rest of the Jacobs brand, the clothes are only available at Bergdorf Goodman. That may change at some point, Jacobs told me on Tuesday; perhaps a store in London or Tokyo might also carry the line. But for now, he is happy with the arrangement.
And why not? He is designing some of the most interesting clothes in the most rarified modern fabrics — including paper, organza-backed lambskin, and plaster-coated denim — for a store that has a long reach into the discerning world. It's hardly a new kind of relationship; stores have been doing exclusives with designers since the early 1900s. And no, it's not going to make anyone rich. There's not a big enough market for pastel-pink jean jackets and long skirts coated with a fine sheen of plaster, but neither should it put a limit on innovation. That's what the arrangement with Bergdorf buys Jacobs and his small team — creative freedom.
"We are in a very special place," he said. "I've never felt like my hands are tied, but we don't feel the burden and pressure now to make a collection to show to the buyers in Milan." In other words, one that also ticks the commercial boxes.
Let's consider what he presented the other night. Among the opening looks were loose-fitting V-neck tops and pants in pearl gray or pastel shades of green and lavender that looked unmistakably like hospital scrubs. "They've become a very familiar uniform — police uniforms and scrubs," Jacobs said. "Unfortunately, that's the way it is." But as the historian Anne Hollander once pointed out, the most meaningful fashion references are the ordinary — the apron, the chore jacket. Though the scrubs material looks like cotton, it's actually very fine leather bonded to silk organza. "It gives it that matte and crisp look," Jacobs said.
Another thing that struck me about the show was that in his press notes Jacobs had printed a list of "materials" (canvas, denim, foil, glass, paint, paper, plastic, etc.) and "shapes" (bikini, blazer, cargo pant, corset, T-shirt, etc.). The fact that so many of the materials sounded industrial was intriguing. The glass was crystal discs bonded to jersey for a side-tied tunic over sharp wide-legged denim trousers, while the paper was Tyvek — the house-wrap material — used for a full, bubbly evening skirt and shown with a sweatshirt bunched around the shoulders and turned into a hood. The items on the "materials" list were not trash, exactly, but they qualify as civilization's detritus, and it was as if Jacobs had swept up the glass and the plaster dust and converted them into something elegant — though an elegance made slightly off by the almost sickly sweet pastels.
I shared my impression with Jacobs and he said, "When we start a new collection, it kind of unfolds. But then what happens is life. Life is what you see on the street or on Instagram. I can't imagine these things. I'm okay with letting disruptive thoughts into the process." One thing that he and his team have noticed on Instagram — it's hard to miss — is the variety of sexy underwear that different genders wear. Jacobs showed corsets as tops and also tiny bras in silver-tone crystals. (The itty-bitty bras make the one that Miley Cyrus wore in his February 2020 show look almost prim. That's another indication of how much things have changed in just a few years — and that Jacobs is cued to it.)
"Everybody has done corsets," he said, bringing up Vivienne Westwood. "Vivienne was just so brilliant; she still is brilliant. Her idea of putting women in corsets was such a defiant act" — because it was something that male designers always did with women — "she was really taking it back."
On the street in New York, lingerie is already a nonstarter. On my way into the library, I saw a young woman dressed in tight low-rise pants and a long-line black bra with sheer panels. Eyeballs heading west on 42nd Street scoured her look, I noticed, but could anyone have been shocked? Bra girl was soon overtaken by a drag queen in sequins, then a skinny girl in low-slung elephant bells and a white tank top. (By the way, while in London recently, I couldn't help but notice how many young women were wearing beige-tone spandex pants and a matching crop top. From a distance, they looked nude. Is this the Skims influence?)
There's a huge sense at the moment — in New York more than any place that I know — of actual life surpassing the freedoms and imaginings of high-fashion runways. Probably one reason for the lag is that big luxury brands have to maintain their identity, almost like an ideology. In any case, I think Jacobs is aware of this widening gap. And what he has done so brilliantly over the past year is to abstract the elements he sees — whether it's tacky colors or new gender norms or the obsession in the digital sphere with body augmentation (registered on Monday with wigs and faces that looked cloned) — and then give them new meaning and scope through fashion.
"We've gone from zero to a hundred in five years," he told me, referring to the kinds of self-expression we see online. "It's not the digital world, it's the world."
And it's a little ironic that a major player who lost his big stage because of the pandemic has found salvation in the same terrible event.
"There are many things that happened as a result of the pandemic and the lockdowns," Jacobs said, "and one is a new kind of freedom."