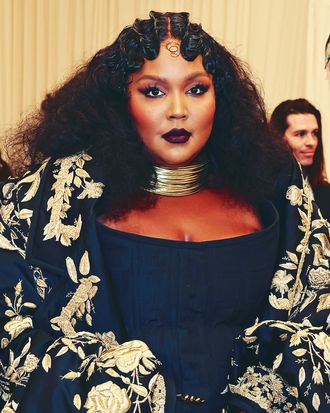 Photo: Arturo Holmes/MG22/Getty Images for The Met Museum/Vogue
Following criticism that her new single, "Grrrls," included the word spaz, Lizzo announced on Monday that she has released another version of the track with the offending lyric removed. "It's been brought to my attention that there is a harmful word in my new song," Lizzo wrote in a statement accompanying the rerelease. "Let me make one thing clear: I never want to promote derogatory language. As a fat black woman in America, I've had many hurtful words used against me so I overstand the power words can have (whether intentionally or in my case, unintentionally)."
The original version of "Grrrls" dropped on June 10 with the opening verse "Hold my bag, bitch / Hold my bag / Do you see this shit? / I'm a spaz." On social media, disability advocates, including many based in the U.K., pointed out that spaz is a pejorative for spasticity, a medical condition in which muscular issues can interfere with movement or speech. Writer and disability advocate Hannah Diviney, who suffers from cerebral palsy, wrote on Twitter, "Hey @lizzo my disability Cerebral Palsy is literally classified as Spastic Diplegia (where spasticity refers to unending painful tightness in my legs) your new song makes me pretty angry + sad. 'Spaz' doesn't mean freaked out or crazy. It's an ableist slur. It's 2022. Do better." (Diviney later acknowledged that freaked out and crazy can also be considered ableist slurs, writing that she still has "SO much to learn about experiences/languages.") Other advocates also took to Twitter to express disappointment and ask that Lizzo rerelease the song without the word.
On streaming services like Spotify and Apple Music, the updated version of "Grrrls" has already replaced the original, and it will appear on Lizzo's forthcoming album, Special, out July 15. Following Lizzo's statement, Diviney thanked her on Twitter, writing, "You're a real true ally."
Psst! The Cut and New York Magazine are conducting a survey about dating. We want to know all about your swipes, IRL hookups, bad dates, and everything in between. Interested? Click here.