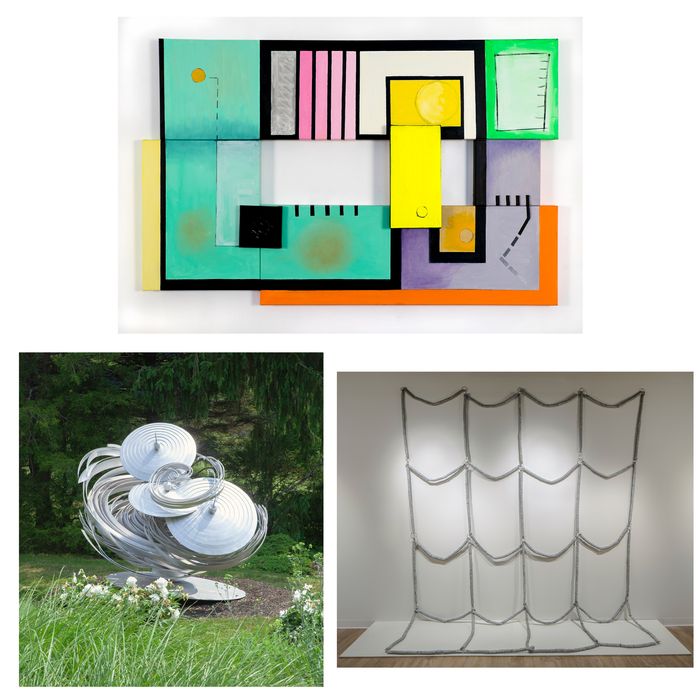 Left: Alice Aycock,
Untitled Cyclone
, 2017. Top: Cynthia Carlson,
Explore the Conflicts
, 2017. Right: Howardena Pindell,
Untitled
, 1968–70.
Photo-Illustration: by The Cut; Photos: Courtesy of Alice Aycock and Marlborough Gallery, New York; Courtesy of Cynthia Carlson and Richard Saltoun Gallery, London; Robert Hensleigh and Tim Thaye
In 1970, protesters descended on the Whitney Museum of American Art to demand that its (overwhelmingly male) Annual exhibit at least 50 percent works by women, and that half of those women are Black. The Ad Hoc Women's Art Committee — which included artists Faith Ringgold, Poppy Johnson, and Brenda Miller, along with critic Lucy Lippard — had a sit-in at the museum, and placed tampons and eggs bearing the message "fifty percent" around the site.
For Lippard, it didn't end there. The next year, in 1971, the activist, art critic, and curator organized the groundbreaking exhibition "Twenty Six Contemporary Women Artists" at the Aldrich Contemporary Art Museum in Ridgefield, Connecticut. "I took on this show because I knew there were many women artists whose work was as good or better than that currently being shown, but who, because of the prevailingly discriminatory policies of most galleries and museums, can rarely get anyone to visit their studios or take them as seriously as their male counterparts," wrote Lippard in the exhibition catalogue. Current Aldrich senior curator Amy Smith-Stewart adds, "Women artists had no visibility in the art world in 1971. Their voices had been silenced, excised, and expunged for centuries."
Fifty-one years later and five years in the making, the Aldrich revisits that pivotal exhibition with "52 Artists: A Feminist Milestone." On view through January 8, 2023, the new iteration features 26 female and nonbinary New York–based artists born in or after 1980 alongside the original 26 artists. "'52 Artists' is both homage and manifesto: a time capsule tracking feminist art's production over half a century. It characterizes feminist art's transformative possibilities," says Smith-Stewart. "Lippard's original 'Twenty Six Contemporary Women Artists' catalyzed the fight. '52 Artists' demonstrates its revolutionary persistence. Both activate our imaginations to consider what another 50 years could bring."
Although large strides have been made in the last half-century, art exhibitions remain overwhelmingly male and white — a 2019 study found that 87 percent of artists in museum collections at the time were male, and 85 percent were white. "We of course have a ways to go, and new threats to our autonomy, but to get to where we are now, artistically, because of the battles they fought, is really remarkable and makes me feel very fortunate and indebted to the legacy that precedes me," says Loie Hollowell, one of the next generation of artists in the show. "By simply doing — continuing to make your work — we are collectively pushing the boundaries of equality so that future generations of female artists can find themselves in a position to freely pursue their art with fewer domestic and industry-inequality restrictions," adds Susan Chen, another one of the younger artists appearing.
Keep scrolling to see the work of ten featured artists — first, five newcomers, and then five from the 1971 exhibition — and how each views being a woman through their art, as well as in life and as an artist, historically and today.
@lakelabrown
For Detroit-born LaKela Brown, sporting jewelry is an act of resistance. She uses bamboo earrings, also known as door knockers, to address appropriation and stereotypical perceptions of Black women. Taking cues from traditional still life, Brown pays homage to the Black aesthetic by incorporating impressions of door-knocker earrings into plaster reliefs, elevating the adornments that she grew up with to their rightful place amongst fine art.
"The door-knocker earrings are a cultural artifact that I use to infiltrate the genre of still life. They are objects that I saw the women that I grew around adorn themselves with. They are specific to Black women and I chose them because they can represent Black women. So if you saw a stray earring on the ground, you would know that a Black woman lost it. This is an object that points specifically to Black women, so for me it's become a symbol. It means celebrating a certain kind of Black woman who has been disregarded as not respectable.
Earlier in my career when I was developing as an artist, it was second nature for people in the art world not to take me seriously. I was underestimated. It's hard for me to separate my Blackness from my gender."
@loiehollowell
Loie Hollowell depicts the female form in vivid shapes and curves, straddling the line between figuration and abstraction. Touted as a contemporary Georgia O'Keeffe, Hollowell's colorful canvases contain many hues and patterns that immediately draw the viewer in. The California-born artist creates glorious bodily landscapes exploring the body's various states that touch on themes of pregnancy, sex, and breastfeeding. In 'Empty Belly,' she reflects on her own experience with postpartum depression.
​​"After giving birth to my second child in 2020, I experienced another bout of postpartum depression. It was not as bad as it had been after my first child was born in 2018. Perhaps because the pandemic had brought everything to a standstill, so I didn't feel so much pressure to get back to any form of normalcy. Empty Belly is about those months of postpartum depression. My womb had been emptied out and my mind felt anxious and panicked about having to care for two babies. I felt kind of like I was falling into a black hole. At the same time, I was breastfeeding around the clock and also trying to take care of myself."
@annaparkart
Anna Park uses charcoal on paper to create provocative, large-scale panels that comment on everything from Hollywood excess to the pressures of being female to politics. The South Korea–born Park's expressive work adds a dynamic twist to figuration that's all her own. For 'Glitter Ain't Gold,' Park looks at the sexualization of young women.
"A cascade of hands encompasses a woman in a baby-doll dress, her head tilted back with an arm outstretched to beg the question: Is she willingly submitting herself to the chaos that encroaches upon her? Or is she left powerless to her surroundings? Glitter Ain't Gold was created to represent the nature in which society fetishizes and sexualizes young women. The figure represents the innocence being robbed and the environment to be pressures that the world presents.
The contextualization between the different generations of female artists is an important reminder of how different the landscape was to be a female artist at the time. The artists in the original 1971 exhibition paved the way for the current generation of female artists to exist in the space."
@susanmbchen
Hong Kong–born Susan Chen's thought-provoking narratives use traditional portraiture as a vehicle for change. A modern-day Alice Neel, Chen finds her subjects on social media and in person, inviting them to her studio, where she gets to know them better before they sit for her. Such was the case with 'An Afternoon Making Quaranzines with Apex for Youth,' which portrays a group of Asian American women and girls from Apex for Youth making zines.
"My painting features a group of Asian American women and girls working one afternoon together during the pandemic to create zines ('Quaranzines') of personal reflection within a classroom setting. This painting was inspired by real-life activities and my own volunteering experience working as a mentor at Apex for Youth, a New York Chinatown–based community organization that works with underserved Asian and immigrant youth from low-income families in the city.
I see myself in a one-person entrepreneurial art start-up working six days a week around the clock in the studio, but sometimes the people around me don't take me as seriously compared to say, the male doctor in the family. I've often been told, 'You don't need to be so ambitious, it's not a good look for women' — because being ambitious is a negative term for women but a positive one for men?"
@lizaniacruz
Lizania Cruz explores the way migration affects one's sense of belonging through research, audience participation, and oral history. Cruz considers herself part–cultural anthropologist and part-detective, exploring her native Dominican Republic's expunging of its African roots. 'Opening Statement' and 'Evidence Shelf' investigates the way the Dominican Republic maintains oppressive racial constructs, incorporating objects that include Dominican voodoo portraits, soil samples, and nail clippings.
"Opening Statement is a video piece within this body of work where I use text from Jacques Derrida's Archive Fever in juxtaposition with my research up to that moment, documentation of an action I did in Santo Domingo, and places that I'm considering key to the investigation as a starting point to my case. You can think about it as the opening statement of a trial. The Evidence Shelf shows ready-made pieces of evidence that I've collected in Santo Domingo and through my research. Some examples are dirt from the sugar mill Boca de Nigua and my own cut nails as a sample of DNA."
@aliceaycock
An early participant in the Land Art movement, Alice Aycock is known for large-scale metal sculptures that draw on science, childhood memory, ancient history, fantasy, and architecture. Aycock, who was born in Pennsylvania and lives in New York, reconstructed 'Clay #2,' which was also in the original 1971 show, an indoor erosion bed filled with 1,500 pounds of clay and water. It took months to dry, shrink, and crack.
"The work from the early '70s dealt with natural processes and what I refer to as the necessary structure and the contingent event — the wet clay contained in boxes formed cracking patterns as it dried over time. I set up the situation and then allowed the work to make itself. My recent work, which is object-based, also references natural processes — wind, water, fluid dynamics, turbulence as a stop-action moment."
@howardenapindell
Feminism, racism, violence, slavery, and exploitation are common themes in Howardena Pindell's work, which is primarily made up of painting and mixed media. At the moment, the New York–based Pindell is experimenting with glass, collage, and video. Today's exhibition features an untitled work that was in the original, as well as 'Carnival: Bahia, Brazil,' a lively 2017 piece imbued with the energy of Brazil's annual festival.
"I was being playful sewing and stuffing a 12-foot-square portable grid made of canvas, silverlike paint, foam, and grommets. Over the years my work has evolved. I have started to cut foam circles and use colorful glitter. I selected Brazil because I visited there in the late 1970s. Carnival was one of their major celebration events loaded with colorful floats, costumes, dancing, and music. I have not attended one but became more interested over the years."
A member of the Pattern and Decoration movement of the 1970s, at the time of the first exhibition, Cynthia Carlson was known for using a pastry tool to cover her paintings and installations in thick squiggles and swirls. Although her work has changed over time, she remains consistent in incorporating color, pattern, and her signature humor. Carlson cited the Chicago Imagism movement as an early influence, and her 1970 work 'Untitled Inscape #1,' included in the original show, was a response to the minimalism that was prevalent during the time through what Carlson refers to as an "interior landscape" that is "spatially unclear."
"I don't remember who brought Lucy Lippard to my studio, but she came, liked my work, and included me in her show," says Carlson. "Originally the show was titled '25 Artists'. I became number 26."
One of the founders of the feminist journal 'Heresies,' Mary Miss is known for "redefining how art is integrated into the public realm." Her 1970 installation 'Room Fence,' inspired by the fences in the landscape of the American West, was not part of the original show, but is a related piece from the time. More recent work, like 2007's 'Connect the Dots: Mapping the Highwater Hazards and History of Boulder Creek,' touches on the consequences of climate change.
"Starting out as a young sculptor, the idea of the monolith or object had little appeal to me. I needed to find another path forward. What interested me was finding a new means of engagement. In the case of Room Fence, a field was created that suggested that it might continue beyond the limits of the room. There was a direct engagement with the viewer: You are denied access to the room, but entry is made desirable at the same time. The everyday experience of entering a room is altered.
In a way, the project Connect the Dots: Mapping the Highwater and Hazards of Boulder Creek is in much the same vein as my early work. A 'field' of 300 six-inch-diameter blue markers were installed throughout the center of Boulder, Colorado. These very modest markers made the projected flood level accessible: You could see what the water level would be in relation to your own body — sometimes ankle high, and in other areas, 18 feet above your head."
Combining minimalism and feminism is a hallmark of Jackie Winsor's work. Her landmark mid-career 1979 retrospective at the Museum of Modern Art was the first for a female artist since 1946. Using materials like rope, wood, bricks, and cement, the Canadian-born artist constructs sculptures that take immense strength to make physically. The dominant shapes in her geometric works are spheres and squares, and 'Brick Dome' was her contribution to "26 Contemporary Women Artists." 'Brick Square,' which was made in 1971, is related, but not part of the original show.
"How did I feel being part of the show in 1971? Endlessly grateful. Along with being endlessly grateful for being in the show, there was gratitude for Lucy Lippard, whose idea it was to have the show, and who was committed not only to supporting the women in the show, but women artists in general. Mr. Aldrich, who showed young artists at his museum, was being his most outlandish with this move, and although history favors him for it, I'm sure at the time he was more than a little uncomfortable. So bravo to him. In 1971, anything that happened positively regarding being female and being an artist was groundbreaking. Anything you achieved was pivotal for your career. These achievements singularly and collectively weren't just hard — they were unheard of."
Psst! The Cut and New York Magazine are conducting a survey about dating. We want to know all about your swipes, IRL hookups, bad dates, and everything in between. Interested? Click here.