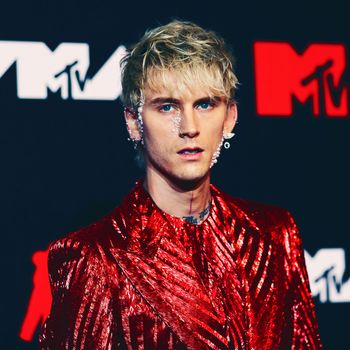 Photo: Jason Kempin/Getty Images
In his new documentary, Life in Pink, Machine Gun Kelly, a.k.a. Colson Baker, takes fans behind the scenes of the recording of his last two albums, Tickets to My Downfall and Mainstream Sellout. But it's not all about the music. A major part of the documentary focuses on Baker's own mental health, including an especially dark time when he attempted suicide while on the phone with his fiancée Megan Fox.
The incident took place a couple years ago, after his father's death in July of 2020 and while Fox was in Bulgaria shooting a movie. "I wouldn't leave my room and I started getting really, really, really dark," he said. "I started getting this really wild paranoia. Like, I kept getting paranoid that someone was gonna come and kill me." The musician said that at the time, he slept with a shotgun next to his bed, and one day, he "just fucking snapped." He called Fox and accused her of not being there for him, and it was during that phone call that he attempted to kill himself. He said the gun jammed, prompting a major turning point. "That was kind of where I started realizing, like, something's not right," he said.
Kelly has talked about suicidal ideation and depression before. He told GQ UK last year that he had post-traumatic stress from his childhood. "I'm basically trying to live without dying quickly every day," he said. "I've lost so many friends to suicide. Love gave me a reason to stay here." In the documentary, he said that both Fox and his 12-year-old daughter, Casie Colson Baker, confronted him after the incident. "They simultaneously came at me with this, like, 'I want to be able to see in your eyes. I don't want to be talking to you through a veil anymore,'" he said. "And I was like, 'I need to kick the drugs. For real this time.'"
Baker has previously hinted at what happened next, though the documentary doesn't get into it. In an Interview profile released in 2020, Baker revealed that there was a time in his life when he was somewhat dependent on Adderall, saying, "I went from orally taking it to then snorting it, and then it became something where I was scared to ever go into a studio if I didn't have something." At the time of the interview, he was trying to step away from drugs. "Currently, my drug of choice is happiness and commitment to the art, rather than commitment to a vice that I believed made the art. I'm taking steps," he said, adding that he was also going to therapy.