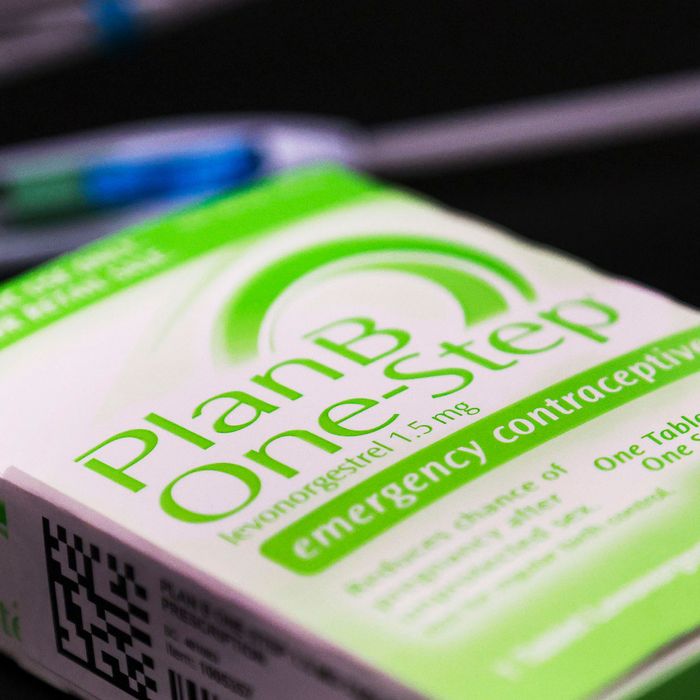 Photo: Darin Oswald/Idaho Statesman/Tribune News Service via Getty Images
In the wake of the Supreme Court's conservative majority overturning Roe v. Wade — and Justice Clarence Thomas arguing in a concurring opinion that the court "should reconsider" prior rulings about contraception access — many people are taking steps to safeguard their reproductive autonomy, from stockpiling abortion pills to requesting permanent sterilization. Now major retailers are rationing the sales of over-the-counter emergency contraception, or morning-after pills, in response to increased demand.
According to The Wall Street Journal, CVS, Walmart, and Rite Aid are imposing purchase limits on morning-after pills, which were out of stock or in short supply on the three retailers' websites as of Monday. Morning-after pills are backup methods to birth control that are taken orally; they prevent pregnancy by delaying ovulation or preventing fertilized eggs from attaching to the uterus. The pills don't work if a fertilized egg is already implanted. Still, advocates are concerned that the conflation of these pills with medication-abortion pills, which require a prescription and end a pregnancy, could potentially jeopardize contraception access in a country in which reproductive rights will likely continue to wane. "We've seen folks falsely equating emergency contraceptives and IUDs with abortion," Mara Gandal-Powers, the director of birth-control access and senior counsel at the National Women's Law Center, told the New York Times last week. "That's certainly something I'm concerned about."
Both CVS and Rite Aid are, at least temporarily, limiting purchases of morning-after pills to three units. Walmart has implemented limits of four or six, and while some pills are available at Walmart without purchase limits, those won't ship for another month. The rationing is a preventative measure: On Monday, according to the Journal, Planned Parenthood advised against stockpiling emergency contraception, citing the pills' limited shelf lives (when stored correctly, Plan B expires after four years) and pointing to the ill effects hoarding them has on people with an immediate need. A spokesperson for CVS told the Journal that it still has "ample" pills available online and in person and that the purchase limits are in place to "ensure equitable access" to that supply. If you don't have an immediate need for the pills yourself, consider forgoing a trip to the pharmacy and donating to Power to Decide's Contraceptive Access Fund instead.