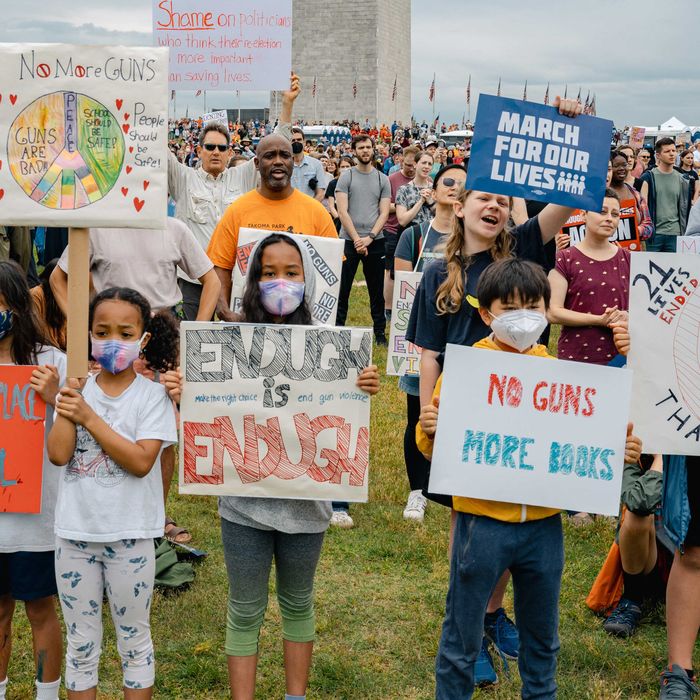 On Saturday, thousands flooded the National Mall in Washington, D.C., to protest for stronger gun-control laws. The March for Our Lives demonstration, which came in the wake of mass shootings in Buffalo, New York, where a white supremacist killed ten people at a supermarket, and in Uvalde, Texas, where an 18-year-old gunman killed 19 children and two teachers with a legally obtained AR-15, was one of 45 rallies across the country. Demonstrators held up signs reading "Why Do Guns Have More Rights Than My Vagina?" and "Brought to You By the Pro-Life Party."  One woman dressed as the Grim Reaper thanked the National Rifle Association "for the assist." Children rallied too: A boy held a sign reading "21 Lives Lost. That Could Be Me!" 
March for Our Lives demonstrations began in 2018, spearheaded by a group of teenagers who had survived the mass shooting at Marjory Stoneman Douglas High School in Parkland, Florida. The survivors organized a march in D.C. that drew an estimated 800,000 attendees with additional rallies taking place in over 800 cities around the world. Four years later, protesters were exasperated that they are still marching for gun reform. Hannah Sohn, a 34-year-old public-high-school teacher in Germantown, Maryland, remembers conversations she had as a student after the massacre at Columbine High School in 1999. "I don't think it's fair for my students to feel scared about coming to school," says Sohn, adding that she's at a loss for words when her students seek comfort and reassurance about their safety.
Jamie Parker, 44, said she was enraged by Congress's inability to act. "When 19 kids died for no reason, I don't understand how politicians can just sit around and do nothing about that," said Parker, who carried a sign reading "Make This The Last Time" and attended Saturday's rally with her 13-year-old daughter, Presley. "That makes me so incensed and angry. I have been doing this since Parkland happened. We were at the original March for Our Lives, and I can't believe we are still here. I can't believe we are still coming back, doing this." This time around, perhaps the ralliers will get something from lawmakers: On Sunday, Senate negotiators announced they had reached a tentative bipartisan deal on gun safety. The measures, which have yet to be finalized and include red-flag laws and enhanced background checks, are a modest step forward — but better than taking no steps at all.