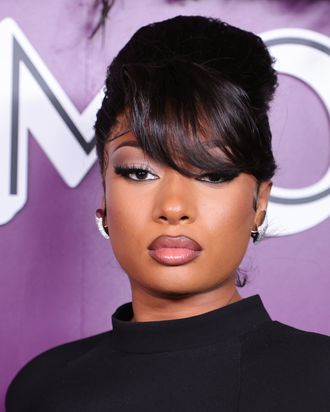 Photo: Theo Wargo/Getty Images
The legal battle between Megan Thee Stallion and Tory Lanez — stemming from her accusation that Lanez shot her feet in the summer of 2020 — continues. Lanez (real name Daystar Peterson) is currently facing charges of felony assault and carrying an unregistered firearm, which he has adamantly denied for the past year. He pleaded not guilty to the charges.
Things got even messier during a pretrial hearing in February, when both Megan and Lanez took to social media to exchange allegations, with Megan sharing texts she claimed prove Lanez is guilty. In court on Tuesday, Lanez was handcuffed and taken into custody after a judge ruled that his tweets about Megan violated court orders prohibiting him from contacting or mentioning her.
The trial start date is currently scheduled for September 14, but until then, let's run down how we got here in the first place.
In July 2020, Megan Thee Stallion accused Tory Lanez of shooting her in the foot. A few months later, he was charged with assault.
In July 2020, Megan was seen getting in a police car with bloody feet, supposedly injuries sustained from broken glass, and was taken to the hospital. Reports initially suggested that she had been arrested after a night of partying with friends, but it was later reported that Lanez, who was also in the car, was arrested for possession of an unregistered firearm.
It wasn't until a few days later that Megan publicly claimed in a since-deleted Instagram post that she had suffered gunshot wounds to her feet "as a result of a crime that was committed against me and done with the intention to physically harm me." At the time, she did not specify who had shot her.
During an Instagram Live in August, Megan claimed that Lanez had shot her. Though she reportedly did not initially tell police that she had been shot, she explained that, in the moment, she hadn't trusted the police to protect her. "Why the fuck would I tell [the police] somebody got a gun in this car and this n- - - - shot me?" she said. "So I can get shot, you can get shot, she can get shot, he can get shot?"
Following her public accusation, Lanez continued to deny the allegations. He cast doubts on whether or not she had been shot in the first place (her medical records reportedly indicate that she was), and reportedly floated the idea that even if she was shot, she couldn't have seen who was shooting if she had been walking away from the car at the time of her injuries.
Lanez was officially charged on October 8 with one count of assault with a semiautomatic firearm and one count of carrying an unregistered weapon. According to the charges, he, Megan (who was not explicitly named in the charges), and two other individuals were driving in the Hollywood Hills when an argument broke out. Eventually, the car stopped and Megan got out, which is when Lanez allegedly fired shots at her feet several times.
Megan has accused a blogger of "lying" about DNA evidence in the case.
Lanez has been trying to get the case dismissed ever since the charges were filed against him, but the charges were upheld by a Los Angeles County judge in December of 2021, and on February 23, his lawyers appeared in court for pretrial. But while the lawyers were arguing in court, things were getting heated on social media.
Before the court proceedings began, podcaster DJ Akademiks alleged on Twitter that "It was revealed in court few moments ago that Tory Lanez DNA WAS NOT found on the weapon in the Meg Thee Stallion case." The tweet was quickly picked up by fans, but was also quickly debunked by Megan herself. "Court ain't even started so why y'all ready to start lying," she posted on her Instagram Stories. "Yall got breaking news 15 minutes before court started and nobody has even been called in yet??," she continued, specifically calling out Akademiks for "spreading false narratives."
This alleged DNA report was, in fact, brought up at the pretrial hearing, but the contents of the report were not, per Rolling Stone reporter Nancy Dillon. The report was merely mentioned as part of Lanez's defense, though what it actually says remains unconfirmed. "We are in the process of actually retaining an expert with respect to DNA," Lanez's attorney reportedly told the court, per Dillon's tweets. "It is our hope that we will be able to review and confirm the LAPD's analysis, which from our standpoint was favorable." Dillon added in a follow-up tweet that the discovery in the case is not publicly available, so reporters won't be able to see it.
After being called out by Megan, Akademiks deleted his original tweet, but he returned to social media following the hearing, repeating Lanez's attorney's claim that the "DNA results" were "very pleasing" to Lanez. He added, "I saw this doc myself.. It literally says it was inconclusive in finding TORY DNA on the gun or magazine." (As many have noted online, "inconclusive" does not mean that Lanez's DNA was "not found," as Akademiks had originally claimed.)
Megan released texts allegedly sent from Lanez the day after the shooting.
DNA drama aside, Megan took the opportunity to dispel any other misinformation about the case on social media. On her Instagram, she reportedly posted (and then deleted) texts supposedly from Lanez that she claimed were sent the day after the shooting. The texts include one sent on the night of July 12 that reads, "I genuinely want u to know I'm sorry from the bottom of my heart." (Lanez was recorded saying similar things during a phone call from prison. At the time of his arrest, he reportedly called Megan's friend, saying in part, "What happened, happened already. I can't take it back. I'm just telling y'all I'm sorry.")
Lanez then appeared to respond on Twitter, writing "Good D*ck had me fucking 2 best friends… and I got caught … that's what I appologized 4. … it's sick how u Spun it tho." Lanez previously used this defense in December, his attorney Shawn Holley, reportedly claimed that it was Megan and her former friend and assistant Kelsey Nicole who were fighting on the night of the shooting and suggested that Lanez fired the gun to protect Megan from Nicole.
Both Nicole and Megan have denied this narrative. After Lanez's tweet, Megan again took to her Instagram Stories, writing, in part, "You keep putting a narrative out that me and my friend fell out about you and that's not true! Why are you skipping over the shooting." She continued, "You think its okay to shoot me then harass me online and make it like this was some weird cat fight what the actual fuck is wrong with you."
Tory Lanez was handcuffed after he was found violating the protective order in the case.
During the April 5 hearing for the case, Lanez was handcuffed in court and his bail was increased to $350,000 after the judge ruled that he violated his protective order against Megan by tweeting about her. The judge added a new condition to Lanez's release that he's "not to mention the complaining witness in this case in any social media." Lanez was released from jail a few hours later after posting his bond in full. His bail was previously increased to $250,000 in August after a judge ruled that he violated his restraining order by performing on the same stage as Megan at Rolling Loud.
Megan Thee Stallion gives her first TV interview about the shooting.
Megan sat down for an intimate interview with CBS Mornings co-host Gayle King that aired April 25. In the interview, the rapper detailed the shooting publicly for the first time. She recounted that the argument started "because I was ready to go, and everybody else wasn't ready to go," calling it "normal friend stuff." She insisted that she did not start any kind of physical altercation, telling King, "I never put my hands on anybody. I never raised my voice too loud. Like, this was one of them times where it shouldn't have got this crazy."
When things escalated, she claims, she got out of the car, and that's when the shooting started. "So I get out of the car, and it's like everything happens so fast. And all I hear is this man screaming. And he said, 'Dance, bitch.' And he started shooting," she said, through tears. "And I'm just like, Oh my God. Like, he shot a couple of times. And I was so scared."
Megan clarified that Lanez was "standing up over the window shooting" and said she was afraid to move too quickly to get away. "I don't know if he's gonna shoot something that's, like, super-important. I don't know if he could shoot me and kill me." Describing the physical shock of being shot, she said: "The adrenaline is pumping so hard — I'm not sure if he hit me. I feel it, but I don't understand what's happening. So I looked down at my feet. I'm like, Oh my God. Like, I'm really bleeding."
Megan again denied Lanez's claims that the two had a sexual relationship prior to the incident, telling King that they were close friends who bonded over the deaths of their mothers. In the immediate aftermath of the shooting, Megan claimed Lanez apologized to her and Nicole, offering them "a million dollars" in exchange for their silence. Megan told King a third party contacted the police, and she recalled her fear upon seeing officers and helicopters at the scene. "I was like, Oh my God, we all about to die. The George Floyd incident had just happened. The police are definitely very much 'shoot first, ask questions after.' So I'm like, It's a hot gun in the car. I'm bleeding. I've been shot. They about to kill somebody. Something bad is about to happen." She said she told police that she'd stepped on broken glass to protect her friends, including Lanez, from potential police violence. "Even though this person just did this to me, my first reaction still was to try to save us. I didn't want to see anybody die. I was lying to protect all of us." Megan told King that she still has bullet fragments in her feet from the shooting and that her anxiety has worsened since the incident. Asked about critics who doubt her account, Megan told King, "I don't think any of this is for them. It's for me. I know this happened to me. I'd rather it play out in court and the facts come out."
Meg says she hopes Tory Lanez goes to jail in new Rolling Stone interview.
Megan continued to open up about the shooting in a June profile with Rolling Stone. In the interview, she revealed that the night of the shooting she had surgery to remove bullet fragments in her feet and was in the hospital for four days before going home with two injured feet, incapable of walking. "Both of my legs wrapped up. I could not walk," she said. "I was worried that I was not able to be Megan Thee Stallion no more." The rapper is now able to walk again thanks to physical therapy, but she still has nightmares about the shooting.
Megan went on to say that she felt "shame" about her initial reaction to the shooting, noting that she lied to the police in an effort to protect the people she thought were her friends, though "that's not how they thought of me." She confirmed that she and Nicole, her former best friend who was also in the car that night, were no longer close. According to the rapper, Nicole met with Lanez days after the shooting because Meg wasn't answering her phone and Nicole felt her "back was against the wall." Megan claimed that Lanez thanked Nicole for not speaking about the shooting and immediately offered to invest in her business. "All I know was, from that day on, she never said nothing else about the whole situation online," Megan said.
Speaking of the press coverage of the shooting, Megan said she felt like "the villain" in the story. "I don't know if people don't take it seriously because I seem strong. I wonder if it's because of the way I look," she said. "Is it because I'm not light enough? Is it that I'm not white enough? Am I not the shape? The height? Because I'm not petite? Do I not seem like I'm worth being treated like a woman?"
As for what she hopes happens to Lanez, Megan said, "I want him to go to jail." The trial is set to begin September 14. If convicted, Lanez could reportedly face up to 22 years in prison.
This post has been updated.