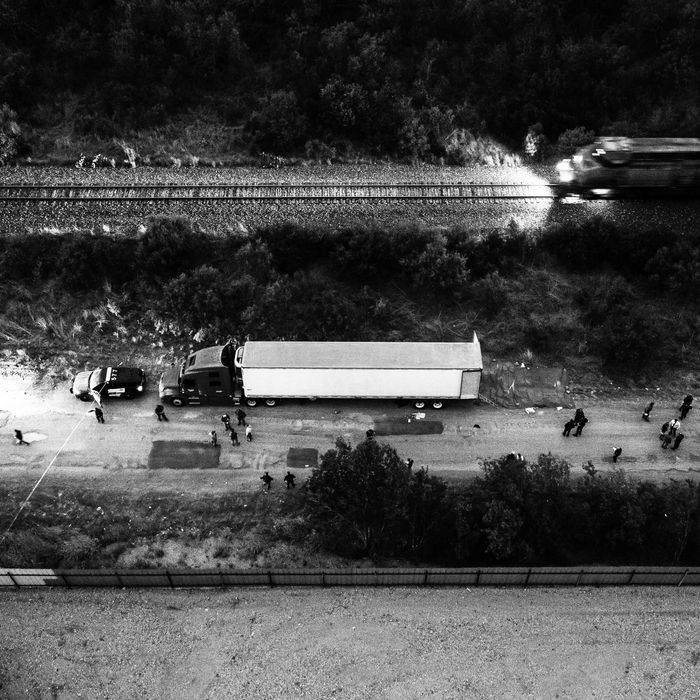 Photo: Jordan Vonderhaar/Getty Images
On Monday, police discovered a tractor trailer on the outskirts of San Antonio filled with the dead bodies of 46 people believed to be migrants who had recently crossed into Texas from Mexico. According to local officials, they most likely died from extreme heat after being abandoned by the truck's driver.
The truck was found around 6 p.m. near a cluster of auto-salvage yards southwest of downtown San Antonio, where a worker from a nearby business says he heard a cry for help and went to investigate. The location, which one local couple told the New York Times is a known drop-off spot for migrants, is about 140 miles from the nearest border crossing. Officers found bodies inside and around the truck, while 16 survivors, who the fire chief said were "hot to the touch," were brought to local hospitals and treated for heat exhaustion and dehydration. He reported the vehicle had "no visible working A/C unit." According to Texas congressman Tony Gonzales, the death count rose to 50 as of Tuesday morning.
The chief of the San Antonio Police Department said three people were detained in connection with the tragedy. He did not say whether the truck driver had been apprehended, but officers had been searching for the driver earlier in the day. Homeland Security agents also collected evidence in the trailer and are expected to take over the investigation.
Texas governor Greg Abbott, who posted statistics on Monday evening praising his deployment of the Texas National Guard at the border, returned to Twitter after the news broke to blame President Biden's "deadly open border policies." The Biden administration is currently operating under an immigration policy introduced by President Trump in March 2020, which allows border agents to expel migrants without letting them apply for asylum. The policy, purportedly designed to stem the spread of COVID-19, was set to expire in May, but a federal judge blocked the Biden administration from lifting it.
Meanwhile, Abbott has spent the past year funneling funds out of Texas public-health and -safety departments and into a plan he calls Operation Lone Star, which entails sending thousands of troops to the border in the name of security. The Texas National Guard itself called the initiative a disaster, and multiple investigations found the bulk of arrests Abbott was using to tout his project came from misdemeanor and trespassing charges, many of them unrelated to the border.
Migrant deaths near the border are not uncommon. In 2003, 17 migrants were found dead in an overheated trailer in southern Texas, and in 2017, ten men in San Antonio died after being squeezed into a tractor trailer alongside 200 other migrants without food, water, or fresh air. Still, Monday's discovery marks one of the highest death tolls in the past decade.