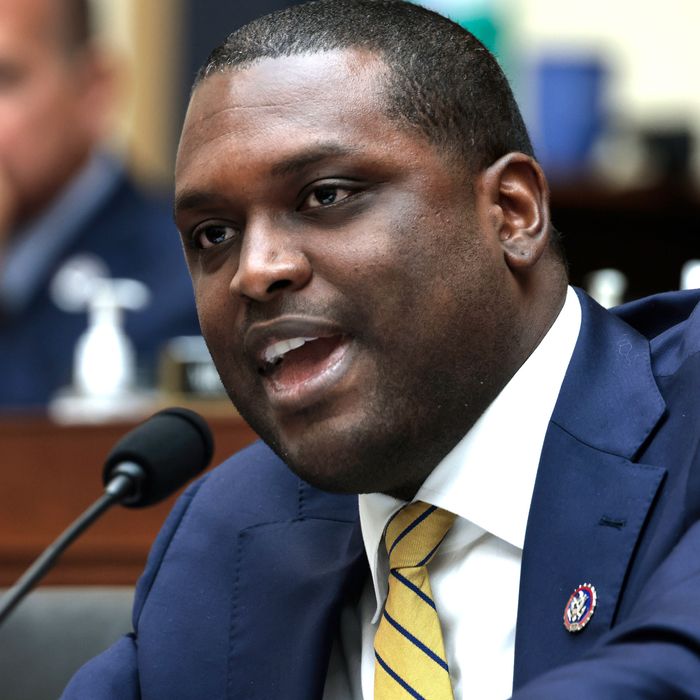 Photo: Anna Moneymaker/Getty Images
I generally prefer my elected representatives show up for work, but sometimes you gotta do what you gotta do. Such, I imagine, was the quandary facing New York congressman Mondaire Jones, who apparently took advantage of a COVID-19 voting-by-proxy rule to skip several congressional sessions while attending Issa Rae's wedding in the south of France last year. And may I just say: I'd skip Congress for Issa Rae's wedding, too.
A New York Post article details the 17 pieces of legislation that Jones — the U.S. representative for New York's 17th district in the Hudson Valley — voted on by proxy between July 19 and July 27, 2021. On July 19, the Post reports, he wrote a letter to the House clerk saying he was "unable to physically attend proceedings in the House Chamber due to the ongoing public-health emergency" and passing off his voting duties to Georgia representative Nikema Williams. Instagram posts from the same stretch of time show Jones in various luxurious settings with Rae's wedding guests. (Jones met Rae at Stanford, and Rae hosted a fundraiser for him during his campaign for the 17th District.) Other Instagram posts show him back in D.C. at a protest to extend the capital's eviction moratorium by August 2.
While the Post appears to believe they've caught Jones red-handed in a big fat lie, it doesn't seem like he tried to hide his presence at the wedding. Mondaire recently entered the race for New York's 10th Congressional District, and a spokesperson for his campaign, Bill Neidhardt, provided a decidedly unconcerned statement to the paper:
It's hard to tell what The Post is more offended by, Mondaire Jones voting against Republicans multiple times or Mondaire Jones attending the wedding of his close friend, and absolute icon, Issa Rae. I know it makes The Post feel Insecure, but Rep. Jones has no apologies for his votes against the GOP or for being with his good friend during the most important week of her life.
Jones is not the only one guilty of fudging the House's proxy voting policy. The policy was introduced in May 2020 as a COVID-19 safety precaution, intended to let representatives who had COVID-19 to vote from their homes so that they wouldn't spread the virus. But representatives on both sides of the aisle have used it for other absences unrelated to COVID-19: AOC voted via Jamaal Bowman last June while she campaigned for Maya Wiley, and House GOP conference chair Elise Stefanik (also a New York representative) used the proxy vote while appearing with Trump at a Mar-a-Lago fundraiser earlier this year.
You have to admit Jones's decision was kind of a flex. Given the choice between a French Riviera getaway with Issa Rae or a hallway encounter with Marjorie Taylor Greene, I think it's pretty obvious what we'd all do.
Psst! The Cut and New York Magazine are conducting a survey about dating. We want to know all about your swipes, IRL hookups, bad dates, and everything in between. Interested? Click here.