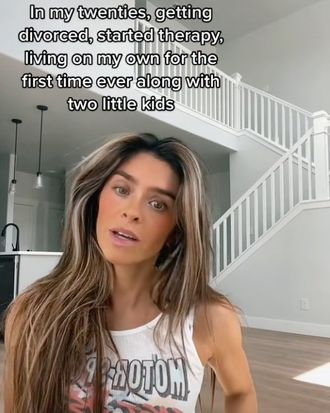 Taylor Frankie Paul's divorce announcement.
Photo: @taylorfrankiepaul/TikTok
TikTok can be a place of wonder or a place of absolute chaos. And this week, the moms on Mormon MomTok chose the latter. Taylor Frankie Paul, a 28-year-old TikToker and mother of two, blew up the MomTok community in Draper, Utah, when she recently revealed that she and her husband were getting a divorce after "soft swinging" with her friend group.
Taylor, who has 3.5 million followers on TikTok, mostly posts dance videos with the occasional appearance from her soon-to-be-ex-husband, Tate Paul, and her two young kids, Indy and Ocean. She also does choreographed routines with a group of like-minded Mormon TikTok moms, including Camille Munday and Miranda McWhorter, who she often jokes are her "sister wives." According to Taylor, she and a group of unnamed friends and their husbands (she says the "majority" of MomTok was not involved) were all "soft swinging" together. Now their friend group appears to be in shambles after Taylor fell in love with one of the husbands she was swinging with, and other MomTokers are scrambling to deny their involvement.
The drama is still unfolding, but it's already more confusing than an episode of Game of Thrones. Here's a timeline of what's happened so far.
Taylor Paul announced her divorce with some cryptic messaging.
On May 20, Taylor used one of her lip-sync videos to reveal that she was separating from her husband, which she captioned "an unfortunate announcement." Using audio from Miley Cyrus's "Malibu," Paul showed off what appears to be a new set of keys, standing in an empty home. Text in the video reads, "In my twenties, getting divorced, started therapy, living on my own for the first time ever along with two little kids."
In a second video, Taylor hinted that there was more to the end of her marriage. A video of her moving boxes included the cryptic text, "My life falling apart. And I can't even speak on why … without bringing them all down with me." Meanwhile, fans on Reddit began noticing that some MomTokers were unfollowing Taylor and liking comments suggesting she'd cheated.
Two days later, Taylor revealed her divorce was the fallout of a "soft-swinging" situation with her friend group.
Taylor had previously joked about being in an open marriage on TikTok, calling it "fun" in a video posted in April. A few days later, she shared a video suggesting she didn't believe in monogamy, though at the time, many fans thought she was joking.
In a livestream on May 25, Taylor claimed that she and her husband had indeed been in an open relationship and had an agreement with other couples in their friend group. In her video, she was careful not to name names but reported that she and her husband had been "soft swinging," which, in her words, meant that no one went "all the way" together unless their spouses were in the room. "The whole group was intimate with each other," she said in the video, which has since been reposted online.
However, Taylor admits she violated the group's soft-swapping policies. "To be honest, we had an agreement, like all of us, and I did step out of that agreement," she said, confessing that she had gone "all the way" with someone in the group.
"It wasn't like I was going around like hooking up with my friend's husband. It was like, we were at a party, I got belligerent, and we went and messed around by ourselves rather than the whole group," she said. Taylor insisted that it was "a one-time thing" but also admitted that she and the unnamed man "had feelings for each other."
Taylor said that she was now being "shunned" by her friends, though she added that "no one was innocent." She also claimed that there were other people in the group who "had feelings," presumably for people that were not their spouses. "There are three divorces in our friend group right now," she claimed. "One not really to do with this situation, but there are two of us who are getting divorced." As for who exactly is involved, she said the "majority" of MomTok isn't involved, and most of her TikTok friends have been supportive.
According to Taylor, she and Tate are on good terms. She told fans that there were other reasons for the divorce, saying that the swinging incident was "the tip of the iceberg."
Some of Taylor's MomTok friends have denied they were engaging in swinging.
Following Taylor's video, fans started to speculate that other MomTokers must have been involved in the drama. A number of MomTokers have denied the rumors, including Miranda McWhorter and her husband Chase, who posted a video denying that they were involved in the swinging and claiming that Miranda had a falling out with Taylor because Taylor allegedly started a rumor that Chase had feelings for her. Taylor responded with yet another live video explaining that Chase and Miranda had told her to tell fans that they weren't the couple involved. She also claimed to be on good terms with Miranda. Camille Munday, who Taylor previously said was never in the swinging crew because she and her husband brought "too much drama," has been posting comments on an entirely different influencer's account saying that she and her husband don't swing. Mayci Neeley, Whitney Leavitt, and Victoria Zalic have also posted videos saying they were never involved with swinging.
Taylor says she's done sharing.
On June 1, Taylor posted an Instagram story thanking her family for "being so supportive during this time" and said that she was "overwhelmed." Seeming to address rumors that she'd been sent a cease-and-desist letter, she added, "After talking with my legal team, I have all rights to share my story if wanted. However I feel that I shared a part and will not be sharing anything else from here on out."
Still, if Bravo has any say in it, we're not done hearing from these swingfluencers.