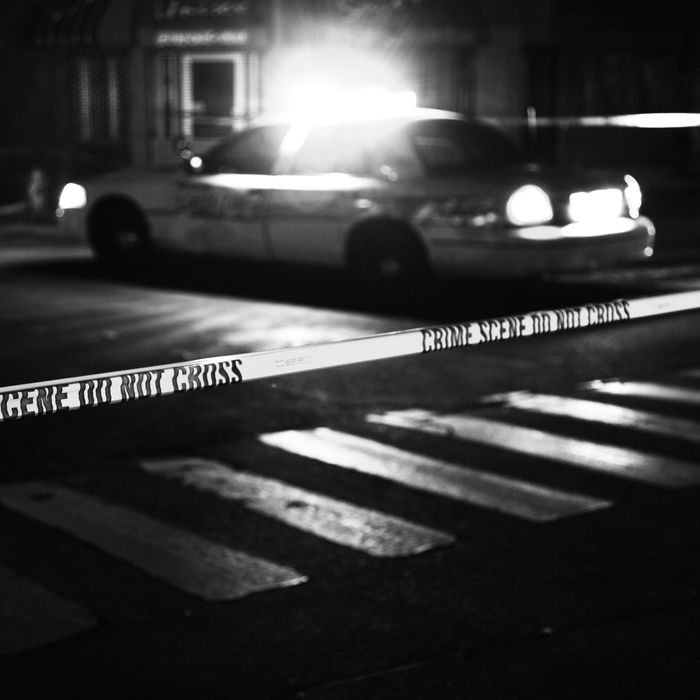 Photo: DenisTangneyJr/Getty Images
On Wednesday night, a 20-year-old woman pushing a baby stroller was shot and killed on Manhattan's Upper East Side. The baby is reportedly unharmed, and police have since released the victim's name: Azsia Johnson.
The attack occurred around 8:20 p.m. on 95th Street and Lexington Avenue. Preliminary investigations show the woman was shot once in the head at "very close range" before the shooter, a man wearing a black hooded sweatshirt and black sweatpants, escaped on foot. The woman, who officials have confirmed was the mother of the 3-month-old baby in the stroller, was reportedly temporarily living at a nearby women's shelter. Investigators used domestic incident reports, which also name her, a few former boyfriends, and a second child who wasn't with her when she was shot, to identify her 3-month-old.
Johnson's mother, Lisa DeSort, says her daughter wanted to be a pediatric nurse and loved kids. She told the New York Times that Johnson's ex physically abused her during her pregnancy. "She called me crying, saying, 'Mommy, he's hitting me.' And she was hysterical," DeSort recalled of one fight, which DeSort said she reported to the police. "He said, 'I'm going to kill you and all of the birds that go along with you.'" Speaking to NBC 4 New York, DeSort indicated that law enforcement was unable to locate Johnson's baby's father. "She was on maternity leave with this baby," DeSort said. "He kept harassing her, and threatening my life and my younger daughter's life."
"The city failed my daughter," she continued.
New York's mayor Eric Adams addressed the shooting Wednesday night, telling reporters, "We're going to find this person that's guilty of this horrific crime … and bring him to justice." "It shows just how this national problem is impacting families," he added, before condemning the "oversaturation of guns and dangerous people that repeatedly leave our criminal justice system." On Thursday, Adams added, "We strongly believe it was not a random shooting. The victim was targeted," according to the Times.
Gun violence has become a major talking point for Adams, whose controversial plan to curb shootings in New York revolves largely around scaling up police presence in the city, with middling results so far. Adams's Neighborhood Safety Teams, a reimagined version of the city's most notoriously violent plainclothes officers unit, were sent into areas that saw shooting rates increase during the pandemic, including East Harlem (the precinct just north of where the woman was shot). As of March 2022, New York's gun-violence rates had increased from the previous year, though the frequency of shootings doesn't appear to be any higher than it was in the early 2010s.
Adams and other New York lawmakers are fighting an uphill battle when it comes to gun safety in the city. Last week, the Supreme Court struck down New York State's concealed-carry laws, meaning it may soon be legal for gun owners with no proven need for a gun to walk around with weapons in New York City. In a statement following the ruling, Adams vowed to minimize the damage, saying, "We cannot allow New York to become the Wild West."
This article has been updated.