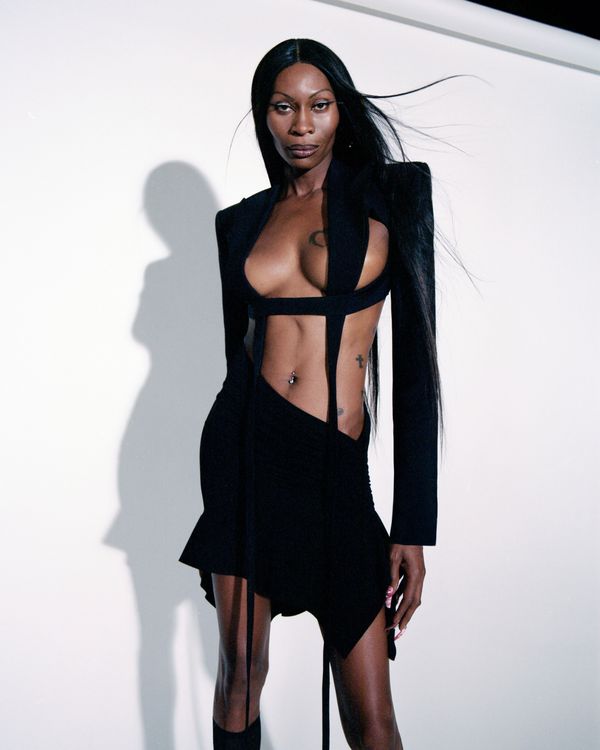 Photo: Courtesy of Mugler
Mugler creative director Casey Cadwallader doesn't shy away from a challenge, if the brand's latest campaign is any indication. This season is all about gravity-defying clothing, including sheer jeans with pockets seemingly held on by nothing. Along with the sheer pieces, there are extremely oversize hoops that wrap around the models' arms. (The hoops may be even bigger next season, Cadwallader joked with us over Zoom.)
"This season was really about taking illusion to the next level," said Cadwallader of the latest Mugler campaign, which features Megan Thee Stallion dancing in assless pants, Dominique Jackson walking on the roof of a car, Lourdes Leon gyrating on the same car, and Bella Hadid strutting in a thong. "We were trying to make the clothes as small and as bare as possible and try to take it to the max," he explained. "Trying to work with placing shapes on the body that looked like they were held there without gravity."
Cadwallader became fixated on the idea of shooting the video on a Hollywood lot and chose Paramount Studios' New York City set. "It added this whole other layer of mystery to things and falsehood and irony because we're in L.A. shooting in New York," he said.
We chatted with Cadwallader and Jackson about making the film.
First things first, Dominique: Were you really walking on the car in the video?
Dominique Jackson: Yes, I was. You get on the car and you walk. It seemed like second nature to me. It was a bit scary, though. I will say that because, looking down, you felt like, Whoa.
Casey Cadwallader: We did reinforce the ceiling of the limousine. There's no Mugler set you don't get invited to where you don't get pressed with a bit of a challenge. I definitely did not detect any fear from Dominique on that car.
In the past, campaigns have featured models in motion; now we have models walking and dancing, so we're really seeing the clothes in a new way. What was it like choreographing and filming that?
C.C.: It was more about the performance and the characters and letting everything go off than getting everything perfect.
Dominique, you spent years performing in the ballroom scene in New York. What about that experience prepared you for this moment?
D.J.: One of the first balls I attended, I was watching the House of Mugler enter and I got fascinated with it. It was Thierry Mugler who was using people that were of trans experience, like Connie Girl. That aspect of inclusivity, it's not about what's in between your legs or who you are; it's about that story you can tell on that runway, that magic you create on the runway. I love that aspect of it. Then there were the clothes. They were just so phenomenal.
How has your relationship with Casey developed? 
D.J.: Casey has a passion for the struggles and issues that are in our community. I saw it wasn't someone wanting to check a box. It was someone that really, really, really wanted to change and be the change.
You brought together such iconic women and femmes into one space. What was the set like?
C.C.: Every single time Dominique starts to film, everyone on stage fucking freaks out. She has such grace and such power when she moves, and everyone on set feels it and takes so much energy from it.
D.J.: It's just so much fun. It's so liberating. I get to feel free. I look over to see people appreciating what I'm trying hard to do and loving it. A lot of times, I don't love myself when I work because I don't think I get anything right.
Where's the first place you'd want to wear this collection? 
D.J.: First off, I would wear Mugler just because you're going to get that look. I'd wear the jeans that are kind of covered to the grocery store because, you know, I don't want to give too much there. Then I'd wear the jeans with the cutouts to the club if I'm feeling that look.
You seem to have the same cast of women and femmes for each video. What do you look for when casting?
C.C.: It's about really having a relationship with someone. It's about believing in someone. I don't just work with people because they look good. I work with them because of what they have inside, what they mean in the world, what they've been through, and how all that experience shines through them and makes a deeper confidence.
Psst! The Cut and New York Magazine are conducting a survey about dating. We want to know all about your swipes, IRL hookups, bad dates, and everything in between. Interested? Click here.