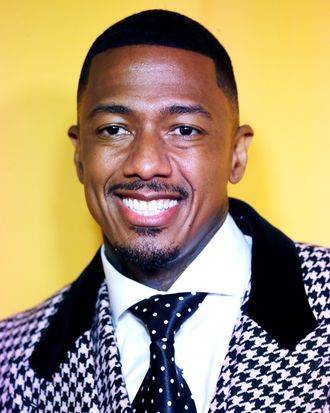 Photo: John Lamparski/Getty Images
Nick Cannon has a lot of kids — including three born just last year — but he's not done adding to the Cannon brood. Despite his attempts at celibacy and his public consideration of a vasectomy, the actor, talk-show host, and most-fertile man is expecting more children by the end of 2022.
In case you've lost count, Cannon currently shares twins Roc and Roe with Mariah Carey; son Golden and daughter Powerful Queen with Brittany Bell; twins Zillion Heir and Zion Mixolydian with Abby De La Rosa; and recently lost his youngest son, Zen, whom he shared with Alyssa Scott. In January, he confirmed that he was expecting his eighth child, a baby boy, with Bre Tiesi. Now six months later, Cannon suggested that there are more children on the way during an appearance on the Lip Service podcast. "The stork is on the way," he said. Though he refrained from confirming how many more children may be coming, he did joke, "If you thought it was a lot of kids last year," presumably referring to 2021, when Zion Mixolydian, Zillion Heir, and Zen were born.
As of now, Cannon has only officially confirmed that he is the father of Tiesi's baby. But after De La Rosa announced she was pregnant with her third child earlier this week, TMZ reported that he is also the father. And based on his comments on Lip Service, it's possible there are more on the way. Speaking on his attempt at celibacy and the death of his son, Cannon admitted he made it about a month and a half after announcing his celibacy in October 2021. "I didn't even make it to [January]. I was supposed to make it to the top of the year. Then obviously I started going through some stuff," he said. "I got depressed with the loss of my son. So in December … the thing is, everybody saw I was down, so everybody was like, 'Let's just give him a little vagina, and that's gonna cure it all.'" The actor explained that he "fell victim to it," adding, "right before Christmas, I started fucking like crazy."
When co-host Gigi Maguire asked if that meant that Cannon was expecting more babies in the fall, Cannon laughed and said, "Y'all are pretty good at math," but refused to say anything further. Assuming Cannon was referring to his third child with De La Rosa, this means that he will have welcomed six kids by four different women in two years. I am exhausted just thinking about it.
Though he told E! News in May that he wasn't "looking to populate the Earth completely" and that he had gotten a "vasectomy consultation," a recent post on Instagram seems to suggest there could still be more children in the future. "I pray that all my next women / Have the strength of all my ex-women," he wrote along with a spoken-word prayer shared on Instagram on June 5. "I pray that they want a family and not just a Plan B." Not exactly the words of a man considering a vasectomy.
Unless, of course, by vasectomy you mean a cocktail created by Ryan Reynolds for a special Father's Day ad for his Aviation Gin starring the most fertile man in Hollywood. "It's almost Father's Day, and the one and only Ryan Reynolds asked me to help us all celebrate with the mother of all cocktails: the vasectomy," Cannon says in the ad. "Lord knows I need one."
The ad is actually a reimagining of the one Reynolds himself starred in for last year's Father's Day. In the 2021 ad, Reynolds made the same "mother of all cocktails" and wore the same orange polo. Apparently dad jokes are still dad jokes no matter how many kids you have.
This post has been updated.
Psst! The Cut and New York Magazine are conducting a survey about dating. We want to know all about your swipes, IRL hookups, bad dates, and everything in between. Interested? Click here.