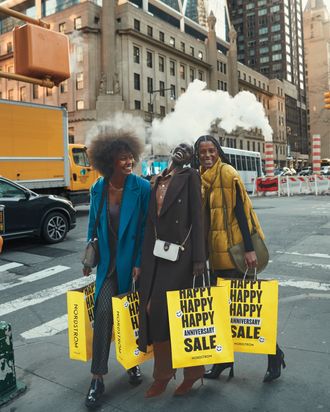 No shade to Amazon Prime Day, but when it comes to fashion and beauty deals, the Nordstrom Anniversary Sale is the one we look forward to year after year. And this year is no different. With both sales coming in hot, we've broken down what to expect from this year's Nordstrom Anniversary Sale so you can divide your budgeting skills and conquer your impulse finds.
When Is the Nordstrom Anniversary Sale 2022?
Similar to Sephora's spring sale, the Nordstrom Anniversary Sale is divided by tier. While everyone can shop the sale starting July 15 through July 30, Nordstrom card members and Nordy Club members get early access to the deals. Here's how it goes: Icons can access the sale starting July 6, Ambassadors on July 7, and Influencers on July 9.
If you're not a card member or a Nordy Club member, we're sad to inform you that some of the best deals go during the first round of early access. Whether Nordstrom's slim stock or the universe is to blame, don't worry — we'll be updating our stories with the best finds until the very last day.
Nordstrom Anniversary Sale 2022 Best-Sellers
Speaking of best finds, today, June 29, the preview catalogue of what items will be on sale has gone live on nordstrom.com.
From the current 55-plus pages of deals, we've spotted plenty of popular clothing and beauty brands that our readers and avid Nordstrom consumers love. Standout brands include Nike, Spanx, and Proenza Schouler on the clothing and accessories side, while La Mer, Tata Harper Skincare, Olaplex, and Paula's Choice are top of our list when it comes to beauty. However, what we really can't wait for is to snag products from Augustinus Bader and 54 Thrones, which are new to the sale.
While you wait for your shopping-tier date to come along, start adding to your wish list with a few favorites we've rounded up below.
Nordstrom Anniversary Sale Fashion Favorites
Nordstrom Anniversary Sale Beauty Favorites
Nordstrom Anniversary Sale Lifestyle Favorites