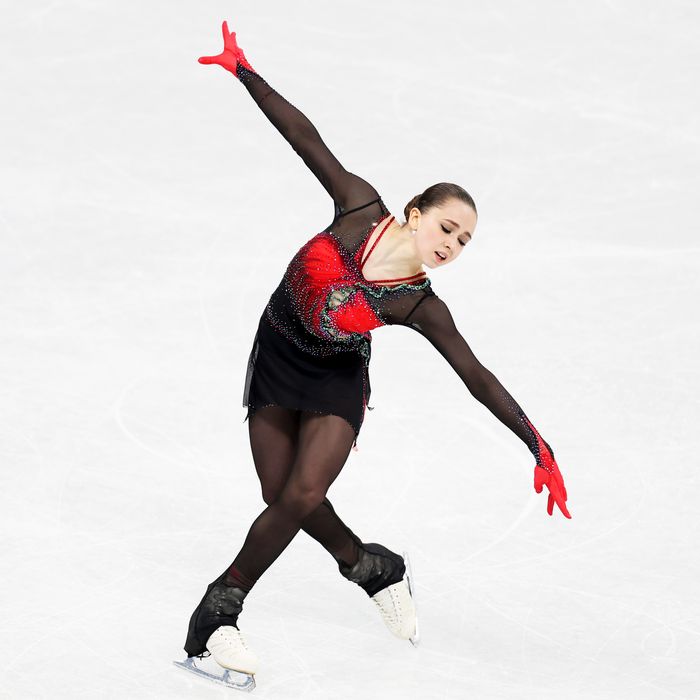 Photo: Simon Bruty/Sports Illustrated via Getty Images
Four months after 15-year-old Russian figure skater and "once in a lifetime" talent Kamila Valieva's positive drug test sparked a doping scandal at the Beijing Winter Olympics, the International Skating Union has approved a plan to raise the minimum age limit for elite competitors from 15 to 17 in major events.
The change comes in response to backlash following Kamila's scandal: At the time of her positive drug test, many critics were upset that she was still allowed to compete, while others demanded that the adults guiding her be held accountable, as Kamila is a minor. What's more, Kamila had trained under Eteri Tutberidze, a famed Russian figure-skating coach whose abusive methods — including allegations of overtraining and public weigh-ins — are notorious within the sport. Kamila's entourage, including Tutberidze, is currently under investigation by the World Anti-Doping Agency. Kamila, who is now 16, also faces an ongoing investigation, though as a minor and "protected person," she faces lesser punishment, like a reprimand, as opposed to suspension.
The new age requirement, which will apply to all figure-skating disciplines, will go into effect gradually. The age limit will remain as is for this year's competitive season before increasing to 16 in 2023 and 17 in 2024, presumably so as not to exclude current competitors. It will be fully in effect in time for the next Winter Olympics, slated to take place in the Italian cities of Milan and Cortina in 2026.
Per the New York Times, the international figure-skating community has long debated increasing the minimum age for Olympic competitors as a means of safeguarding athletes' mental and physical well-being. Still, it took international criticism for the change to happen. "A 15-year-old child under that kind of stress and scrutiny should not have been on the ice," doping expert April Henning said following Kamila's emotional final skate in Beijing. "At some point, athlete well-being must be the main concern — especially when the athlete is a minor."
Psst! The Cut and New York Magazine are conducting a survey about dating. We want to know all about your swipes, IRL hookups, bad dates, and everything in between. Interested? Click here.