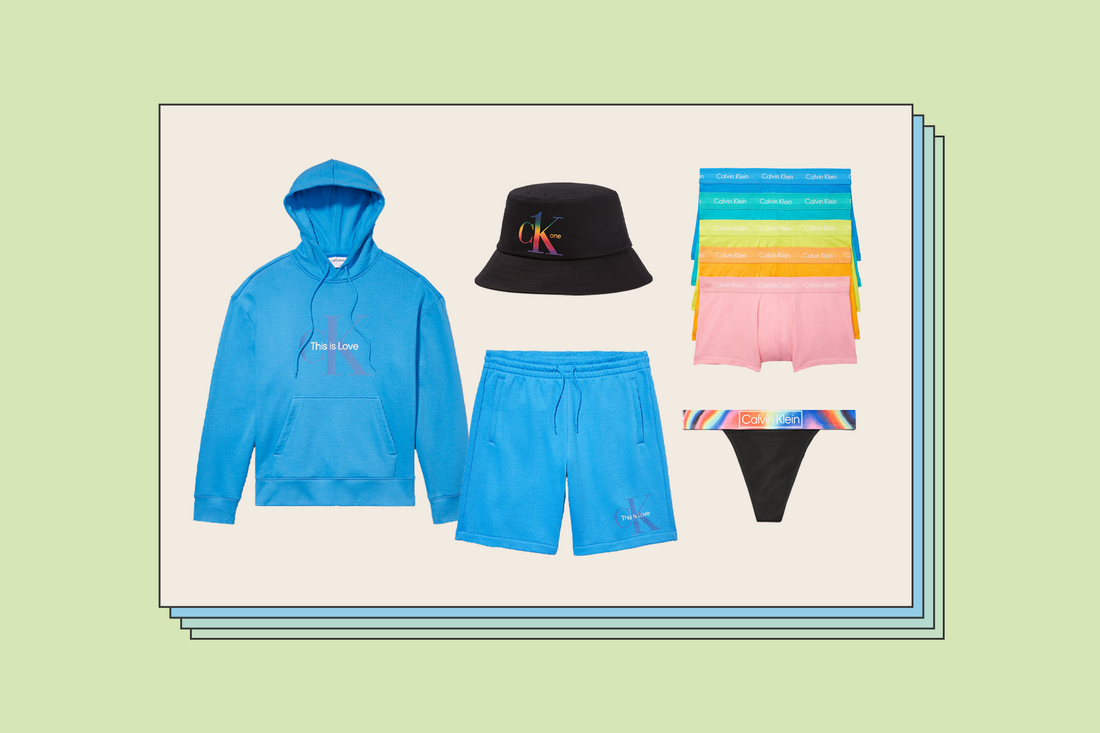 Pride Month is about queer liberation, queer joy, and queer community. But I'd be lying if I said it wasn't also a little bit about the outfits.
After all, what we wear is an expression of who we are, and there's no better time to celebrate that than during Pride — and no one better to do it with than our chosen families. They're the ones who have seen us through every questionable haircut and fashion choice and still encourage us to experiment, take up space, and be fully ourselves.
Calvin Klein's "This is Love" Pride campaign celebrates these bonds and the vital importance of close queer connections — with well-loved classics in a spectrum of rainbow-sherbet colors, graphic tees, accessories, and more — is its latest tribute to the community. To date in 2022, Calvin Klein has committed $400,000 in support of NGOs fighting for LGBTQIA+ equality, advocacy, justice, and safety around the world. The mega-brand has partnered with The Trevor Project, ILGA Worldwide, PFLAG National and the Transgender Law Center to support their work in advancing education, safety, equity and more.
With June just around the corner, the weeks will soon be packed with long beach days at Jacob Riis, fundraisers for local mutual aid groups and organizations, protests, parties, and parades. In other words, good excuses to dress up for yourself and for your people (both the ones you know and the ones you'll meet).
Here are just a few ideas for what to wear:
The Pre-Parade Brunch
Why pay $15 for a mimosa when you can round up your chosen family in your living room — or backyard if you're lucky — to fuel up on breakfast tacos and waffles? Save those dollars to tip your favorite drag queen later and relish the opportunity to stay home in your sweats for just a few more hours. With a mesh tank and cozy hoodie, you can happily hang out in front of the A/C and still make a last-minute bodega run if you run out of seltzer.
1. Calvin Klein Reimagined Heritage Pride Sheer Tank Top
2. Calvin Klein Pride Cotton Stretch 5-Pack Low Rise Trunk
3. Calvin Klein Pride Relaxed Fit Monogram Logo Hoodie
4. Calvin Klein Pride Regular Fit Monogram Logo Shorts
The Pride Parade
If I could go back and give my younger self one piece of advice for Pride, it would be this: "Wear a hat! And sunscreen!" (Were you expecting "it gets better?" Because, sure, that, too.) Parade day is unfailingly hot in New York, and finding something cute, lightweight, and comfortable enough to wear for hours outdoors is a challenge every time. This tank is cut low on the sides to show off a bralette or your chest, and bike shorts ensure your thighs stay chafe-free, even 20,000 steps into the day.
1. Calvin Klein Reimagined Heritage Pride Sleep Tank Top
2. Calvin Klein Pride Logo Bike Shorts
3. Calvin Klein Reimagined Heritage Pride Unlined Bralette
4. Calvin Klein Reimagined Heritage Pride String Thong
5. Calvin Klein CK ONE Pride Bucket Hat
The Dyke March
The star of this outfit is the T-shirt, which features the work of Devyn Galindo, a queer, two-spirit photographer and founder of The Van Dykes Project, which creates zines, pop-ups, and inclusive outdoor spaces "inspired by a caravan of dyke outlaws from the '70s." That ethos is fitting for the Dyke March — which, nearly 30 years in, remains a protest, not a parade, with its radical spirit intact. Keep your outfit simple, then, and wear bikini briefs in case you want to strip down and jump in the Washington Square Park Fountain at the end. (If you need a little more room in the front, this five-pack of solid-color briefs has you covered.)
1. Calvin Klein Pride Relaxed Fit Linked Fingers Graphic T-Shirt Gift Box Set
2. Calvin Klein Standards Unbleached Marble Dye Straight Leg Jeans
3. Calvin Klein Gender Inclusive Aviator Metal Frame Sunglasses
4. Calvin Klein Pride Carousel Bikini 5 Pack
Shop the full collection at CalvinKlein.com.
This advertising content was produced in collaboration between Vox Creative and our sponsor, without involvement from Vox Media editorial staff.